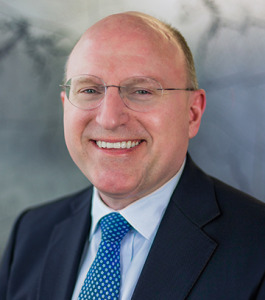 Indianapolis-based Strada Education Network announced Wednesday that it has hired the man who led Virginia's successful pursuit of Amazon HQ2 as its next president and CEO.
Stephen Moret, president and CEO of the Virginia Economic Development Partnership since the beginning of 2017, will join Strada in January.
Strada lost two of its top executives early this year with the departures of CEO William Hansen and Executive Vice President Carol D'Amico. Hansen was former deputy secretary of education under President George W. Bush, and D'Amico, a former Ivy Tech Community College executive, has been a key player in Indiana education circles for decades.
Both were instrumental in creating strategy for Strada, whose mission has been "to improve lives by forging clearer and more purposeful pathways between education and employment."
The organization, which has more than 100 employees and assets of $1.5 billion, has focused on improving the fortunes of Americans who graduated from high school but lack college degrees or credentials that match employers' needs.
The organization has avoided saying whether Hansen and D'Amico left on their own volition. Chief Operating Officer Tom Dawson was named interim CEO in March.
Moret, 49, has a long track record in economic development and education. Virginia Business named Moret its 2019 Business Person of the Year and credited him with resuscitating the state's business-recruitment arm on the way to landing Amazon's second headquarters, the largest economic development project in U.S. history.
Washingtonian magazine called Moret "the architect" of Virginia's Amazon HQ2 bid.
Moret previously served as president and CEO of the Louisiana State University Foundation, secretary of the Louisiana Department of Economic Development, and chief executive of the Baton Rouge Area Chamber.
In his current job, Moret launched the Virginia Talent Accelerator Program and led implementation of the state's $1.1 billion Tech Talent Investment Program, designed to double the number of bachelor's and master's degrees in computer science and related fields conferred each year in Virginia.
"Stephen's track record of establishing the types of partnerships that result in meaningful connections between education and employment, paired with his extraordinary leadership, made him stand out as the right person to build upon Strada's success and take our mission to a new level," said Marlene Coulis, chair of the Strada Board of Trustees, in a written statement.
Moret earned a bachelor's degree in mechanical engineering from Louisiana State University, where he was elected president of the student body, and a MBA from Harvard Business School, where he was elected co-president of the student body and received the Dean's Award for exceptional leadership and service. He has a doctorate in higher education management from the University of Pennsylvania.
Moret will relocate from Richmond, Virginia, to Indianapolis for his new job. He is likely to be well-compensated in his new role. Hansen, his predecessor, received $1.6 million in 2019, the latest year available, according to an IRS filing. D'Amico earned $624,519, according to the filing.
"I have witnessed the transformational impact of postsecondary education in my own life and in the lives of many others," Moret said in written remarks. "Through my professional work in multiple settings, I also have seen the impact it can have on the economic competitiveness and growth of regions, states, and our country as a whole. Strada's focused mission and substantial resources, paired with its distinctive, multidimensional approach, make it well-positioned to help revitalize and broaden participation in the American Dream of economic opportunity and mobility."
Please enable JavaScript to view this content.