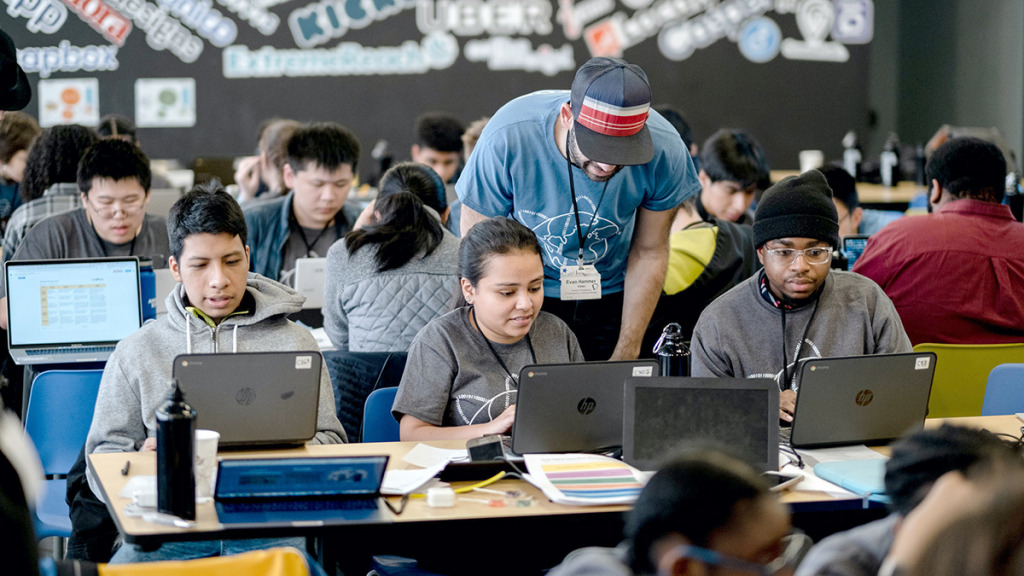 The two highest-paid executives at Strada Education Network departed the powerful education not-for-profit in recent months, an indication that the Indianapolis-based organization is rethinking aspects of its strategy after four years of operation.
Gone are CEO William Hansen, a former deputy secretary of education under President George W. Bush, and Executive Vice President Carol D'Amico, a former Ivy Tech Community College executive who has been a key player in Indiana education circles for decades.
Strada said in a March 1 press release that Hansen was stepping down and Chief Operating Officer Tom Dawson would become interim CEO. The organization said D'Amico left in February. Hansen did not respond to requests for comment, while D'Amico said she signed a non-disclosure agreement that prevents her from commenting.
Both were instrumental in creating the strategy for Strada, whose mission is "to improve lives by forging clearer and more purposeful pathways between education and employment." It's focused on improving the fortunes of the millions of Americans who graduated from high school but lack college degrees or credentials that match employers' needs.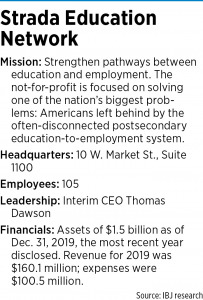 The organization has unleashed a dizzying array of initiatives since its start in the spring of 2017—ambitions it was able to pursue thanks to immense financial resources stemming from its roots in the student loan industry.
Before 2017, the organization was known as USA Funds, which for decades was the nation's largest guarantor of student loans. In December 2016, it got out of the student loan business, offloading its guarantor operations to Wisconsin-based Great Lakes Higher Education Corp., then set out to use its $1.2 billion in assets to back grants, investments, acquisitions, research and other efforts that meshed with its new mission.
The circumstances surrounding Hansen's and D'Amico's departures aren't clear. In an interview with IBJ, Strada Chairwoman Marlene Coulis praised their contributions but wouldn't directly answer whether they left on their own volition.
"He accomplished so much," Coulis said of Hansen. "It just seemed the right time to transition to new leadership."
At the same time, Coulis indicated shifts in strategy are afoot, though she said she would characterize nothing as "seismic."

She said the directors are in the process of refining Strada's strategy, a process that will continue when the board meets in May. "From there," she said, "we will determine exactly the kind of CEO who can take us through the next chapter."
Coulis, a marketing consultant, added: "As opposed to trying a bunch of different paths in order to essentially fulfill our mission, we want to be more focused."
She also said: "You'll hear a lot more emphasis on measures of impact going forward. … It is sometimes difficult in this field to measure the impact. You can measure activity. We want to go a little deeper."
Coulis also highlighted the January hiring of Ruth Watkins, president of the University of Utah, as president of Strada Impact, a post that puts her in charge of the organization's research, philanthropy, policy and thought-leadership efforts. "She is integral in the refinement of our strategy going forward," Coulis said.
In the press release announcing his departure, Hansen said he was proud of what Strada accomplished.
"We sought to build a new kind of organization, acknowledging that the problems Strada's mission seeks to address are complex, and that only coordinated effort can make lasting change," he said.
Hansen, 61, hasn't announced a new job. At Strada, he earned $1.6 million in 2019, the latest year available, according to an IRS filing. D'Amico earned $624,519, according to the filing. In March, D'Amico, 69, joined the Indianapolis consulting firm Thomas P. Miller & Associates as a strategic adviser.
Healthy review
Not-for-profit experts said it is understandable and healthy for the board of an organization with a new mission to take stock of how things are going after a few years of operation.
"I think it is a fairly natural evolution, given the fact that, when Bill came in, they were just beginning to stretch their wings into a new area," said Les Lenkowsky, a professor emeritus in public affairs and philanthropy at Indiana University's Lilly School of Philanthropy.
He noted that Strada is trying to move the needle nationally in education and workforce issues, an especially daunting task given how different parts of the country are from one another.
"In the education world, it is hard to think of projects that have started at the local, state or regional level and become nationwide," he said.
Tina Gridiron, the ACT's vice president for equity and learning and a former executive of the Indianapolis-based Lumina Foundation, said she doesn't know about all of Strada's programs but said the organization is making a significant impact.
In particular, she highlighted two not-for-profits Strada acquired—InsideTrack, a provider of student-success coaching, and the Council for Adult and Experiential Learning.
"I would say their partnership and collaboration with CAEL is a very strong component of their work," she said. "I have great respect for CAEL's work, especially as it assists individuals with some college but no degree codify what their work experience has been so they get some college credit."
Indeed, those real-world experiences, validated through so-called prior-learning assessments, are brightening the outlook for adult learners, said Amy Dunham, Strada's senior vice president of marketing and communications.
She said CAEL partnered with other organizations on a Strada-funded research project that found adults with prior-learning assessments were 17% more likely to complete a credential and do so nine to 13 months sooner. It also found the assessments saved students an average of $1,500 to $10,600 on tuition.
Teresa Lubbers, Indiana's commissioner for higher education, said Strada is making substantial contributions on the big-picture challenge of better aligning education and training with career opportunities—an issue it began tackling before many other organizations.
"I don't see them saying, 'We are going to turn the page on that and start over again,'" she said.
Power players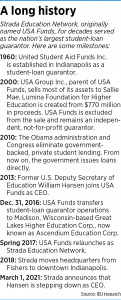 Strada is one of two prominent not-for-profits based in Indianapolis that are trying to help more Americans obtain college degrees and credentials.
The other, the Lumina Foundation, also has enviable resources. As of late 2020, Lumina's assets were $1.3 billion. In January, Lumina awarded an initial round of $3.2 million in grants to 11 organizations working to achieve racial justice.
On its website, Lumina—which sometimes partners with Strada on projects—describes its work simply: "We're working with partners to create opportunities for learning after high school that benefit everyone."
Both organizations owe their largesse to Indianapolis-based USA Funds, a not-for-profit student loan company acquired by Virginia-based Sallie Mae in 2000. The $770 million in proceeds from that sale—which excluded the USA Funds loan-guarantee business—launched Lumina.
USA Funds' loan-guarantee business went on the decline after the Obama administration and Congress in 2010 eliminated government-backed, private student lending—wiping out the need for guarantors on new loans.
Even though USA Funds cast off its loan-guarantee operations to Great Lakes Higher Education Corp., now known as Ascendium Corp, Strada receives annual grants from Ascendium under the deal that will continue until 2022.
Just from 2017 through 2019, Strada received Ascendium grants totaling $208 million, a deluge that helped push Strada's assets to $1.5 billion by the end of 2019.
The resources Strada has amassed provide a great opportunity to spur change. Organization leaders say they want to make the most of them.
"We have done a great deal of learning these past few years on where and how we do the most good within a crowded sector," Dunham said. "Now is a logical time for us to apply our learnings and focus on the ways in which we can do the most good."•
Please enable JavaScript to view this content.