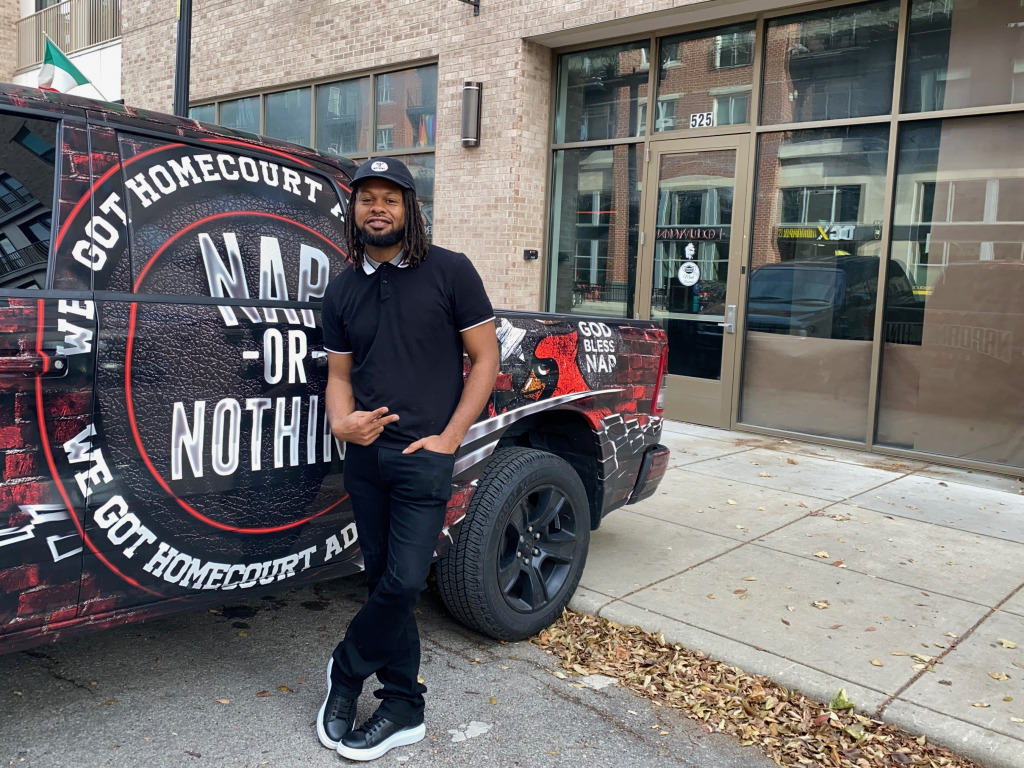 Indianapolis hip-hop artist Maxie didn't wait to incorporate the new home of his streetwear company, Nap or Nothing, into the lyrics of a song.
"They say I got Mass appeal," Maxie raps, referencing Nap or Nothing and its plans to set up shop Friday at 525 Massachusetts Ave.
Maxie, otherwise known as North Central High School alum Antonio Maxie, is one of several entrepreneurs working with "In the Mix," an initiative focused on Black-owned businesses and coordinated by cultural development firm GangGang in partnership with Downtown Indy Inc.'s Rebuilding and Recovery Committee.
Taking over a 3,000-square-foot spot previously occupied by Escape the Room, Nap or Nothing wants to bring as many people as possible into the room.
"I want to open the door to what clothing culture is in Indianapolis," Maxie said. "I want to add to the clothing culture of Indianapolis."
"Nap or nothing," a motto that expresses loyalty toward Indianapolis, is prevalent on T-shirts, hoodies and sweatpants marketed by Maxie.
He opened a Nap or Nothing store at Lafayette Square Mall, 3919 Lafayette Road, in 2015. Because of a redevelopment project that has temporarily closed the mall, Nap or Nothing has lacked a brick-and-mortar presence since August.
Nap or Nothing's time on Mass Ave is open-ended.
Catherine Esselman, project manager for the In the Mix initiative, said the streetwear retailer doesn't have a long-term agreement with the Indiana Housing Agency, which owns the Millikan on Mass building where Nap or Nothing is opening on the first floor with Goodfellas Pizzeria and Salt on Mass as neighbors.
"This is a pop-up," she said. "We don't have a long-term agreement, but the hope is that we 'try before we buy' and can secure a longer term home for Nap or Nothing."
On Mass Ave, Maxie plans to continue Nap or Nothing's tradition of sharing its space with other Indianapolis streetwear companies. Slumhaus Originals is making the move with Nap or Nothing, and Black Sheep Clothing will be a new brand in the store.
For the first time, Nap or Nothing will bring in a shoe vendor.
"I think that would do well with the clothes I provide," Maxie said. "A lot of times I do things based on shoe releases."
The goal, he said, is to draw customers who "like to get fresh" with their wardrobe.
A corner space supplies a logical spot for presenting informal music performances in the store, and Maxie said sporting events will be shown on large TV screens.
"I want them to see us when they walk by," he said.
Business hours for Nap or Nothing will be 11 a.m. to 9 p.m. For more information, visit the store's Instagram profile.
Esselman said searches continue to place fellow In the Mix businesses The Missing Brick pizza shop and EatHere Media in downtown storefronts.
Formed in 2020, the Rebuilding and Recovery Committee made a commitment to recruit Black-owned businesses in the wake of pandemic challenges and protests that called for an end to police brutality toward Black Americans.
Kite Realty Group, Black Onyx Management, Indy Chamber and Indy Black Chamber of Commerce are partners in the In the Mix initiative.
JPMorgan Chase provided $250,000 to support the program. Esselman said funding that GangGang received in August as part of the Indianapolis Urban League's Indianapolis African American Quality of Life Initiative is earmarked for In the Mix expenses.
Please enable JavaScript to view this content.