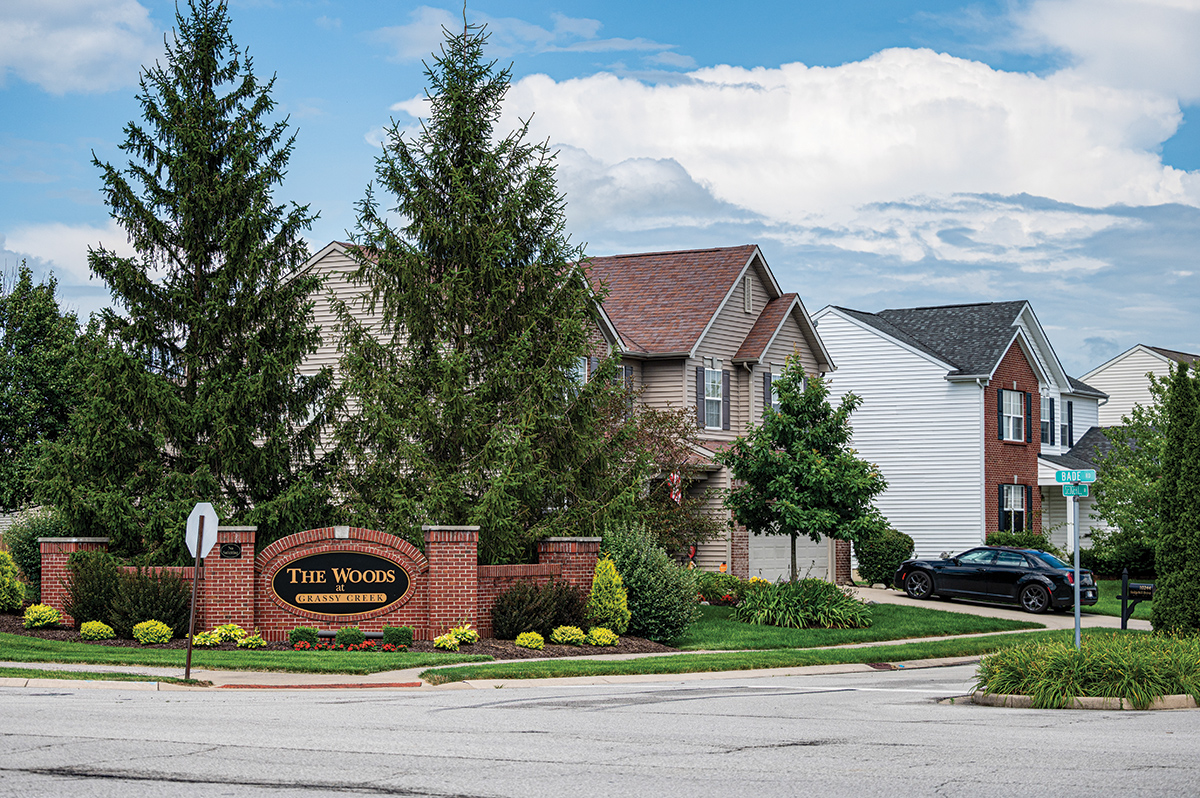 Homeowner associations in central Indiana are taking steps to prevent an incursion of rental homes in their neighborhoods, as national investment firms eye the purchase of single-family properties, despite rising prices.
At least 200 area homeowner groups have modified their subdivision covenants in the past five years to limit rentals—a number that is based on the work of just one law firm.
More neighborhoods have likely taken action after years of seeing homes once occupied by their owners gobbled up by large investors who want to add them to a stable of rentals. But experts say that it's difficult to document just how much buying is being done today by so-called institutional investors.
Experts say the region has seen an influx of cash offers on houses. That can be a sign that an investor is behind the purchase—although it's also a common tactic for other buyers in a hot real estate market, which has been the case for the past two years.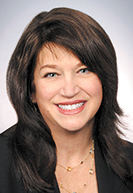 Shelley Specchio, chief executive officer of MIBOR Realtor Association, said it's "hard to say" whether recent activity has been driven by house-hoarding investors.
That's because the only way to track ownership is through often-opaque public records that don't generally require an owner to declare whether a property is being rented. Also, companies that specialize in rentals often use hard-to-trace limited-liability corporations to make purchases.
"We do know that there are a good number of equity firms, hedge funds and institutional investors. … So we do know that a lot of product is being sold that way," Specchio said. "But I can't really [share] any good data on how many of those are coming in. We're watching it and we're trying to figure out how to study it going through public records."
The National Rental Home Council estimated in 2017 that only about 0.2% of the U.S. single-family housing stock is owned by institutional investors.
The middle ground
MIBOR generally supports HOAs that take steps to protect neighborhoods when homeowners see an increase in rental activity, Specchio said. But, she added, neighborhood leaders need to find a balance.
"We see both sides of this argument and we're trying to weave our way through it just like everybody is," she said. "How do we protect private property rights and the right to have options and opportunities for homeowners and business owners, versus losing the whole market to these large conglomerates? It's a really complex question."
Michaela Downey is a residential broker with Indianapolis firm Plat Collective and treasurer of the Ladywood Estates Homeowners Association. The neighborhood of mid-century homes sits near the intersection of 56th Street and Emerson Avenue, south of Fall Creek.
She said institutional buyers became especially active in neighborhoods in the aftermath of the Great Recession, when the housing market dropped and properties were significantly cheaper. That led to larger numbers of rental homes in neighborhoods that had traditionally been all owner-occupied.
But Downey said even in today's market, with prices jumping, the practice is still common.
Ladywood Estates implemented a limit on rental properties in 2020, shortly after its concentration of such homes hit 10%, which is where the neighborhood set its limit.
Downey said she is not opposed to having some rental properties in her neighborhood, but thinks the numbers need to be limited.
"I think there's a place in every community where investors are positive—it depends on who the investor is and how they feel about the community and if they're doing it for merely economic reasons or if there's some altruistic reason, as well," she said. "I don't think it's a negative to have investors in a community. I think that it needs to be restricted; it cannot be a higher percent than owner occupied."
She added that the Federal Housing Authority also has a limit on rental property in neighborhoods where it offers low-downpayment financing.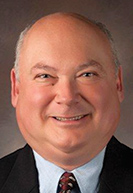 Tom Murray is an attorney with Eads Murray and Pugh, an Indianapolis firm that exclusively works with homeowner associations and condominium groups. He told IBJ that most of his recent work has been with clients looking for legal routes to prevent high rates of rental homes.
The firm has worked with more than 200 homeowner groups on changes to its covenants, which are rules for use of the property that transfer from one owner to the next—for homes in their respective neighborhoods, which is what Ladywood Estates did.
Homeowners associations generally act after several homes have already been bought by institutional renters in the neighborhood or in nearby subdivisions, leading to concerns among other homeowners about crime and property values, Murray said.
How it works
Neighborhood covenants are typically written when a property is developed—and rarely include restrictions on rentals. Those are usually added after a neighborhood starts to see rentals popping up. At that point, changes in the covenants generally require a majority, and in some cases a supermajority, vote among homeowners.
Murray said HOAs generally take one of two routes:
◗ Capping the number of rentals allowed in a neighborhood altogether, either based on a percentage or a fixed number of homes.
◗ Adding an occupancy stipulation that requires property owners to live in their homes for a set number of years before the house can be rented.
Murray said many homeowners—even those who live in the houses they own—have mixed feelings about approving changes to neighborhood covenants, particularly when it comes to rental rules. That's because they're often unsure whether they might want to—or need to—rent their own homes someday.
"They don't want to be too limited, because it could negatively impact them," Murray said. "Yet at the same time, they will nod their head in agreement that some restrictions are needed, so there aren't too many rentals in the community."
Homes that are already rentals are by law grandfathered into the new HOA rules, meaning they can continue operating as such until the home is sold. But experts say most investment firms that buy in a neighborhood maintain those homes indefinitely.
And that ownership gives the institutional owners votes on covenant decisions—one house, one vote, just like those who live in the homes they own.
Downey said it can be a challenge to get the necessary votes for changing covenants, which can sometimes require upward of 90% approval from residents.
"You have to present it to the community as to why you want to have this implemented, and they have to participate—but some people don't participate in voting in their community at all," she said. "In many cases, you have to go door-to-door and have conversations with your neighbors to find out how they feel about it" and persuade them to vote a certain way.
MIBOR's Specchio said HOAs should be transparent as they work to update their covenants.
Would-be buyers should "understand what they can do with a house well before they've made that decision to buy in that neighborhood—especially if they think they might want to use it as an investment," she said.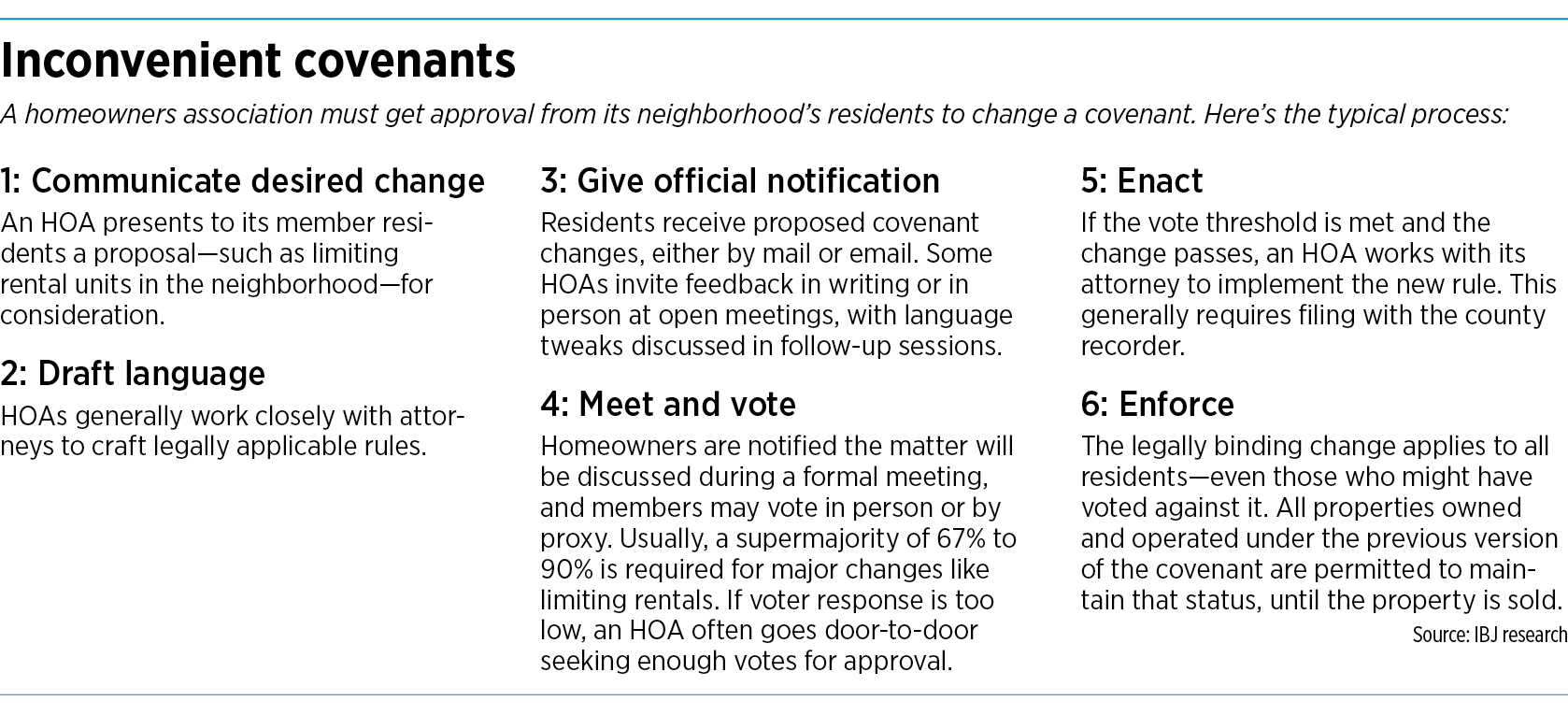 Responsibilities and ownership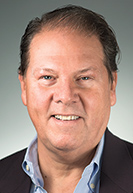 Ross Reller, a broker with the Indianapolis office of commercial real estate firm Bradley Co., is president of the Williston Green Homeowners Association, which represents a subdivision of 85 houses on the north side of Indianapolis.
The neighborhood—which offers residents a heated community pool, a tennis court, a playground and bike path—is considering measures to limit rentals after a few homes were purchased by or through FirstKey Homes, a portfolio company of New York-based investment company Cerberus Capital Management, and other companies.
FirstKey is headquartered in Marietta, Georgia, and operates in 20 U.S. markets, managing some 24,000 single-family homes nationwide.
Marion County records list FirstKey as the owner of more than 200 properties in Indianapolis. But it owns or manages many more throughout the region.
On Tuesday, the FirstKey website listed 119 homes that are currently available for rent across central Indiana, ranging from $1,025 per month for a home at 3605 N. Sadlier Drive to one with rent of $2,795 per month at 5707 West Port Drive in McCordsville.
"We are not against homes ultimately being rented as an alternative to sale—it's a decent investment and we're fine with that," Reller said. "Where some of us take issue is when the rights and privileges of homeownership are being taken from other people by the out-of-town investors who don't care about the community. And because we're a small community, the more homes that are acquired with that money and that mentality concerns us."
Reller said the effort to enact new covenants in the Williston Green neighborhood is specifically intended to curb institutional investments.
But a spokesman for FirstKey said it takes "great pride in having a positive and professional relationship with HOAs to better the community while providing our family of residents with safe, affordable, and high-quality homes they can call their own."
Still, Reller said rentals bring "a whole different set of circumstances that the subdivision didn't anticipate when its bylaws were created."
"But we have a lot of diversity in our neighborhood—we think that's part of the positive energy of our community," he said. "So, it's not at all about trying to keep any group out; it's more trying to limit the number of homes that can be held by out-of-town and out-of-state investors."
Patricia Shuhilo, president of The Woods at Grassy Creek Homeowners Association, said her organization is also considering efforts to prevent more rentals from entering the neighborhood on the far east side of Indianapolis, but hasn't yet made any final decisions.
She said many homeowners in the neighborhood are concerned about the long-term effects rental properties could have on their property values, particularly if those homes are not properly maintained.
There are also concerns about how an HOA can effectively reach property owners or management companies to discuss violations or damage to one of their properties, she said.
"If I felt a comfort level in that it's very clear as to who owns a property and who I need to contact to have something dealt with … I wouldn't have as much concern," she said. "I wouldn't mind renters or homeowners that rent their properties as long as there was transparency and communication, and that I knew the people there know what their responsibilities are."•
Please enable JavaScript to view this content.