Polina Osherov is fond of saying the arts are more than a "nice to have" proposition.
"It's absolutely essential for the benefit of mankind in so many different ways—from spiritual to emotional to economic," said Osherov, co-founder and creative director of Pattern Inc., an Indianapolis not-for-profit that mentors and connects creative entrepreneurs.
The financial benefit mentioned by Osherov provides the foundation for "Creative Crossroads: Indiana Creative Economy Summit," a first-time event scheduled Friday at the Stutz, 1060 N. Capitol Ave.
Leaders such as Indy Arts Council CEO Julie Goodman, Newfields CEO Colette Pierce Burnette, Indiana Sports Corp President Patrick Talty, Art Strategies founder Mindy Taylor Ross and GangGang co-founder Alan Bacon are scheduled to participate in the one-day conference.
Pattern is hosting the event in partnership with the Indiana Economic Development Corp.
"I think we all instinctively know that investing in creativity and the creative sectors bodes well," Osherov said. "But it kind of keeps falling to the bottom of the list of priorities."
The summit's mission, Osherov said, is to elevate film, music, design, food, fashion and other creative pursuits on Indiana's economic landscape.
Attendees can expect discussions based on statewide achievements, the creative economy's role in attracting and retaining workers, and ways that arts-minded people intersect with the gig economy.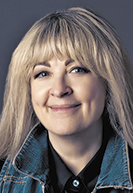 "We want to understand and recognize all the activity statewide," Osherov said. "There are a lot of exciting things happening throughout the state. It's not just Marion County."
The value of not-for-profit arts groups in Indianapolis made headlines earlier this month when a national study by advocacy organization Americans for the Arts pegged the annual economic impact at $523.8 million in the city.
Osherov quotes a statewide figure of $8 billion in annual economic impact by not-for-profit creative industries.
"That's 2.3% of the GDP," she said. "We know that agriculture is at 5%. My big hypothesis is that if we track the rest of the industries that are representative of the creative economy, we could probably find the other 2.7%. Then all of a sudden we're competing with agriculture for economic impact. I think we should find out. I think that would be useful info to have from an economic development standpoint."
Titles of scheduled panels at the conference include "Inclusive Economic Development: Where does the Creative Economy Fit In?" and "Overlooked Economic Powerhouse: The Entertainment Industry."
Osherov said the creative economy has gained traction through the Indy Music Strategy published in 2021 and the tax incentive for film production signed into state law in 2022.
"My goal with the summit is that we have enough folks agree that the time is right to think about a statewide strategy around the creative economy," Osherov said. "We're ready. We have so much talent in the state and we're good at solving these big problems."
Editor's note: IBJ Media employees Gerry Dick and Dave Lindquist will serve as moderators for Indiana Creative Economy Summit panels.
"Creative Crossroads: Indiana Creative Economy Summit"
When: 9 a.m. to 5 p.m. Friday.
Where: The Stutz, 1060 N. Capitol Ave.
Tickets: $295.
Info: Visit patternindy.com.
Please enable JavaScript to view this content.