Tamika Catchings did it all as a basketball player. Check the WNBA record book, and the Indiana Fever icon ranks among the all-time Top 10 in the categories of points scored, rebounds, assists and steals.
Off the court, assists are her specialty. Catchings, who retired as a player in 2016, is a business owner, mentor, arts patron, community leader and philanthropist known for collaborating with others.
The latest venture for the hoops Hall of Famer is a Tea's Me Cafe location that opened this week on the Indianapolis campus of Ivy Tech Community College.
It's the third tea shop owned by Catchings, who purchased the original Tea's Me Cafe, 140 E. 22nd St., in 2017 and expanded to a spot in Tarkington Park, 3967 N. Illinois St., in 2021.
Up next is a basketball gym she's planning for her Catch the Stars Foundation in tandem with the MLK Center Indy just north of Tarkington Park.
Catchings said everything she's accomplished has originated from collaborations and partnerships.
"When we can partner and do things collectively, the impact is always greater than doing it individually," she said.
That's clear in Catchings' work co-chairing the NBA All-Star 2024 board of directors and as a supporter of Black artists in Indianapolis.
Tea's Me Cafe is more of a personal pursuit for the 43-year-old who grew up in a household where tea was a prominent beverage.
Catchings said she likes to hire young people, perhaps earning their first paychecks, to work at her shops.
"We want them to learn how to serve and make an impact," Catchings said. "Working in a smaller environment can give them the kind of baseline skill set they need for the rest of their lives."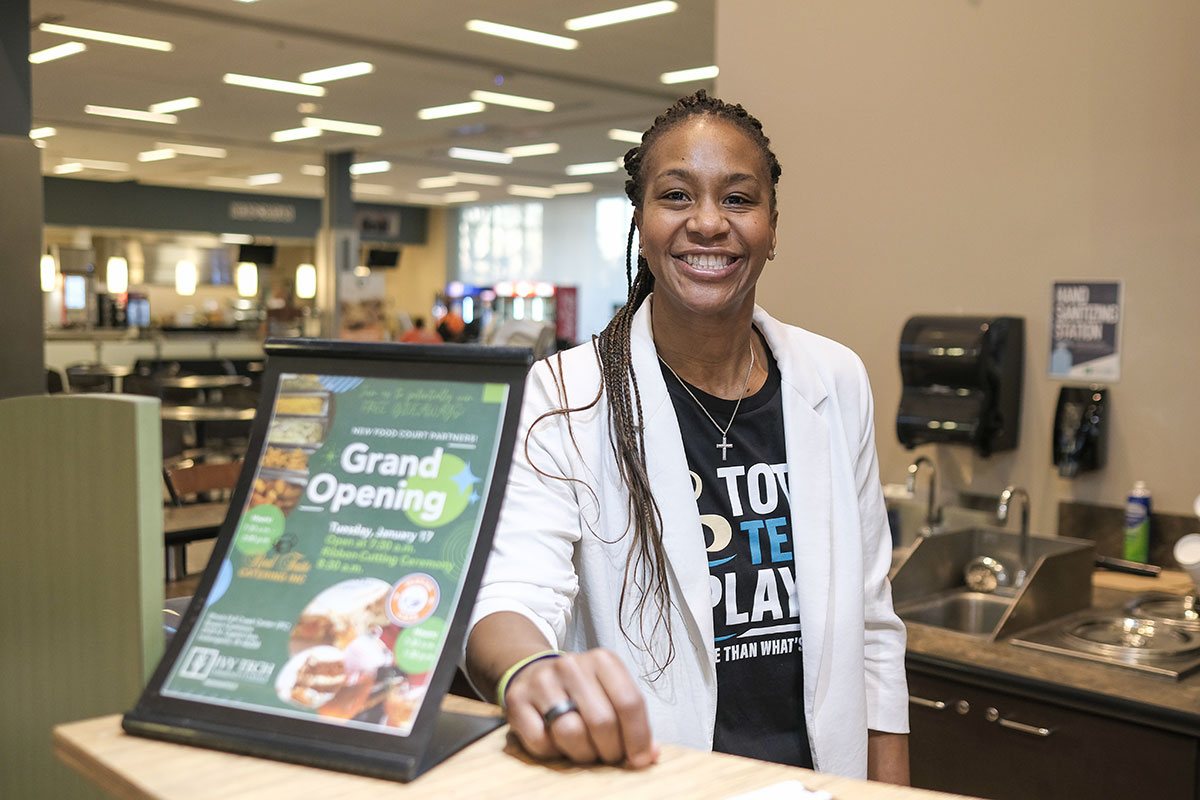 Grand opening
On Jan. 17, Ivy Tech revamped its food court by adding Tea's Me Cafe and a location of Real Taste Catering Inc.
Lorenzo Esters, chancellor of the school's Indianapolis campus, said Catchings "has a heart for our community and for the young people of our community."
Catchings said she's eager to hire students from Ivy Tech's school of hospitality and culinary arts for shifts at Tea's Me, which is open from 7:30 a.m. to 1:30 p.m. weekdays.
"Hopefully we can help elevate them to bigger restaurants," she said.
Ivy Tech, a commuter school in the Crown Hill neighborhood, accommodates 28,000 students each year.
"We're in an area that has food security issues," Esters said. "As we're able to provide quality food in our neighborhood at an affordable cost, we want that to be open and available to our students, our employees and our neighbors. We want to be a good neighbor."
Catchings now has three distinct shops on the Tea's Me roster: a traditional storefront on 22nd Street, a glassed-in location at the park and counter service in a college food court. And she hopes to someday use a franchise model to expand the stores to more locations.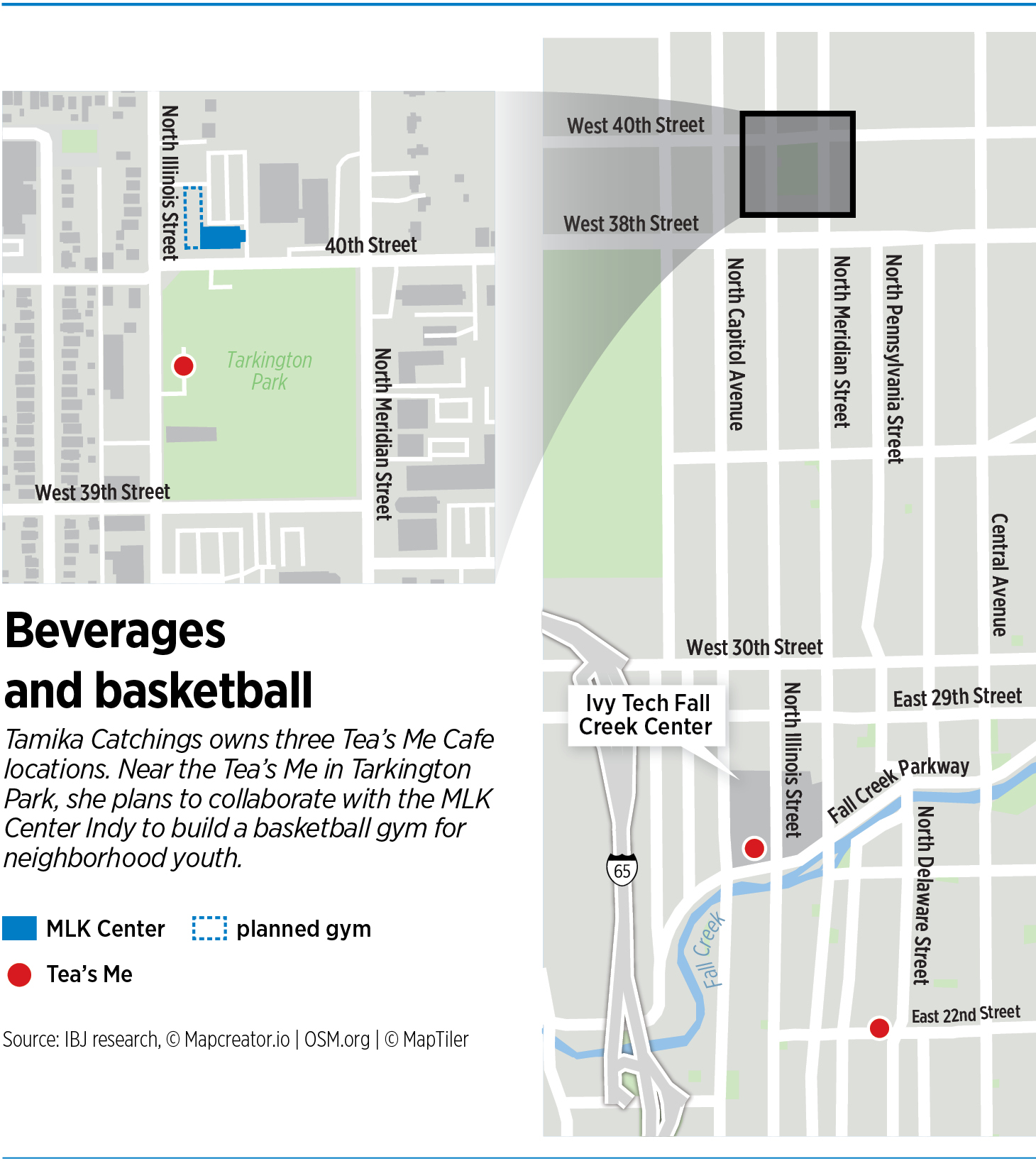 "It's diversifying our portfolio," Catchings said of the newest location. "As we expand and we continue to put together our franchising model, this is what it looks like over here in this neighborhood. We can say, 'This is what it looks like in the middle of a park, where people don't expect a tea shop.'"
Tarkington Park accommodates visitors from multiple neighborhoods—including Butler-Tarkington, Crown Hill and Mapleton-Fall Creek.
Catchings said she was hesitant when her sister and Catch the Stars co-founder Tauja Catchings initially pitched Tarkington Park as a Tea's Me location during the pandemic lockdown.
But the opportunity to schedule events associated with their not-for-profit foundation, which works with more than 1,000 youth annually, won over Tamika.
"She got me on the 'Catch the Stars' hook," Tamika said of her older sister.
Having the MLK Center, 40 W. 40th St., as a neighbor proved to be a bonus.
"They said, 'We want to build a gym. Would you be interested in this for Catch the Stars?' Of course we are," Catchings said.
Tauja Catchings said the idea warranted an easy "yes."
"MLK Center does so many phenomenal things for kids in that community," said Tauja, who played basketball at the University of Illinois. "The only thing that's missing is a gym, which is something that's always been a big dream of Tamika's."
Strength in numbers
Allison Luthe, executive director of the MLK Center, said the planned gym would be more than 20,000 square feet and cost more than $4 million, pending zoning approval and fundraising efforts.
MLK Center serves more than 150 youngsters during the summer, and its after-school programs have a waiting list. The gym would help serve those youngsters with multipurpose courts and classrooms. It would also have space for the Catch the Stars offices.
"Over the past few months, we've been talking about some of our goals," Luthe said of discussions with Catchings. "Adding a gym and expanding our youth classroom space has come up in conversation multiple times."
The outdoor basketball courts at Tarkington Park are exceedingly popular during the summer. Luthe said a gym nearby could serve as a needed gathering space during cold-weather months.
"Given the alignment of our mission and our love and passion for the neighborhood, it just makes a lot of sense," Luthe said of a Catch the Stars-MLK Center partnership.
Catch the Stars, founded in 2004, oversees programs and events for boys and girls ages 7 to 18. In 2022, the foundation hosted a basketball clinic and a back-to-school celebration in Tarkington Park.
Out of office
One year has passed since Catchings exited a job that didn't go as planned. The WNBA champion, NCAA champion and four-time Olympic gold medalist resigned from her post as Indiana Fever general manager and vice president for basketball operations after the team won 25 games and lost 63 during three seasons of her leadership.
The losing campaigns represent unfinished business for someone who led the Fever to the 2012 WNBA title.
"Who wants to go out without being at the top?" Catchings asks rhetorically.
At the same time, Catchings said she helped set up a bright future for the team.
In a February 2022 trade completed shortly before her resignation, the Fever picked up multiple draft picks. The team has the first overall selection in the upcoming WNBA draft, as well as the seventh, 13th, 17th and 25th picks.
"I feel like they're in a good position to build," Catchings said.
Reflecting on her front-office experience, Catchings said she developed mentorship skills that can be implemented regardless of a job title.
"I think I learned more about myself," she said. "I learned what I'm good at."
For instance, Catchings advises players that it's not possible to transition from their careers to post-basketball lives without intentional planning.
"Hopefully, I'm opening up more opportunities for you outside of there," she said. "When you're finished, if you want to own a tea shop or you want to be an entrepreneur or you want to be in public speaking or whatever it is, come alongside me.
"I'm going to welcome you in and show you as much as I can about moving on to the next phase of your life."
Meanwhile, basketball fans in Indiana are getting to know a new representative of the Catchings family.
Kanon Catchings, son of Tauja and nephew of Tamika, is a Brownsburg High School junior who's committed to play at Purdue University.
Purdue's women's team handed Tamika her first loss as a college player. Following her 1997-98 freshman season at the University of Tennessee, where the Lady Volunteers won all 39 games, Catchings and company fell to Purdue at the beginning her sophomore year.
It's history that stings enough that Tamika said it will be an adjustment to support the Boilermakers during Kanon's time in West Lafayette.
Catchings said she recently purchased a gold sweatshirt at Target. "That's getting closer," she said.
Does the sweatshirt feature a block "P" or a representation of Purdue Pete? "One step at a time," Catchings said.
Finding her voice
Catchings was in the WNBA pandemic "bubble" near Tampa, Florida, when she learned that a Black Lives Matter mural was to be painted on Indiana Avenue in response to the 2020 killing of George Floyd by police in Minneapolis.
From afar, she contacted Malina Simone Jeffers, co-founder of cultural development firm GangGang and one of the mural's organizers.
"Tamika was one of the first folks to reach out and say, 'I want to be part of this, I want to support this. How can I serve you?' That was really telling," Jeffers said.
With no public fanfare, Catchings covered financial compensation for the 18 artists who painted the mural. Before Floyd's death, Tea's Me Cafe exhibited work by at least 10 of the artists, Catchings said.
The artists, now known as the Eighteen Art Collective, have work on display at the Indianapolis Museum of Art at Newfields through Sept. 24 in an exhibition titled "We. The Culture." Catchings said it was natural to support artists who had a relationship with Tea's Me.
"I got to know them through the artwork we featured on the walls," she said. "And you get to learn their personalities and learn more about their stories. Now, all of a sudden, they're getting an opportunity to shine."
Born with moderate to severe hearing loss, Catchings said it took time to develop an ability to speak up for her beliefs.
"Basketball was the way I spoke: Practice, get in the gym, be outside shooting hoops," she said. "That was where my voice was heard."
Catchings said she was influenced to be more vocal by the leadership example of fellow basketball Hall of Famer Dawn Staley during the 2004 Olympics in Athens, Greece.
Also in 2004, Catchings became president of the WNBPA, the union for WNBA players. Catchings served in that role until 2016.
"When I look back, God has strategically placed me in situations where I had to learn how to use my voice without me even understanding why," she said.
Catchings is now speaking up for Indianapolis in her role as co-chair of the NBA All-Star 2024 board of directors leading up to next February's All-Star festivities at Gainbridge Fieldhouse.
"Tamika is a leader who knows the personality of the city," said GangGang co-founder Jeffers. "She knows the civic infrastructure; she knows who Indianapolis is. So her support can be more targeted. Her support can be more niche."
'Very much invested'
The Black Lives Matter mural wasn't the first time Catchings participated in a call to end police brutality toward Black Americans. Before a Fever playoff game in September 2016, Catchings and her teammates kneeled during the playing of "The Star-Spangled Banner."
"When we kneeled as a team, the country was not ready for us," Catchings said. "They were not ready for the WNBA. Four years after that, when George Floyd is killed, 'Oh, now the lightbulb goes on.' But why did we have to wait four years? Sometimes things take time."
Catchings anticipated that more people would talk about racial injustice after Minneapolis police officer Derek Chauvin killed Floyd in May 2020. Wanting to be part of a sustained conversation, Catchings enlisted spoken-word artist Eric Saunders to co-host an online video series titled "Tea's Me Community Conversation."
After launching as a weekly livestream, the conversations have been presented monthly. The 32nd episode aired on Jan. 10.
"She and I decided to do an online show," Saunders said. "We thought, 'We can't meet in public, but we need to try to interact with our people, especially on this topic.'"
Catchings said it's rewarding to learn from the show's guest panelists.
"I want to use my platform to help bring to light what they're already doing," she said. "I think it's really just about impact. We always end the conversation with, 'OK, we've talked for an hour; what are the action steps?'"
Saunders, manager of community engagement for Big Brothers Big Sisters of Central Indiana, first met Catchings when she organized an open mic event for young spoken-word artists and Saunders served as one of the onstage hosts.
"She's paid her dues in terms of connecting with the community," he said of Catchings. "It's not a front, or, 'Just let me do this to look good.' This is genuine. She's very much invested in every way she can be."•
Please enable JavaScript to view this content.