A Fishers-based software services company that purchased the former Marsh Supermarkets headquarters along Interstate 69 last year plans to open part of the building as a coworking hub following a $27.5 million renovation to the property.
Knowledge Services Inc. acquired the five-story building at 9800 Crosspoint Boulevard—west of I-69 and north of 96th Street—in March 2020 for about $9 million. The firm occupies the top two floors of the 165,000-square-foot building, now called Crosspoint Center, while leasing space on the first and third floors to other firms, including home construction loan company 1st Signature Lending LLC.
The coworking space, called The Club at Crosspoint, is a $5 million project on the building's 35,000-square-foot second floor that will feature nearly 300 workstations, including both office suites and open, unassigned work spaces. Starting in January, the spaces will be rented on a monthly basis.
Company executives told IBJ that The Club is a direct response to a continuing rise in a desire for workspace flexibility among white collar workers. It also allows the firm, which offers workforce-management software services, to bring in new streams of revenue and utilize space it doesn't yet need.
The coworking space is one of several investments Knowledge Services has made to the property— part of a larger $27.5 million effort to modernize the building that kicked off in mid-2020 after the acquisition.
Joe Bielawski, president of Knowledge Services, said the changing needs of companies regarding office use during the pandemic led to the decision about the coworking space.
"After we started coming back [to the office], we were listening to these large companies—both here in Indianapolis and across the country—saying that their people were indefinitely working from home, or 20% of [their] workforce was working from home," he said. "We were looking at the second floor thinking … it was good timing and a good market. Fishers is a great area with a great business climate. It's a growing market, so that was the motivation."
The company could also use The Club space as overflow if it continues to expand its operation, he said. It features its own conference room along with corner offices, a podcast studio and a large break area with a draft beer tap.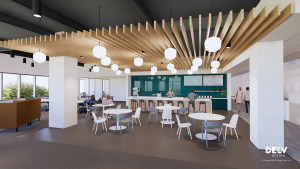 "The Club allows us to share our investment in Crosspoint Center and its amenities with companies and professionals who are looking for an inspiring environment, where they can thrive personally and at work," said CEO Julie Bielawski. "We believe The Club offers many options to suit many professional needs.  Whether you are a growing company who needs flexibility, a company in need of a satellite location, or an individual seeking an inspired space to work and host guests, The Club will be able to accommodate."
Monthly memberships at The Club are expected to begin at around $395 for the standard "hot desk"—or unassigned space—with single-user offices starting at about $840. Offices can also be configured to accommodate up to four people, which could be conducive for a small business operation, Julie Bielawski said.
Knowledge Services was founded in 1994 and has grown to about 2,500 employees across the United States, including about 175 in Indianapolis. The firm, one of the largest of its kind in the United States, provides workforce management software for government agencies and private sector companies.
Other updates to the 30-year-old building include a full redesign of the building's atrium with a modern and clean aesthetic, along with vast changes on the basement level and a reconstruction of the cafe space to offer grab-and-go options and more seating.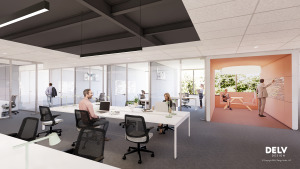 Knowledge turned the basement level into modern training rooms, conference spaces, a fitness center and recreation area. There's also a mother's suite accessible only to women who recently had children. Knowledge Services plans to further invest in the property with additional landscaping.
The basement was used by Marsh as a training center for new associates, along with the production of all of the regional supermarket's commercials.
"We have an awesome group of people that work with us, and we feel like we owe them the the opportunity to enjoy their day at work, since we spend a lot of time here," said Julie Bielawski of the recreation area, which features virtual golf, billiards, ping-pong, multiple televisions and a bar. "For people who might be [on their own] working in this building up at The Club, they may not have other coworkers to interact with. But by having this and having tournaments and things, they can have a sense of belonging and meet people."
The Club memberships include access to most of those amenities at no additional charge, although a fitness center pass costs those using coworking space $30 more. 
While most of the renovation to the property is complete, work on The Club is expected to continue for at least another month. Indianapolis-based Delv is the design and architectural firm on the project.
Marsh, which went out of business in 2017, originally occupied most of the building after construction was completed in 1991, but it moved most of its headquarters staff out in 2008, two years after the supermarket company was acquired by Florida-based Sun Capital Partners. In a cost-cutting move, Sun implemented a sale-leaseback of the building.
After Marsh moved out, Roche Diagnostics Corp. agreed to sublease the entire building from Marsh in an 18-year deal worth more than $47 million, but Roche abruptly pulled out of the deal before occupying the building over document issues.
In 2013, an Indiana Court of Appeals judge ordered Roche to pay Marsh almost $18.2 million to settle a legal dispute over the sublease agreement.
Marsh reoccupied about 40,000 square feet in the building in 2011 and subleased some of the building to other tenants.
Please enable JavaScript to view this content.