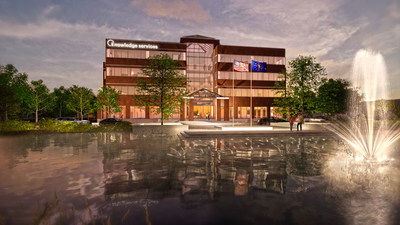 Indianapolis-based tech firm Knowledge Services has acquired the former Marsh Supermarkets headquarters building in Fishers and plans to move there by the end of this year, the company announced Tuesday.
The company, which provides workforce management services, said it is investing $15.1 million overall to acquire and renovate the 165,000-square-foot building at 9800 Crosspoint Boulevard, just west of Interstate 69 and north of 96th Street.
Knowledge Services will move from a 35,000-square-foot space at 5875 Castle Creek Parkway in Castleton and take up a full floor, or about 40,000 square feet, at the four-story Fishers building.
The remainder of the building and its 13-acre site, renamed Crosspoint Center, will be marketed to other tenants. The building has been almost 90% vacant since 2017.
The new headquarters will be home to Knowledge Services' 130 local employees. The company—the largest government managed services provider in the nation—has more than 2,000 employees overall.
"While we are living in unprecedented times in our country, we know that this too shall pass and there will be a time when we are able to return to work and to normal routines," said Knowledge Services CEO Julie Bielawski, who founded her firm in 1994. "With this purchase, we are investing in our community, our company and a hopeful future for tomorrow."
The company's actual name is GuideSoft Inc., but it's been doing business as Knowledge Services since 2003.
Anna Bielawski, director of marketing and brand identity for Knowledge Services, said renovations have already begun to the building.
The project will improve the property's common spaces, which will include a 300-seat auditorium, indoor and outdoor dining spaces, fitness/wellness center, nature trail, training and meeting rooms, and a recreational zone that will be available to the community and tenants.
David Moore with Cushman & Wakefield will be marketing Crosspoint Center's available office space.
Knowledge Services has been targeting Fishers for a new headquarters for several years.
In June 2017, the company announced plans to construct an 80,000-square-foot headquarters on USA Parkway to the north of 106th Street, and hire 400 employees by the end of 2021. The company acquired the property but did not construct the building.
The company said it plans to hold on to the USA Parkway property for now and "work with the City of Fishers on next steps to amend their Economic Development Agreement according to the change in plans."
Marsh, which went out of business in 2017, originally occupied most of the four-story building after construction was completed in 1991, but it moved most of its headquarters staff out in 2008, two years after the supermarket company was acquired by Florida-based Sun Capital Partners. In a cost-cutting move, Sun implemented a sale-leaseback of the building.
After Marsh moved out, Roche Diagnostics Corp. agreed to sublease the entire building from Marsh in an 18-year deal worth more than $47 million, but Roche abruptly pulled out of the deal before occupying the building over document issues.
In 2013, an Indiana Court of Appeals judge ordered Roche to pay Marsh almost $18.2 million to settle a legal dispute over the sublease agreement.
Marsh reoccupied about 40,000 square feet in the building in 2011 and subleased some of the building to other tenants.
Please enable JavaScript to view this content.