Longtime local tech entrepreneur and investor Kristian Andersen is set to receive TechPoint's 2020 Trailblazer Award for his contributions to the state's technology sector, the organization announced Thursday morning.
Andersen will be recognized Thursday night during a live broadcast of TechPoint's 21st annual Mira Awards, which are being he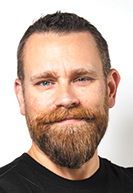 ld virtually for the first time, due to the pandemic.
TechPoint is a part of the Central Indiana Corporate Partnership's initiatives focused on the state's fastest-growing economic sectors.
Andersen is a co-founder and partner at High Alpha, a venture studio that conceives, launches and helps grow business-to-business software companies.
Prior to High Alpha, Andersen founded leading design and innovation consultancy Studio Science, which he sold in 2019. He co-founded Gravity Ventures, a seed-stage venture firm that raised six funds and made investments from 2008 to 2016. He remains an active angel investor.
Andersen founded or co-founded several software companies, including Octiv, which was acquired by Conga, plus Lessonly, Visible and Pathagility.
He also co-founded The Speak Easy coworking space in Indianapolis, serving as the organization's first board chair. He also was the first chairman of the Harrison Center for the Arts.
Andersen and his wife, Brandi, have six children and live in Indianapolis. He is a graduate of Anderson University, which named him Alumni of the Year in 2016.
The public may watch Thursday night's awards at https://techpoint.org/bebold or on social media.
Please enable JavaScript to view this content.