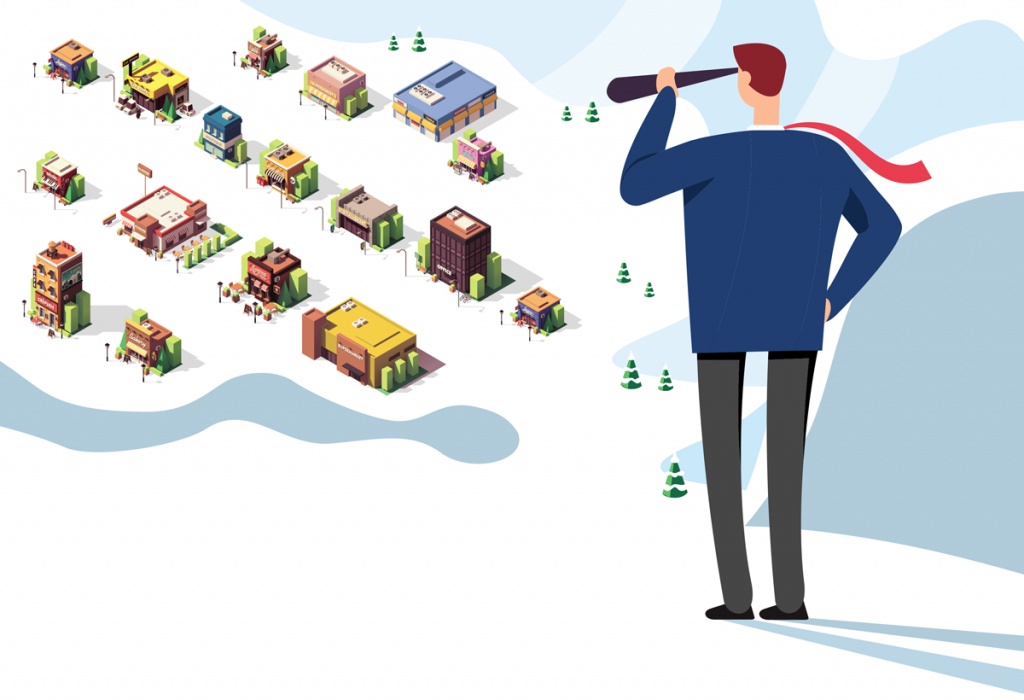 From board-room presentations to business dinners, dealmakers typically rely on face-to-face meetings to cultivate relationships and close big investments.
Since the pandemic has shifted many of these interactions online, local dealmakers say they feel the loss of assessing non-verbal cues and interactions among members of a management team as they decide whether to acquire companies or invest in startups.
Still, local investment firms found ways to make deals in 2020. And they acknowledge that online meetings offer some advantages worth holding onto, even after the pandemic recedes.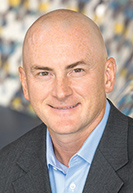 Pre-pandemic, the dealmakers at Indianapolis-based private equity firm Hammond Kennedy Whitney and Co. Inc. typically spent two to three days each week on the road. They traveled to meet with managers of companies the firm had already acquired, to meet with investment bankers, and to research companies they might want to acquire.
Last spring, all that travel screeched to a halt.
"We all got really familiar with Zoom calls," said HKW's lead transaction partner, Luke Phenicie.
Some colleagues, Phenicie said, even upgraded their webcams and added special lights to improve the visual quality of their online meetings.
HKW invests in small to medium-size health and wellness and business services companies. The firm's current portfolio includes 15 companies in the United States and Canada.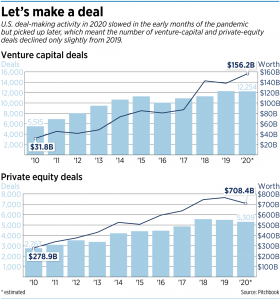 HKW did close one deal last spring, buying a California-based company called Infab that makes lead aprons and other protective equipment for the medical field. That deal had been nearly completed when the pandemic hit. Then HKW spent most of the early part of the pandemic focused on its existing portfolio companies rather than scouting new deals.
"We were literally doing daily calls internally, and just making sure all the companies were doing OK, had plenty of liquidity," Phenicie said.
As restrictions began to ease up later in the year, HKW resumed some in-person meetings. Phenicie said he doesn't believe his firm will ever do away with face-to-face interactions, especially for key meetings.
"I think it would be hard for us to ever buy a company without meeting in person with the management team" of the target company, he said. "There's a lot of nonverbal stuff, communication that you pick up in person … that you can't get through a typical Zoom call."
For instance, Phenicie said, the brief audio delays during online meetings can make it awkward for multiple people to contribute to a conversation, so a management team might opt to have its CEO do most of the talking.
But that makes it difficult to get a sense of the management team's personal dynamics, Phenicie said. "We like to see more than just the CEO talk. We like to see the team that's behind the CEO."
Online meetings also eliminate the possibility of gleaning insights from random interactions with employees during a company visit, he said.
Recalibration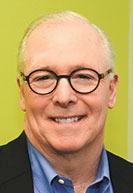 Chris LaMothe, CEO of Indianapolis-based Elevate Ventures Inc., said he's still a fan of face-to-face meetings.
Elevate Ventures operates a venture capital fund that invests in companies around Indiana, with a focus on targeted industries that include advanced manufacturing, advanced agriculture, life sciences, medical devices and tech-enabled services. The organization currently has investments in 380 portfolio companies.
Because he can't as readily decipher unspoken cues such as eye movements online, LaMothe said he's had to ask deeper questions—and more of them—to glean the same level of information he can typically gather in person.
"I would much prefer to be sitting down [in person] and looking at you and listening to you and how you answer your questions," LaMothe said.
He acknowledged that, at age 66, he might be more attached to in-person meetings than his younger colleagues. That said, LaMothe anticipates that he won't entirely abandon online meetings even after the pandemic.
"I think that there's going to be a new normal," he said. "I may not travel quite as much as I did before."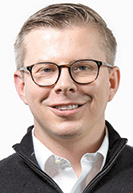 Seth Corder, a principal at Indianapolis-based venture studio High Alpha, agreed that in-person meetings are hard to replicate online. In particular, the meals that often take place after a business meeting can be an invaluable way to get to know people in a less formal setting.
"It's hard to re-create some of that when you're just sitting there staring at the computer," Corder said.
But he said High Alpha felt comfortable enough to close some deals entirely online last year. "We've made a number of investments where we never even met the management team or the CEO in person," he said.
He wonders how many meetings could permanently shift online post-pandemic. Before COVID-19 hit, Corder said, High Alpha already did some meetings online. But other types of gatherings—corporate board meetings, for instance—always happened in person.
Now, Corder said, there will be a recalibration: Will people once again be willing to hop on a plane and fly to San Francisco for a two-hour board meeting? He's not sure. "The question is, is it worth going back to that travel schedule?"
More meetings, not fewer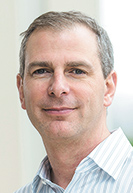 At Carmel-based private equity firm CID Capital, Managing Partner Steve Cobb said moving meetings online has its advantages. "I almost say it's better because the amount of interaction increased so much."
The firm focuses on acquiring lower-middle-market U.S.- and Canada-based companies, with a focus on consumer products, industrial products and business services.
CID's travel schedule got cut in half last year, Cobb said, but the total number of meetings tripled or quadrupled because online meetings are so much easier to arrange.
"We found ourselves getting great insight from the management teams that we were talking with and the founders that we were talking with," he said. Online meetings "really allowed business to continue at a level that was probably unimaginable five years ago."
Another way the pandemic has affected deal making: Some companies saw their revenue increase while others experienced dramatic declines in revenue—and it's not clear whether those trends will continue.
As an example: Food companies that serve institutional customers like schools and office cafeterias saw revenue plummet during pandemic lockdowns. But companies that make eat-at-home snack foods saw big gains.
In many cases, it's too early to say whether these companies' revenues will return to pre-pandemic levels or settle into some new normal. That's something investors will need to evaluate as they consider acquiring a company, given that corporate valuations are typically based on some multiple of a company's annual revenue.
"In some ways, it creates some challenging deal dynamics," said Indianapolis attorney Jim Birge, a partner in the law firm of Faegre Drinker Biddle and Reath LLP.
All in all, local investment firms say their deal activity picked up toward the end of the year, making 2020 a decent year and giving them confidence for a strong year ahead.
At Elevate Ventures, "we think that 2021 is going to be a record year for us in terms of investment and in terms of the number of companies we're dealing with," LaMothe said.
CID's Cobb said he's "pretty bullish on where 2021 would go," especially since his firm concentrates on acquiring firms from owners and founders who are looking to retire.
"There's, in our view, always retirements," Cobb said. "There's no way to slow the clock. We all get older."
Birge agreed, especially considering that the pandemic made it harder for some firms to close deals last year. "The feeling is, now, they've got a good pipeline. Because things didn't get closed in 2020, it feels like there's good momentum and optimism for getting deals done in 2021."•
Please enable JavaScript to view this content.