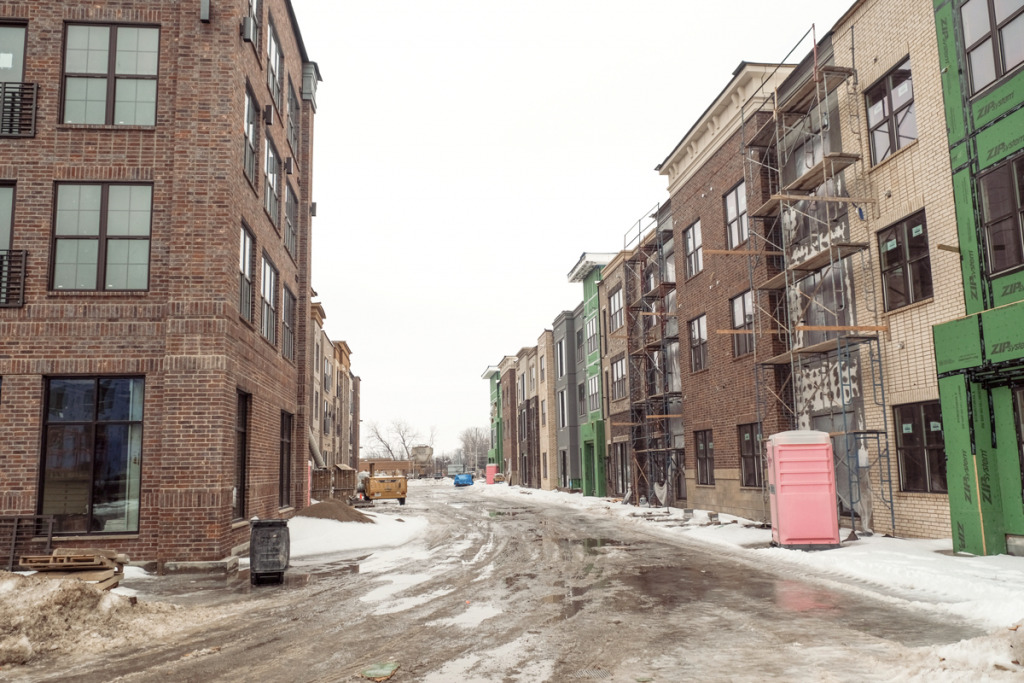 The long-awaited redevelopment of a prominent corner just south of City Center in Carmel is nearly complete, some 17 years after city leaders first eyed it for a makeover.
What once was a deteriorating Party Time Rental warehouse and an Arby's has transformed into a residential and commercial block, a built-from-scratch combination of upscale condos, apartments, office space and restaurants finished with the kinds of details uncommon even in Carmel.
The makeover at the seven-acre lot on the northwest corner of South Rangeline Road and West Carmel Drive started when the city purchased the Party Time Rental warehouse in 2009 and the Arby's property in 2017 for a combined $6.2 million. The city then partnered with Carmel-based developer Novo Development Group to cook up the Proscenium, an $80 million mixed-use project that will include Indiana's first Wahlburgers restaurant.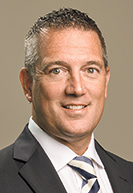 The project's first elements, the 100,000-square-foot Agora at Proscenium office building and a 600-space subterranean parking garage, came online last summer. Its 196 luxury apartments and 15,000-square-foot restaurant building are scheduled to roll out this spring, and a 22-unit condominium building is slated to open in July to complete the project. The development also features two acres of green space atop the underground parking garage.
Tony Birkla, owner of Novo's holding company, Birkla Investment Group, told IBJ he's never seen a more passionate group come together over the course of his 25 years in the industry.
"The collaboration on a mixed-use project that includes office, retail, restaurants, for-rent and for-sale residences—all on a parking garage," Birkla said. "It's incredible."
Much of the work left at the Proscenium is related to its residential components.
"There are some supply-chain issues that have slowed our construction down, and it's specific to the end things like appliances and getting our elevators operational," Birkla said. "But, as far as COVID is concerned, our overall construction schedule is strong."
Birkla said 19 of the condominium building's 22 units have been sold, and there are parties interested in the remainder. The luxury living quarters feature 10- and 14-foot ceilings, private balconies, hardwood floors, Delta plumbing fixtures, California Closet systems, built-in wine bars, Rinnai gas tankless water heaters and more.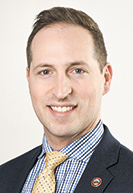 "We were the first to do a four-story, large condo building in Carmel," Birkla said. "It's probably one of the more unique and risky things we did. The city really wanted to see a for-sale project, so we're the guinea pig."
Henry Mestetsky, director of the Carmel Redevelopment Commission, said the project's sheer size, the type of amenities it offers and the 600-space underground garage were all factors in why the city felt it was a good place to introduce for-sale housing.
"Getting for-sale housing in an urban setting is not easy when there isn't anything to begin with. Lenders don't want to lend to projects that are trying something for the first time in a market," Mestetsky said. The Proscenium "is on such a scale and creates the right kind of sense of place to allow for our large luxury condo building" to be successful.
Birkla said Novo pushed for high-end finishing touches and personalized features in its one- and two-bedroom apartments, as well.
Novo received its first certificate of occupancy on Feb. 1, and so far, has leased 11 units.
Wahlburgers nearly here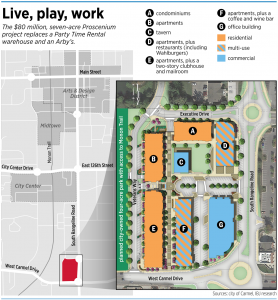 Perhaps the most anticipated piece of the project is Wahlburgers, which is expected to open this spring.
Situated in a 15,000-square-foot building at the Executive Drive and South Rangeline Road roundabout, the location will be Wahlburgers' first in Indiana.
Jim Oboyski, vice president of operations for Wahlburgers, said the burger chain chose to launch the first of as many as five central Indiana locations in Carmel's Proscenium for several reasons.
"With the Proscenium at Rangeline and Carmel Drive, that's a dynamic location inside a family-oriented community," Oboyski said. "For us, it was a no-brainer to get into that market."
Wahlburgers locates its roughly 4,000-square-foot suburban restaurants in communities with prevalent foot traffic, a dense population, nearby businesses and frequent events, he said.
The Carmel location will be unique, Oboyski said, after the company approved changes to its traditional interior design to better reflect the community.
"We put our heads together and toured existing Wahlburgers and we wanted to create a space in Carmel with a family feel, with a little more warmth to it," he said.
Those touches include booths, more plants and soft wood, textured walls. A welcome sign featuring the restaurant's founders and brothers—actors and singers Mark and Donnie and chef Paul Wahlberg—will also feature nods to Carmel's roundabouts.
Though the restaurant menu is in the research and development stage, Oboyski said it might feature Indiana-favorite dishes, including a breaded pork tenderloin, a breakfast burger riff off biscuits and gravy, chopped steak, perch or walleye, fried chicken, and noodles over mashed potatoes.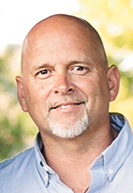 Up to 30% of the project's interior design and furniture will also be sourced locally, Oboyski added.
"We want design elements that represent the city," he said.
The plan is to open by the last week of March or the first week of April. Oboyski said the restaurant is hiring now to have 104 employees when it reaches full steam. Wahlburgers' decision to locate in the Proscenium also means it will have access to a liquor license under the city's recently established riverfront district.
In addition to Wahlburgers, the development is expected to include a stand-alone tavern, a coffee and wine bar, and at least three other commercial tenants.
Ohio-based 101 Beer Kitchen, which has a location in Fishers, was previously announced as another restaurant tenant at the Proscenium. Birkla said the pandemic has caused many restaurants to reevaluate their openings, so the 101 Beer Kitchen project has been put on pause.
IBJ was unable to reach the owners of 101 Beer Kitchen for comment.
Office as a cornerstone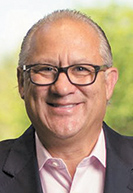 A cornerstone of the project is Lauth Group's 100,000-square-foot office building at the southeast corner of the site that is about 85% leased.
Originally, Lauth was recruited by Birkla and the city to build an 85,000-square-foot office building on the north side of the project.
Called the Agora, the building plan was later expanded and moved to a place of prominence to generate more assessed value and to emphasize the city's desire to recruit more corporate headquarters, said Michael Garvey, a partner and chief investment officer with Lauth Group.
The result, Garvey said, is a building Lauth had so much pride in that it decided to move its headquarters to a 14,000-square-foot space on the building's first floor.
"We think it's important for office tenants in particular to have the exposure on Rangeline," he said. "Literally, my office is on the main curvature point of the roundabout on the first floor. I can personally attest to the amount of traffic that goes around this building."
In addition to Lauth's headquarters, the first floor will include a yet-to-be-announced restaurant.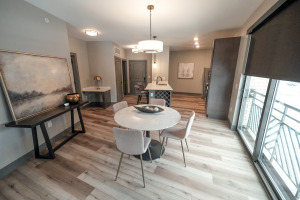 Two tenants will occupy the second floor, though neither has moved in. Carmel-based Lambda Chi Alpha fraternity's world headquarters has leased 11,000 square feet, and Carmel-based apartment developer Cityscape has leased 5,300 square feet.
Indianapolis-based Schwarz Partners occupies the entire 25,000-square-foot third floor, and Valeo Financial Advisors' headquarters fills the fourth.
A priority for the building was an emphasis on external amenities, including an outdoor dining space for a future 6,000-square-foot restaurant on the first floor, exterior balconies on the upper floors and an extensive outdoor space with a smart pergola on the roof that will allow for gatherings to proceed uninterrupted by the elements.
"When we designed the building, we were purposeful in having the outdoor space for the tenants to be on the north side of the building so they can enjoy and take advantage of all the views of the public and common areas between the buildings, because that will be the hub of the activity," Garvey said.
The attraction, he said, is the Proscenium's live, work, play environment. Plenty of amenities are shared with the project's residential components, including a 4,500-square-foot fitness facility and pool. There are also nearby community amenities, such as the Monon Trail, which allows for foot traffic between the Proscenium and the city's other districts.
Parking below, details up top
While residents of Carmel might be most excited about the Wahlburgers or other retailers joining the project, its developers say the defining feature is actually its underground parking. The 4.5-acre, single-level garage with 600 public and private spaces is the base upon which the project's seven buildings stand.
"It's so big we ended up painting wayfinding on the pillars," Birkla said.
Mestetsky said the discreet and flexible parking is part of what makes the Proscenium a nearly perfect suburban block.
"The difference between the Proscenium and most suburban projects is, it's not aimed at the vehicle," he said. "You're not looking at a field of cars. You're looking at green space, good landscaping, architecture, plants. The key for these types of projects is to utilize flexible parking as much as possible because of the high costs. The Proscenium is almost perfect in that regard."
The Proscenium's varying on-site uses allow for the garage's spaces to be used by office employees during the day, who then vacate their spots as Proscenium residents and patrons show up in the evening. Users will be able to take an elevator directly to their destination without having to step out into Indiana's sometimes harsh climate.
Birkla said special attention has been paid to the development's details small and large.
He highlighted the interior cobblestone streets, the green space's potential for outdoor movie screenings; a four-story mural; varied art deco; industrial, modern and prairie-style architecture; a vintage-style theater sign and more as a way to entice visitors to share the space with the people who work and live at the Proscenium.
"There's so much we've paid attention to, it's hard to put it all in words," Birkla said.
And that attention to detail extends to all sides of the Proscenium, not just those forward-facing.
Mestetsky said Carmel couldn't build a traditional suburban strip center with a rear loading area, especially as the city looks to expand its Kawachinagano Japanese Garden into area just west of the Proscenium and developers plan new projects just north of it.
"Every corner of every building is the front side of the building," Mestetsky said. "Every architectural detail on every corner matters. Off Rangeline, there's two roundabouts. What does this project do? The buildings curve to respect the roundabout. This project fits in Carmel because it was tailor-made to Carmel."
For all the Proscenium's new and shiny features, Mestetsky said, it's key that people remember what it used to be.
"What was there before was gross," he said. "Things that look like this in Carmel are not accidental. They take decades of master planning, and the result is a desirable place to live and build up a corporate and commercial tax base that will sustain us for years."•
Please enable JavaScript to view this content.