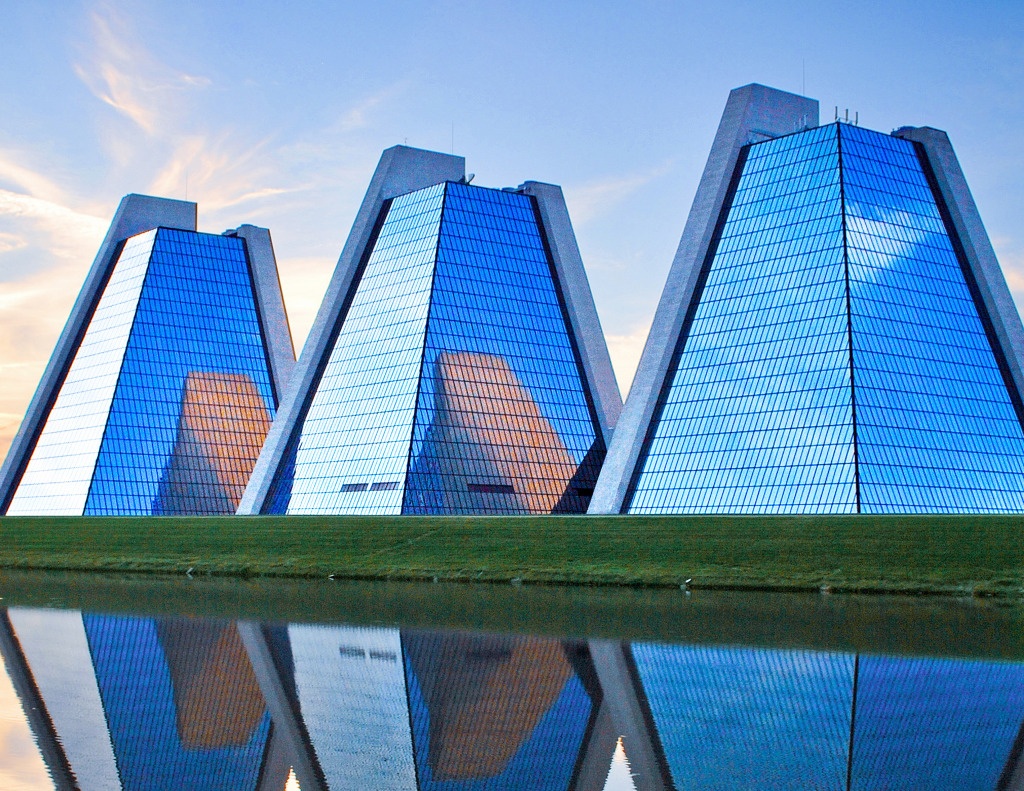 The Pyramids, a landmark office complex on the north side of Indianapolis, has been acquired by local firm KennMar, which plans to update the property with an upgraded facade and improved interior common areas, the buyer announced Monday.
The 50-year-old office park, 3500 Depauw Blvd., totals nearly 367,000 square feet across a trio of 11-story buildings on 45 acres near Interstate 465 and Michigan Road. It was purchased for an undisclosed price this month from New York City- based Sterling American Property Inc., which has owned it since 2004.
KennMar President and CEO Brent Benge said the firm is pushing ahead with redeveloping the property despite the pandemic strains on office use because it is confident there will be a renewed demand for high-end space in the coming years.
"As an Indianapolis-based real estate investment firm, we were very much interested in purchasing one of the most recognized office properties in the city," he said in written remarks. "While the pandemic has created uncertainty around the office market, we are bullish on the sector and anticipate that businesses will eventually return to an in-person work setting over the next several years."
Benge did not share specifics on KennMar's plans to update the property—including scope, timeline or investment—but said the firm plans to update the exterior of the structures and enhance the property's interior common areas and outside amenities.
The move is intended to "rival newer office developments" in the Indianapolis area, Benge said.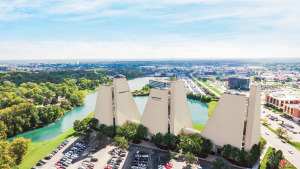 The Pyramids, the 20th largest office complex in Indianapolis, according to IBJ statistics, was about 72% occupied in 2021. Tenants include the American Academy of Osteopathy, AT&T, brokerage Cushman & Wakefield, the Indiana Institute of Technology, Katzman & Katzman P.C., the National Multiple Sclerosis Society and Transitions of Indiana.
The towers were built from 1967 to 1972 by the College Life Insurance Co., using a design from renowned architect Kevin Roche. Roche is known for his work in Columbus, Indiana, where he designed the U.S. Post Office and the Cummins corporate headquarters. He also was a design associate for architect Eero Saarinen on industrialist and philanthropist J. Irwin Miller's house.
Kevin Gillihan and Beth Sallee with the Indianapolis office of Chicago-based brokerage JLL will oversee leasing and marketing for the property.
"KennMar took advantage of a great opportunity to invest in the community by purchasing this landmark office park," said Gillihan, a senior vice president. "The Pyramids are home to some of Indy's most reputable businesses and KennMar's determination to redevelop areas within our city is something many of us are looking forward to. We are confident KennMar will make the most of this investment."
In addition to The Pyramids, KennMar has been involved in several other local projects lately. They include Hotel Indy in downtown Indianapolis and a redevelopment of the former Caribbean Cove property just a few hundred feet away from the office park, at 3850 Depauw Blvd. That parcel is being turned into a 10,000-square-foot retail center called College Park Shoppes, which will feature a Panera and a free-standing Starbucks.
This story will be updated.
Please enable JavaScript to view this content.