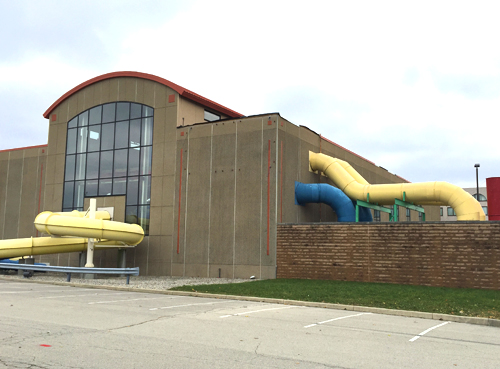 A local developer has acquired two hotel sites in Indianapolis from St. Louis hotelier Drury Development Corp. and is planning redevelopment projects that could total more than $50 million for the properties.
Indianapolis-based KennMar LLC acquired the former Caribbean Cove water resort property on the city's north side in February for $4.2 million—more than a year after Drury paid to demolish the former water park and hotel. KennMar plans to spend up to $30 million to redevelop the 10-acre property with multiple retail buildings and possibly an office headquarters starting later this year.
In addition to the Caribbean Cove project, KennMar also plans to redevelop a former Drury hotel site—a 6.3-acre parcel at Interstate 465 and West 71st Street. The firm bought the land, which is in an area with a high concentration of medical and office buildings, for $1.8 million at the same time as the Caribbean Cove property.
KennMar President and CEO Brent Benge said the development at 7151 Marsh Road will total about $22 million and include a 100-room hotel and two mixed-use commercial buildings.
Former Caribbean Cove property
IBJ previously reported in November on Drury's plans to sell the Caribbean Cove property after it scrapped plans for a new hotel at the site. The adjacent 109-room Pear Tree Inn at 9320 Michigan Road was not sold as part of that deal as previously reported. Rather, the Drury property at 71st and I-465 was part of the sale.
Benge said KennMar expects to lease out most of the property to commercial users, including national restaurant chains, but he declined to identify users because negotiations are ongoing.
He said KennMar is "weeks away" from signing leases, for anywhere from seven to 10 users, and is in the middle of site planning for most of the parcels.
"We feel privileged to be able to put our best foot forward on that site—it's a heck of a location," he said. "We have no shortage of users right now. It's just a matter of [figuring out] how we put the pieces together so we have a good, cohesive project where we can fit everyone in that makes sense."
A hotel is also "an option that is on the table" for the development, either with KennMar developing the site itself, the company partnering with another hotelier or by selling off the land.
Benge said the total investment in the property could be between $20 million and $30 million, with a corporate headquarters or hotel driving the total toward the higher end of that range. 
KennMar plans to master-develop the site, with plans to break ground by the end of 2021. The property should be fully developed within two years.
He said conversations about property tax abatements have occurred with two companies considering headquarter buildings on the property, but those discussions are still in the early stages.
Benge said the corporate headquarter building would likely be a similar investment to what Drury planned—$13 million—when that firm secured a nine-year tax abatement in 2018 for the property. He said KennMar is still determining whether it will have to apply for its own abatement or if the one from Drury transferred with the sale.
The project will be financed through a combination of debt and equity.
Drury bought the property in January 2018 for $4.7 million, about three months after the Caribbean Cove hotel shut its doors. The water park, which had been the main draw for the property for several years, closed several months before that.
Interstate 465 and 71st Street property
Benge said the hotel at 7151 Marsh Road will carry a national flag and cost about $13 million to $14 million to develop, but he declined to share additional details because a deal hasn't been finalized. The hotel would be located on the north end of the property, farthest from 71st Street.
On the hard corner of 71st and Marsh Road, a 12,000-square-foot medical office and retail building would be constructed, occupying a parcel of about two acres. Directly north would be a 20,000-square-foot building, also for office and retail buildings. Those buildings would cost a combined $7 to $8 million. 
Benge said KennMar is in negotiations with potential users for the office and retail spaces, with some expected to start construction as soon as the end of this year. The second medical building would break ground in early 2022, followed by the hotel in mid-2022.
Those developments will also be financed through a combination of debt and equity.
Please enable JavaScript to view this content.