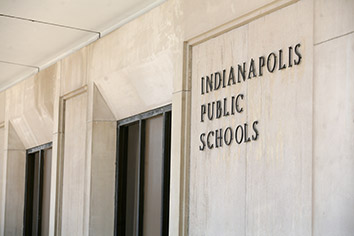 Indianapolis Public Schools' younger students headed back to classrooms Monday to resume in-person learning for the first time since March.
It's part of a phased reopening plan that brings pre-kindergarten through third grade into buildings this week, followed by a week of remote learning over what was supposed to be fall break. The rest of the district starts in-person classes the week of Oct. 19, with grades 7-12 coming in only twice a week on a hybrid schedule.
The state's largest district, which serves about 33,000 students in neighborhood, magnet, and independently run schools, took a cautious reopening approach and is among the last to return to school buildings this year. Many other districts have already started dealing with the changes and challenges of in-person instruction through the coronavirus crisis—including having positive cases in school.
It's not clear if classrooms will be able to stay open all year. The district wants to take advantage of lower positivity rates to teach students in person while it seems safe to do so—but officials say they're prepared to pivot back to remote learning if needed.
Here are a few things to watch as IPS reopens classrooms during the pandemic.
Will students want to return in person?
It's not clear yet how many students will choose to return to classrooms—and how many want to stay virtual. That could affect classroom sizes and school bus routes.
Families had to notify the district by last week if they wanted to remain in the 100% e-learning option. The district has closed sites that provided child care and remote learning support.
It's also yet to be seen what the district's overall enrollment numbers look like. Washington Township, for example, which also started fully virtually, saw a small number of students leave the district because they needed in-person options, school officials have said at board meetings.
Will schools be able to stay open?
The district is monitoring the seven-day average positivity rate in Indianapolis. If it dips below 5%, where it's currently hovering, IPS could decide to further open up for older students to learn full time in person.
But if the rate rises above 11%, the district could limit in-person learning.
In addition to trends in positivity rates, the district is monitoring the availability of tests and the turnaround time for results, contract tracing capabilities, average student and staff attendance, and the availability of substitute teachers.
What happens if there are positive cases?
In addition to safety precautions such as social distancing and required mask-wearing, IPS has COVID-19 response teams in each school. The district's protocols call for people who test positive to quarantine for at least 10 days and go three days without a fever before returning. Close contacts to a positive case will quarantine for 14 days.
The district is developing its own dashboard for publicly reporting cases. IPS schools do not appear to be reporting to the state's database on school cases yet.
Will in-person learning be more engaging?
Like with many schools, fewer students have been engaging daily in remote lessons than they typically do in person. But after a month of e-learning, IPS increased its average daily attendance rates to about 80%, up from about 70% when the school year started, according to a board presentation.
In-person attendance rates are usually well above 90% across the state. IPS reported a 92% attendance rate in 2018-19, the most recent year available in state data.
IPS officials have said they believe in-person instruction is better for students, and they anticipate needing to help students catch up after some learning loss. Schools will start testing students in early November to gauge where they stand academically.
Are students able to get to school?
One of the most complicated factors to coordinate for IPS will be transportation, as the district adjusts its routes to accommodate social distancing on buses. With only one student per seat, the district will have to run more bus routes.
Officials have sought to ease the transportation crunch by asking families if they can bring their students to school and having more families who live near their schools to walk instead of ride the bus.
While the district will have more crossing guards, some parents have raised concerns about their students navigating busy intersections on the way to school. IPS is hosting a transportation Q&A for families on Tuesday night.
How will teachers handle both in-person and remote learners?
Some teachers will be instructing in-person students and remote learners at the same time—a challenge even for experienced educators. That's because the district has moved away from early plans to centralize e-learning, in order to allow students to remain with teachers from their usual schools.
To teach two sets of students at the same time, teachers will use technology in the classroom laptops, projector screens, white boards, and smartboards. The district has also sought to provide training opportunities and have schools identify teachers who can help others with technology.
But schools can also find ways to divide students among grade level teams, such as having one teacher assigned to remote learners, according to a board presentation.
How will the district cope with extra costs?
The district is watching the extra expenses of spreading out classroom setups, adding more bus routes, and providing more technology, while also preparing for a potential drop in state funding because of the pandemic's effects on the economy.
While federal relief funds and donations have helped cover the costs, the district also took on some debt to pay for each student to have a laptop or tablet.
The district has also installed touchless water fountains and provided supplies such as hand sanitizer and masks.
Chalkbeat is a not-for-profit news site covering educational change in public schools.
Please enable JavaScript to view this content.