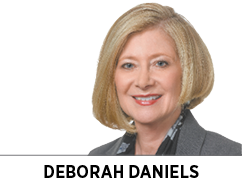 It's starting to get cold, and I fear what will happen when coronavirus fatigue meets winter.
Gov. Eric Holcomb's first executive order declaring a public health emergency was issued March 6, with spring right around the corner. But winter presents a new challenge.
By Sept. 30, the virus had reached all 92 Indiana counties, with more than 120,000 confirmed cases and more than 3,400 deaths. And we are all vulnerable—not just the elderly, as first thought.
Data from the Marion County Department of Public Health shows that, even in March, while nearly 40% of those infected in Marion County were over 65, fully 25% were in the 20-to-39 age bracket. By August, a full 42.5% of those infected were age 20-39, and nearly 18% were age 19 and younger.
Younger people should not be cavalier about the risks. We've seen multiple situations where healthy young people have died from the virus, including the 28-year-old medical resident who unexpectedly died in September.
Herd immunity? Not gonna happen, at least without a vaccine. Studies indicate that having contracted the virus might make a person temporarily immune, but that immunity might not exceed three to six months.
The bottom line: Now, as winter approaches, is the time we must be at our most vigilant. Unfortunately, it is also a time many people are fed up with the restrictions under which we have been placed, in the interest of our own health and that of others.
The privations were easier to bear in the summer when we could be outside for the occasional outdoor meal. Now, we face staying inside for six months. We still must avoid close contact with others, and we are still under a mask requirement—for very good reasons.
Unfortunately, many people have grown tired of the restrictions—and are pushing back.
I sympathize with business owners who have suffered mightily under the pressure of being closed, or open only on a limited basis. My heart goes out to those whose businesses have simply not been able to survive and have closed—and to their former employees, now out of work. More businesses will perish before next spring.
What I don't understand is the bar owners who are suing the Marion County Public Health Department. Rather than trying to cope with the new normal, which is admittedly difficult, they claim the right to have hundreds of people in their bars in close quarters, maskless, mingling, dancing, hugging and shouting in one another's faces.
I fear the consequences as the "young invincibles" have returned to their college campuses, partying in large groups despite university edicts and infecting, in the case of Indiana University, students in some 33 of 40 fraternities.
I am disappointed with some of my fellow conservatives who are mad they have to wear masks—and threaten to vote for a Libertarian candidate in an ill-advised protest against the governor.
Talk about cutting off your nose to spite your face. Anyone remember Ross Perot?
In 1940-1941, British citizens spent the better part of a year sleeping in subways and carrying gas masks to defeat an enemy. I think what's being asked of us, in the interest of our own survival, is far less.•
__________
Daniels, a partner at Krieg DeVault LLP, is president of the Sagamore Institute.
Please enable JavaScript to view this content.