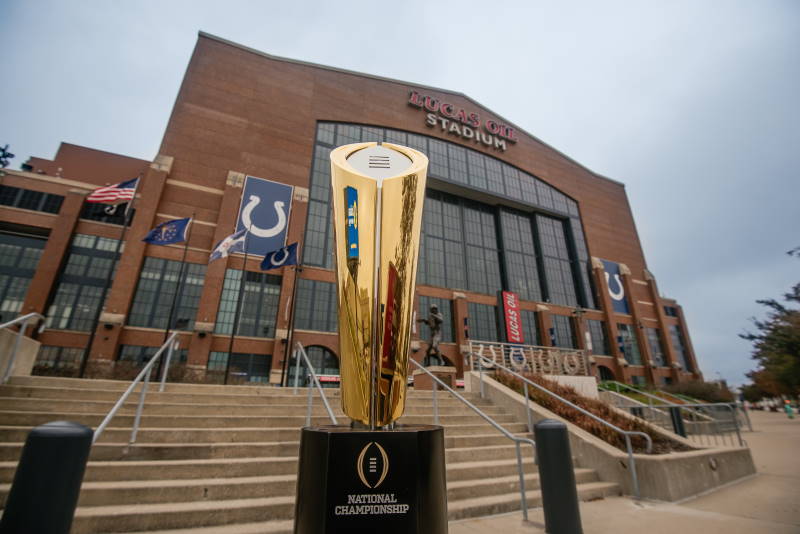 Hundreds of tickets to Monday's College Football Playoff National Championship game in Indianapolis are available for purchase on the secondary market.
The tickets range from a get-in price of $300—in the upper tier of Lucas Oil Stadium's seating arrangement—to more than $11,000 for a premium location, according to listings on Ticketmaster and Stubhub, along with local ticket brokerage sites like Circle City Tickets.
Those ticket prices generally have a two-ticket minimum and don't include fees, taxes or parking passes, either, meaning purchasers will have to fork over even more to attend the game.
Kiros Sistedaris, owner of Carmel-based Circle City Tickets, said most of the sales his firm is seeing are coming from fans of either the universities of Georgia or Alabama, with far fewer local fans looking to get in on the action than they were for the Super Bowl in 2012.
In fact, the prices have gone down in recent days after the two teams punched their ticket to the game—particularly on the Alabama side. Even so, it's hard to know for sure how many tickets are actually available for sale, but IBJ research found it's likely in the hundreds if not thousands.
"The prices for the Alabama sideline are cheaper than the prices on the Georgia sideline," Sistedaris said. "When the Super Bowl was here, locals wanted to go no matter who was playing, whereas for this, people don't necessarily want to pay a bunch of money to see" these two teams.
Prices for a standard ticket to the game—Section 410, Row 4—are running about $1,250 each, plus applicable fees on Ticketmaster. The prices on Stubhub are somewhat lower, costing about $1,035 per ticket for a similar location.
Prices on Circle City Tickets are comparable to those found on each site, depending on location, with a Section 410 ticket costing about $1,230.
In addition to standard game tickets, a couple of suites are still available for the championship, ranging from a 10-person suite for $32,000 to a 20-person suite for about $41,500.
Sistedaris said he expects people who are coming into town for the game on a whim—without tickets already in hand—likely won't have a challenge in procuring seats. But hotel rooms, he said, could be another story.
IBJ reported early Friday that most of the downtown hotel inventory is sold out, with rooms that are still available selling for a premium—and carrying with them required minimum stays.
"Tickets are out there, but hotel rooms are not," Sistedaris said.
Please enable JavaScript to view this content.