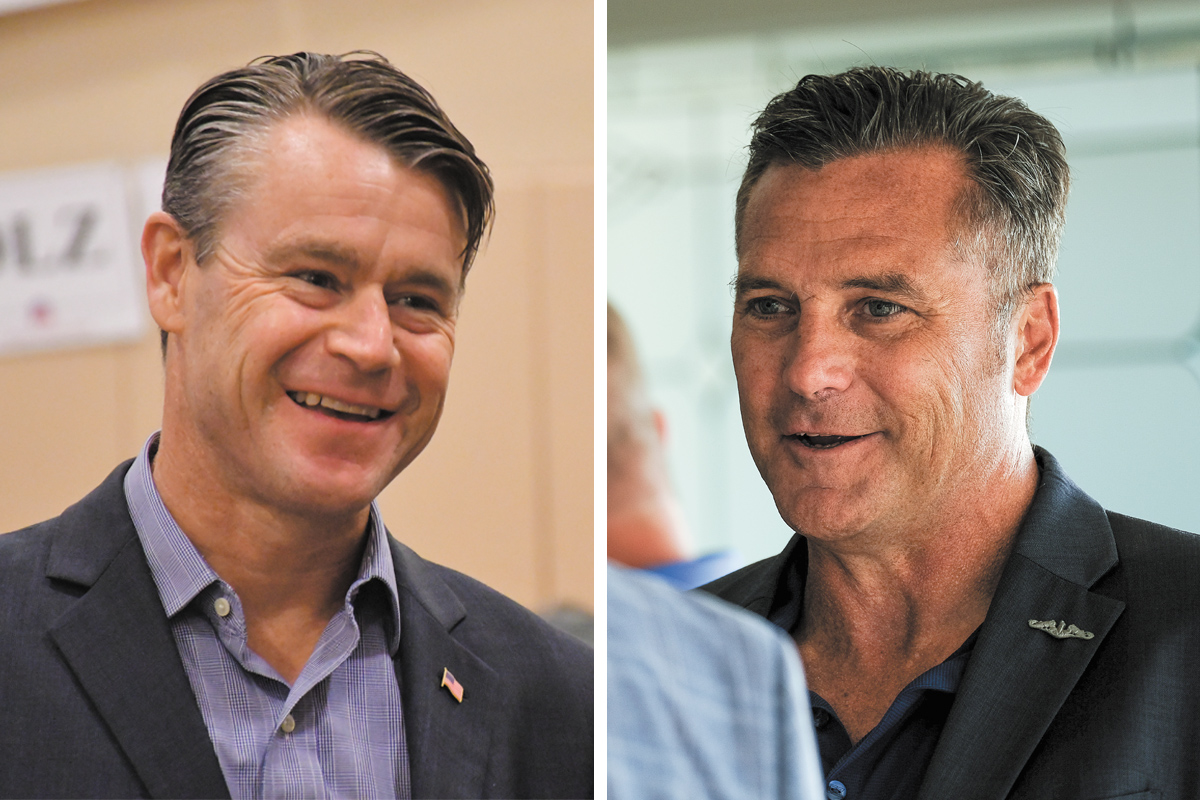 It's been a decade since Hoosiers last decided to split the state's two U.S. Senate seats between opposing political parties.
In less than five weeks, voters can let Republicans keep their grip on Indiana's Senate presence by re-electing Sen. Todd Young, who emphasizes his bipartisan accomplishments, or hand his seat to Tom McDermott, the hard-charging, plainspoken Democratic mayor of Hammond.
Hoosiers also have a third option in James Sceniak, a behavioral therapist running as a Libertarian candidate.
Young, the senior Republican senator of Indiana, is hoping his focus on legislative accomplishments, rather than hot-button cultural issues, will sway moderate Hoosiers in what is expected to be a highly competitive midterm election cycle.
"Among most of my colleagues in Washington, I've actually got some consequential results that I can point to as I head into re-election, most notably the CHIPS and Science Act," Young told IBJ in a recent interview.
McDermott, Hammond's mayor since 2004, has adopted his party's national strategy of reminding voters that Republicans were responsible for appointing the six U.S. Supreme Court justices who overturned Roe v. Wade in June. That action has led to the rolling back of abortion rights in many Republican-led states, including Indiana, which last month passed one of the nation's strictest abortion laws.
"I think there's a lot of women that have voted Republican for years that are probably not going to vote for Republicans ever again because of what happened," McDermott said. "And I think that's going to be the difference in this race."
While political experts don't view the race as competitive as those in battleground swing states, it is nevertheless part of a midterm election cycle that once seemed destined for GOP victory but is now considered a bit more competitive heading into November.
"In May, this election looked like it would be a painful referendum on Biden and inflation and gas prices, and the Supreme Court's decision really challenged that narrative for anyone who wasn't a strong/moderate conservative," said Laura Merrifield Wilson, associate professor of political science at the University of Indianapolis. "This election has the potential to buck the trend in a way we didn't see coming several months ago."
Nationally, recent historical trends would tend to favor the GOP. Following Democrat Barack Obama's election in 2008, opposing Republicans won a majority of the House and claimed several Senate seats during the 2010 midterms.
In Indiana, recent history favors Republicans even more. No Democrat has won a statewide election in Indiana since 2012, when Joe Donnelly won his U.S. Senate seat against Republican Richard Mourdock, whose campaign was derailed following controversial comments he made on abortion. Donnelly then lost in 2018 to Indiana's junior U.S. senator, Republican Mike Braun.
Early into Biden's tenure, that pattern in favor of the president's loyal opposition seemed all but certain to play out, as Biden's approval rating was plagued by a disastrous military exit from Afghanistan, historically high inflation, economic uncertainty and rising crime rates.
Since then, gas prices have fallen considerably, and Biden and the Democrats have proven themselves capable of advancing meaningful legislation, including the passage of a $1.2 trillion bipartisan infrastructure package, gun reform, the CHIPS and Science Act—which Young played a key role in passing—and even the questionably named Inflation Reduction Act.

'The underdog'
A child of divorced parents, McDermott spent his childhood splitting his time between his mother's house in northern California, where he went to school, and his father's home in Hammond, where he spent each summer.
McDermott enlisted in the U.S. Navy after graduating high school. He was stationed in Norfolk, Virginia, for six years before returning to Hammond in 1993 and went on to earn his bachelor's from Purdue University Northwest and a law degree from the University of Notre Dame.
Following in the footsteps of his father, who served as mayor of Hammond from 1984 through 1992, McDermott ran for mayor in 2003 and defeated Republican Duane Dedelow by a margin of 700 votes—or about 4 percentage points. Now in his sixth term, he is the city's longest-serving mayor.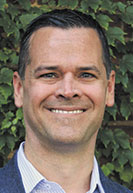 Those who know McDermott describe him as driven, dedicated, aggressive and even emotional at times.
"He is the underdog in this race, and that probably drives him harder," his younger brother, Aaron McDermott, president and co-founder of real estate firm Latitude Commercial, said.
Under the mayor's leadership, a once-dilapidated apartment complex in an area of Hammond known as Oxbow Landing was transformed into a mixed-use development park with three hotels, two restaurants and three office buildings.
Through litigation, he was able to successfully force neighboring communities to purchase water from the city, raising water rates for those residents even though he knew it might hurt his chances when seeking statewide office.
"He's got balls," said Kevin Smith, attorney for the city of Hammond and McDermott's former campaign manager. "He knew that it wasn't going to help him in a congressional race, but he still made the decision to go forward with having to defend that lawsuit because he felt that was the right thing to do."
He's also not one to shy away from using salty language if it gets his point across. On his Left of Center podcast, which Smith co-hosts, McDermott swears routinely, which is why nearly every episode is marked with an expletive warning.
When he's not making off-color remarks on his podcast, McDermott is thinking of novel ways to grow Hammond, a Chicago-area city that has seen its population fall 6% over the past decade—from 81,000 residents in 2010 to about 76,000 in 2020.
Perhaps his signature achievement is creating the College Bound Scholarship program, which awards up to $10,500 per year toward tuition for eligible students from Hammond who pursue college after graduation. The program is funded through money from Hammond's water contracts with other communities.
"I think that Mayor McDermott would look back on that and be very proud of that," said Indianapolis-based developer Tom Dakich, who worked with McDermott to bring a data center to Hammond.
What he lacks in fundraising—McDermott has raised $661,000 since the start of his campaign, while Young has collected more than $13 million—he makes up for in flare.
Earlier this year, McDermott managed to insert himself into the news cycle when he lit up a joint in Michigan, where medical and recreational marijuana are legal, as part of a campaign ad released on April 20, a day recognized as the national marijuana holiday by cannabis users.
McDermott recalled his hands shaking during filming of the ad, which was analyzed by lawyers before its release to ensure that no laws were broken.
"I'm a believer in legalizing, but even for me, that moment of truth when the camera went on was very, very nerve-racking," he said.
On the campaign trail, McDermott said, he routinely hears from Hoosiers who are tired of government interference in issues like abortion, and he's banking on first-time voters being upset enough over Indiana's abortion ban that they will head to the polls to vote for Democrats.
"I don't care how many commercials Todd Young runs and how many millions of dollars he spends on messaging, he can't get away from the fact that he confirmed three of the justices that overturned Roe vs. Wade," Hammond said. "And I'm gonna say it 10,000 times between now and Nov. 8."
And while Republicans have placed the blame for inflation on what they say is frivolous spending by Democrats, McDermott doesn't believe Young actually wants to remedy rising prices.
"I don't think he wants the price of gas to go down for political reasons," McDermott said. "And it's a flaw in our democratic system when you have elected officials that are more concerned with re-election than with fixing what's wrong with our country."
The incumbent
Todd Young is a seasoned politician who knows a thing or two about mounting a successful political campaign
Many political experts say Young, who is known for his fundraising finesse, will easily win his re-election bid. For instance, Sabato's Crystal Ball rates the race as a "safe" Republican seat. Political website fivethirtyeight says Young has a 99% chance of winning.
But the Hoosier native isn't counting on the pundits' predictions.
"I've always taken nothing for granted," Young said. "I think it's bad form."
Some say his hard-working attitude stems from his experience in the U.S. Marine Corps, where he achieved the rank of captain before being honorably discharged from active duty in 2000.
The following year, he moved to Washington, D.C., where he worked at The Heritage Foundation, a conservative think tank, before becoming a staffer for Indiana Sen. Richard Lugar. In 2003, he volunteered for Mitch Daniels' campaign for governor and later became a delegate to the Indiana Republican state convention.
His political career began in earnest in 2009, when he ran a successful campaign for Indiana's 9th Congressional District seat, ousting Baron Hill, a Democrat. After two successful re-election campaigns, Young ran for U.S. Senate in 2016, stopping Democrat Evan Bayh's attempt to return to the chamber.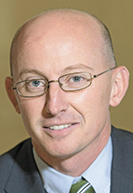 Young's colleagues in the public and private sectors praise him for being principled and disciplined.
"He's incredibly smart, he works incredibly hard, and he's a terrific listener," said Ryan Kitchell, chair of the Indiana Governor's Workforce Cabinet and a former Indiana University Health executive who worked with Young during Mitch Daniels' 2004 gubernatorial campaign.
Lisa Hershman, former chief management officer for the U.S. Department of Defense, said Young has made concerted efforts to ensure the country's military personnel are taken care of while being a conscientious steward of taxpayer dollars.
"He has been a behind-the-scenes kind of guy that is interested in getting things done for positive outcomes and not necessarily promoting himself," Hershman said.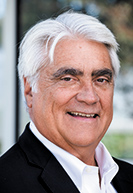 Mark Miles, president and CEO of Penske Entertainment Group, relies on the senator's office to expedite the visa process for international drivers. He said Young is working with his organization as it explores the possibility of holding racing events overseas.
"The senator and his office have been very helpful in connecting us with people who can make that happen," Miles said.
During his time in the Senate, Young has walked a line between the more extremist wing of his party and moderate swing voters. He criticized then-President Donald Trump for his role in the Jan. 6, 2021, riot but voted to acquit him during his second impeachment trial.
He also voted to advance the bipartisan infrastructure bill twice before ultimately voting against it, his reasoning being that Democrats were threatening to include large-scale social-spending measures in the legislation.
Young said he is still "proud to have played a role" in advancing the bill.
"It's unfortunate that Nancy Pelosi decided to cynically hold it hostage, or she would have gotten more support from the American people in furtherance of that bill," Young said.
By far, his biggest legislative accomplishment to date is passage of the CHIPS and Science Act, a $52 billion incentive package for the American semiconductor industry he co-sponsored with Senate Majority Leader Chuck Schumer, a Democrat from New York.
Indiana is poised to benefit from CHIPS funding. Earlier this year, Minnesota-based SkyWater Technology Inc. announced plans for a $1.8 billion semiconductor plant at Purdue University that largely hinged on the CHIPS bill's passage.
Young is also hoping to persuade the U.S. Department of Commerce to establish at least one of 20 federal "tech hubs" in Indiana.
"I do believe Indiana is positioned to earn such a designation, which will lead to the relocation of businesses or retention of some of our existing talent and venture capital investment," he said.
Young dismissed McDermott's claim that he doesn't actually want to curtail inflation and pointed to the Democrats' $1.9 trillion stimulus package, which economic experts have said is a contributing factor in recent price hikes.
"There are some critical and targeted investments that we need to make as a country, and I've been supportive of making those," Young said. "But the notion in this economic environment that you need to flood the zone with all sorts of goodies … seems grossly irresponsible and economically illiterate."
Young also said he isn't worried that his support of the Supreme Court's verdict in Dobbs v. Jackson Women's Health Organization will hurt his chances with voters. The anti-abortion politician voted to approve the three Trump-appointed Supreme Court justices and has said the court's recent decision "corrected a historic injustice."
The senator has earned endorsements from the Indiana State Police Alliance, the National Federation of Independent Businesses and former Vice President Mike Pence, but he is notably one of only a handful of Senate Republicans up for re-election to not receive an official nod of support from Trump.
Voters can decide on Nov. 8 whether that matters to them.•
Please enable JavaScript to view this content.