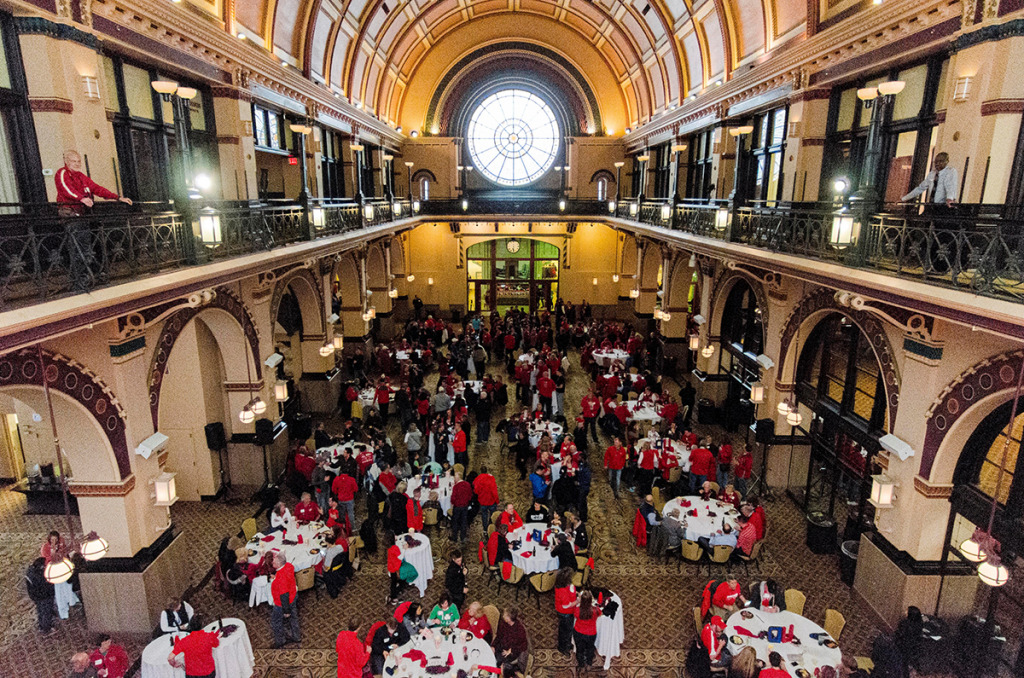 Downtown event venues aren't expecting a deluge of corporate parties from the NCAA tournament. In fact, most expect no bookings at all from the three-week event.
Other than a few facilities that will be COVID testing sites, team lounges or overflow areas, most event spaces that usually glean revenue from ancillary tournament gatherings—Indiana Roof Ballroom and Union Station among them—could be left out in the cold thanks to the pandemic.
"I think the assumption has to be that the attendance restrictions are not allowing for the types of events that either team alumni or corporate sponsors have had in the past," said Trina Black, vice president of sales for Indianapolis-based General Hotels Corp. The company owns and operates the Crowne Plaza downtown and manages the city-owned Grand Hall and Conference Center at Union Station.
The NCAA said Feb. 19 that spectators will be allowed to attend games in limited numbers, but it remains to be seen who will scoop up the tickets—and at what cost. Corporate interest in major sports events is often directly tied to the ability to offer its guests premium access, yet no one knows yet whether tickets will be sold through a lottery system or first-come, first-served, and whether the NCAA will make suites available.
The NCAA was expected to announce its ticketing policy after IBJ's print deadline.
"Based on 25% capacity, I don't believe you're going to see [corporate parties]," Black said. "We haven't seen any significant business yet—or much business at all—from the tournament."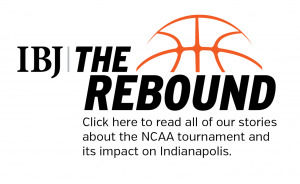 During typical Final Fours and other tournaments, the Grand Hall has hosted alumni groups from schools playing in Indianapolis along with corporate groups wining and dining would-be clients. Black said General Hotels Corp. is considering ways to bring in events that still promote social distancing, but declined to share details since discussions were ongoing.
Corporate parties are usually hosted by companies not directly sponsoring the tournament. The NCAA's "corporate champions"—like Coca-Cola, Capital One and AT&T—focus more on fan festivals.
For the last Final Four, in 2015, groups like Adidas and Under Armour rented the Crane Bay event center.
Next year, a barrage of corporate groups are expected for the College Football Playoff National Championship, just as they'd been expected for the 2021 NBA All-Star Game before it was bumped to 2024.
Corporate meeting planners and executives often take a familiarization tour of a Final Four host city a few months ahead of time, to check out the availability of spaces and of fan and corporate activities. This year, that tour was conducted entirely virtually. It generated some interest, but so far hasn't led to much follow-through.
During the tournament, Visit Indy hopes to host a few meeting planners and decision-makers from big events it's trying to lure to Indianapolis. The tourism agency has long relied on major sports events to attract additional conventions and competitions. While this year's visiting contingent might be smaller, the recruiting will be much the same.
Chris Gahl, vice president of Visit Indy, said the organization is in the early stages of gauging the interest of a "handful" of meeting planners and C-suite executives in attending later rounds of the tournament, including the Final Four.
"We are optimistic that we will be able to bring in a handful of meeting decision-makers from across the country for a portion of March Madness, to have them see how the city is operating amidst the pandemic in a safe, meaningful way," he said. "We think that would be an impactful trip for them … to see how seriously we've taken this pandemic, and also see that the NCAA is entrusting us with their premier event."
Larry DeGaris, a sports marketing professor at the University of Indianapolis, said the lack of corporate engagement this year isn't surprising but still hurts the bottom line for venues like the Grand Hall, which had been hoping—until pandemic-related restrictions canceled contracts—for a Final Four boost.
The loss of corporate business also means less tax revenue and exposure for Indianapolis—a gut punch for a city that began its slow economic recovery last July by hosting smaller tournaments.
"I don't anticipate a lot of client entertainment will happen this year, because there's still too much uncertainty and not enough lead time," DeGaris said. "But not having corporate hospitality is a huge loss as far as economic impact because that's where the real big and long-lasting value for these events lies."
Like the Grand Hall, the Indiana Roof Ballroom expects no big tournament bookings. The venue lost about 80% of its 2020 business, but had been banking on the Final Four to boost revenue as it has in years past.
Antonia Zunarelli, director of sales for the ballroom, said she expects the facility to "weather this storm," but the lack of activity makes that more challenging and deflates some of the event community's excitement over the tournament.
"We won't get anything," Zunarelli said. "I don't believe anything is happening anywhere. You could find that someone is doing something very select, very private that I'm not aware of, but nothing of a public nature is in the works."
In fact, five event venues with which IBJ spoke said they've had no luck scoring corporate business for the tournament. Even so, some expect to be used in other ways by the NCAA.
Crane Bay Event Center, west of Lucas Oil Stadium, has signed on as a transportation hub and testing facility for bus drivers and event volunteers. Amanda Van Der Moere, director of the event center, said the shift means the facility will earnsome revenue, even if the agreement puts it out of contention for corporate event business.
"Being able to have [corporate] events is, you know—we weren't necessarily banking on it, but it could have been an opportunity to get us ahead" after losing a lot of business in the pandemic, Van Der Moere said. "Unfortunately, that didn't happen."
The Indianapolis Artsgarden will be a media hub throughout the tournament as well, along with part of Georgia Street.
Additionally, Bullseye Event Center, at the northeast corner of South Capitol Avenue and West McCarty Street, is being considered for a few uses, including possibly incorporated into the tournament bubble in some capacity.
The center has lost 97% of its revenue over the past year, and owner Kyle Kinnett said he's still discussing Bullseye's options. Among them is becoming a player lounge with highly restricted access or a fan hangout with limited capacity.
"It's not going to be great, but I think there's some opportunity there," said Kinnett, whose Bullseye Events Group also handles events tied to the Super Bowl and for multiple NFL teams, including the Indianapolis Colts. "It's definitely not corporate-driven."•
Please enable JavaScript to view this content.