Ross Tuggle and his wife, Brooke, opened Tuggle's Gifts and Goods last November on Virginia Avenue in Fountain Square. Despite the challenges the pandemic brought, Tuggle's made a $20,000 and $15,000 profit, respectively, in its first two months. Both Ross and Brooke worked side businesses selling handmade goods before opening the store. They eventually decided to leave their full-time jobs and turn their passions into a full-time business. IBJ chatted with Ross Tuggle about the shop.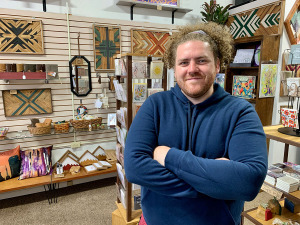 What was your background before opening the shop?
So, I worked for the state, the Department of Child Services, and Brooke worked for an adoption agency. We were both in the social-work field. She made earrings on the side and I did woodworking on the side, and it just developed into a full-time thing through the store.
What drove you to take those side gigs full time with Tuggle's?
They both kind of took off, and we both saw that we wanted to continue doing them, and to continue doing them well we needed it to be a full-time thing rather than just a side gig, and we thought, "How do we get other customers?" Well, by opening up the storefront. The wood art is called Tuggle's Timber, and that LLC is what we operate the store under.
What do you sell at Tuggle's?
Before we opened, we kind of realized that we're not going to have a store that just sells art and earrings. We wanted to find other people in Indiana and Indianapolis that are doing the same thing we are doing. Having a hobby that has become a little bit more than just a hobby or operating a side business type of thing, people like that. We sell their items in the store, too, so we have over 30 different makers from Indiana who sell their products in our store. Items from baby teethers to candles.
What's the process of finding other businesses to sell their products at Tuggle's?
We started, and we had the storefront and were working on the inside and we had a poster printed up saying, "Local Makers Wanted." We made a post about it on Reddit, we searched on Instagram the hashtag "Indiana Maker," and we reached out to people in the beginning, and now we're at the point where at least once a week someone comes in and says, "Hey how do I sell my stuff here?" We'll go to Art Squared in Fountain Square, and if we see something unique that we don't have, we'll ask if they have any interest in selling in the store.
What stood out to you about opening in Fountain Square?
Fountain Square is great, and they didn't have anything like the shop we wanted to open. There's the Cultural Trail right there (on Virginia Avenue). We figured the way we're going to make this work is foot traffic. People stumble upon us and come in and buy, like a $5 or $10 item.
What kind of challenges did you face opening during the pandemic?
The biggest thing was just making sure the floor and the store were clean and sanitized. We limited the amount of people and made sure everyone felt safe coming into the store.•
Please enable JavaScript to view this content.