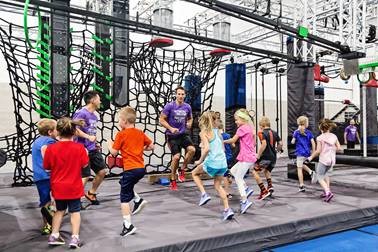 An obstacle course racing facility chain will enter the central Indiana market when it opens April 22 at the Hamilton County Sports Complex in Noblesville.
Ultimate Ninjas Indianapolis will operate in a 10,000-square-foot gym at 9625 E. 150th St. that will include obstacles similar to those found on the TV show "American Ninja Warrior."
The gym will be owned by "American Ninja Warrior" competitors Jesse Labreck and Michael Silenzi. Brian Parache, who competed in the series' 11th season, will be the gym's general manager of classes and camps.
"Ultimate Ninjas does more than promote proactive health and wellness, we teach children valuable life lessons through our training exercises," Labreck said in a written statement.
Ultimate Ninjas will be open to children and adults, according to a news release. A training program known as UltiFit will be available to adults.
The gym will also offer open gym, classes, birthday parties and private events daily.
"Our obstacles can be very challenging at first, and just like on the show, most everyone will fail at some point," Labreck said. "Failure is something we embrace—we use as a motivator to work harder and eventually overcome the obstacle. Our toughest challenges promote growth and perseverance, which makes us immensely proud in what we do."
Founded in 2016 in Chicago, Ultimate Ninjas has four other facilities, with three in the Chicago area and one near St. Louis. One location in Chicago is temporarily closed, according to the gym's website.
Editor's note: The original version of this story said Ultimate Ninjas was scheduled to open Friday, but the opening has since been delayed until April 22.
Please enable JavaScript to view this content.