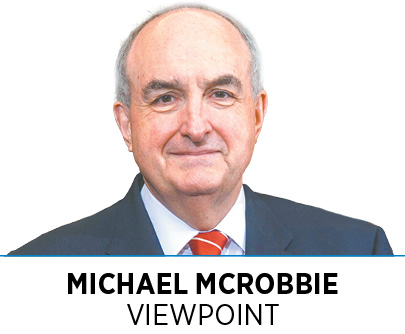 Earlier this month, Indiana passed the one-year anniversary of its first reported case of COVID-19. In that year, we have tragically lost more than 12,000 Hoosiers and seen the virus sicken hundreds of thousands.
However, that year also brought one of the greatest scientific and medical achievements of recent times: the development, in record time, of highly safe and effective vaccines. Built on medical and biological research at the world's great research universities, these vaccines spell the ultimate end of the pandemic. But this will only happen if all who are able get vaccinated as soon as they are eligible.
Early, decisive action by Indiana's public health leaders has led to hundreds of thousands of Hoosiers getting vaccinated at a rate higher than many other states. As vaccine supplies increase and eligible age groups (now 45 and over) expand, the positivity rate and number of deaths have rapidly fallen.
And as more vaccines become available, Indiana's top colleges and universities will amplify the state's efforts.
To this end, Indiana University is employing its extensive health sciences resources to support Indiana's vaccine rollout, encourage Hoosiers to get vaccinated and address questions about vaccine safety and efficacy.
As the first COVID vaccines arrived late last year, IU's School of Medicine trained students to volunteer in the state's large-scale vaccination effort. About 600 IU medical and nursing students are now helping to administer the vaccine.
Earlier this year, our IU Southeast campus launched a vaccination clinic along with the Floyd County Health Department. There, nursing students administer vaccines as part of their coursework and receive clinical credit. Indeed, nursing and health sciences students and faculty form the backbone of COVID-19 testing programs at IU's regional campuses.
Riley Hospital for Children at IU Health, which is affiliated with the IU School of Medicine, has administered vaccines for several weeks. And we will soon establish mass clinics at IUPUI and IU Bloomington to vaccinate IU community members. IU Bloomington's clinic will also be a public vaccination site for eligible local residents, speeding up vaccinations in Monroe County. Other state institutions, including the University of Notre Dame, Ivy Tech Community College and Calumet New Tech High School, are partnering with the Indiana Department of Health to open mass clinics.
We have seen an encouraging rise in the number of American adults who intend to get vaccinated and increasing recognition of the impact of vaccination on our economic recovery. Still, many Hoosiers have concerns as they navigate copious information—and misinformation—about the vaccines and virus. IU Bloomington's Center for Rural Engagement is connecting Indiana's rural residents with statewide health experts, who are providing important information about the vaccines' health impacts.
Rigorously adhering to the best scientific and medical advice will drive our future vaccination efforts and policies. This approach has kept our campuses safe and open this past year, when many great U.S. universities floundered. Indeed, IU and Purdue University are recognized nationally as leaders in protecting their campuses through robust testing and science- and data-driven health and safety policies. Both universities have also announced plans for an in-person semester and return to mostly normal operations next fall.
Our institutions' leadership in fighting COVID-19 is inextricably linked to our commitment to providing a world-class education that prepares students for success, conducting innovative research and fully engaging in the health and economic vitality of our surrounding communities. Our pursuit of these missions makes it natural—and necessary—that we continue to work closely with our communities to get everyone vaccinated, keep Indiana headed in the right direction and finally defeat this pandemic.•
__________
McRobbie is president of Indiana University
Please enable JavaScript to view this content.