To keep up with what's new in 2022, it's helpful to know something about selfie culture, miniature skateboards and intravenous nutrient therapy.
Not obvious reasons to go into business, but stores based on the concepts either opened recently in Indianapolis or are on the way.
Nina Koehler said she learned about Selfie Wrld, a company that facilitates do-it-yourself photo shoots, while scrolling through Instagram. After exiting a news role last summer at WISH-TV Channel 8, Koehler and her husband, who works in the aviation industry, purchased a Selfie Wrld franchise.
"Neither of us ever had an interest in opening a restaurant or necessarily doing retail," Nina Koehler said. "But we love the idea of doing entertainment."
She compares Selfie Wrld to attractions such as TopGolf or ax-throwing facilities. "I feel like Selfie Wrld fits into that realm of going somewhere and having a blast with people," Koehler said.
For Levine Cunningham, a favorite childhood toy inspired his decision to open the United States Fingerboarding League store.
"I was the kid at the kitchen table, clickety-clacking with these fingerboards," Cunningham said of the skateboard-themed toys manipulated by fingers.
He put the pastime aside in recent years, when he owned a shuttle transportation company in the tourist town of Branson, Missouri. But unexpected free time defined the pandemic's first summer in 2020, and Cunningham drove to Indianapolis to attend a fingerboarding meet-up.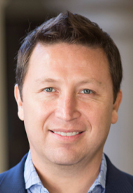 One year later, he moved here to open one of just five fingerboarding stores in the nation.
The Dripbar, meanwhile, intends to open 10 intravenous infusion locations in central Indiana this year.
Manuel Torres, who lives in San Antonio, co-owns Indiana developer rights for The Dripbar—a Rhode Island company that promotes IV therapy for health support.
Torres said his ownership of five Orangetheory Fitness sites in San Antonio led to his involvement in The Dripbar. Torres and his business partner, Keith Wing, who grew up in Indiana and attended Indiana State University, found out about The Dripbar through Wing's brother, a franchisee in Dallas.
"We thought this would be a good complementary business to have, especially in the fitness and wellness area," Torres said.
Selfie Wrld
Koehler said she doesn't mind when people are skeptical about her business that's based on selfie photographs and social media.
Known as Nina Criscuolo during a seven-year stint as a reporter and anchor at WISH, Koehler opened a Selfie Wrld location with her husband, Andrew, this month at the former site of a furniture store at 8401 Michigan Road.
Selfie Wrld is a do-it-yourself photo studio where stylized backdrops and lighting equipment are provided to customers who pay $25 for a one-hour session. Marketed as a "selfie museum," this type of business can be difficult to grasp for the uninitiated, Koehler said.
"I see that as a positive," she said. "What we're saying isn't something that people know right away. That means that it is new and unique and cool."
Selfie Wrld isn't the first selfie business in Indianapolis. Chesia Torrence, who owns east-side event hall The Silver Centre, opened The Selfie Centre in December at Castleton Square mall.
More than 25 Selfie Wrld locations are open in the United States. Koehler said the chain's ownership provides decorating ideas for some of the 22 fixed "rooms" or "booths" where customers pose for photos.
Other booths are customized for local interests, such as a basketball-themed "Welcome to Indiana" setting. Indianapolis artist Zoe Nateman painted a mural for one of Selfie Wrld's non-booth backdrops, one of more than a dozen on site.
"We're finding little nooks and crannies here and there," Koehler said of all the places on site to shoot selfies.
Visitors are encouraged to tag the business, @SelfieWrldIndy, when posting photos on Instagram.
"We want to see what they did in our space," Koehler said. "We built this huge, creative, bright space, so I want to see how people interpret that and create within it. It's also great marketing for us. We built a business that needs to be marketed on social media, but the product is also social media. It's interesting to see how that works in a full-circle way."
If naysayers perceive Selfie Wrld as a playground for isolated self-indulgence, Koehler counters that it can be the opposite.
"I think people like an opportunity to have a different form of entertainment," she said. "The experience is about the people you're there with. It's similar to going to a putt-putt golf course with your family or bowling with your family. But instead of walking away with a scorecard, you have some really cool pictures."
Koehler said she didn't always enjoy social media during her time as a journalist.
"Coming from the TV news industry, that's something that we really are required to be participating in all the time," she said. "Actually, that was one of the most daunting parts of the job. But I think social media is cool when it's fun family pictures. That's the joyful side of social media, and that's what we find at Selfie Wrld."
She's also finding understanding among people who initially doubt the concept.
"Once we really start to describe the business in detail, it's funny to see how people's wheels get turning," Koehler said. "They kind of go from skeptic to wanting to contribute: 'Oh, what if you did this? Or, what if you did this kind of room?'"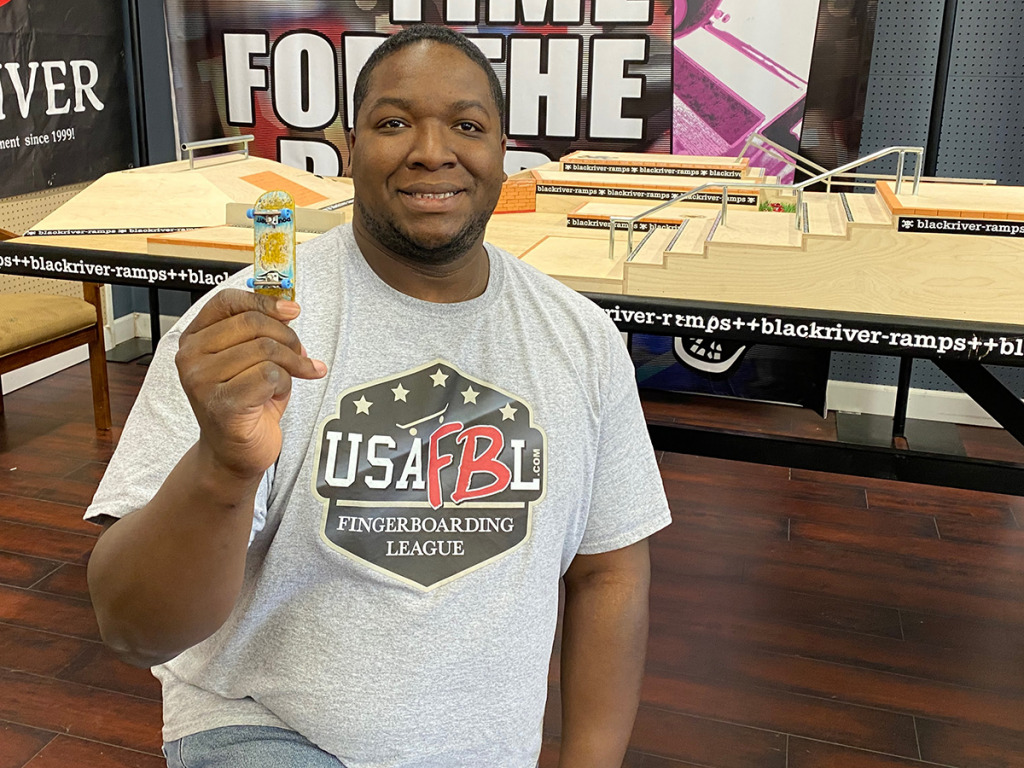 United States Fingerboarding League
Fingerboards, the 4-inch version of skateboards, are somehow both wholesome and taboo.
The toys emerged from skateboard culture, commonly maligned as being disruptive if not destructive to mainstream society.
The fingerboard, however, is too tiny to be a trespassing threat and the chances of injury are minuscule. But executing flips and tricks with one's fingers hasn't been widely perceived as cool.
Cunningham wants his United States Fingerboarding League store to raise the profile of the hobby as an acceptable way to have fun.
"People do it at home, but no one talks about it," said Cunningham, who opened the store in October. "We're fearful of being judged and ashamed of it, even though there's nothing wrong with it."
At the store, at 4005 Madison Ave., an expansive display of fingerboard "parks" makes a strong case for the hobby to be taken seriously.
Similar to model-train layouts, the parks fill two rooms. One room is devoted to top-of-the-line parks made by Blackriver, a German company that uses the motto "Copy the magic of skateboarding" to advertise its products.
Hand-crafted with wood, metal, bricks and marble, the Blackriver parks featuring ramps and stairs are priced at thousands of dollars. Cunningham doesn't intend to sell the parks as part of his business model (although he's open to offers). He sells $10 daily passes to fingerboarders who want to test their skills on the parks.
The store's second room displays parks made by U.S. companies. One concrete bowl pays tribute to Vans, the shoe company identified with skateboarding since the 1970s. An 11-foot replica of the stairs and handrails outside California's Hollywood High School is on display.
This summer, Cunningham will pack several of the store's parks into a trailer and travel to 12 cities for United States Fingerboard League events. In 2021, he launched the league with competitions in Indianapolis, Las Vegas, Chicago and Denver.
He selected Indianapolis as home base partly because the city has a community of hobbyists, thanks to Outcast Fingerboards, a toy manufacturer founded in 2019.
Online, a Reddit group of fingerboarding enthusiasts boasts nearly 17,000 members. The proximity of Indianapolis to cities such as Chicago, Detroit, Cincinnati and Louisville is another reason Cunningham moved from Branson, Missouri, to Indianapolis.
He's counting on people to decide, "Well, I'll make that two-hour drive to go hang out."
The store, which sells custom fingerboards, accessories and vintage ramps originally sold by mainstream fingerboard company Tech Deck, is a way to keep the parks accessible to the public.
"The parks have been in two storage units, my garage, my kitchen and my living room," he said. "Because a lot of this stuff is so rare, it would be a shame to keep it in a storage unit."
Cunningham uses a $180 fingerboard, and he practices the craft 20 hours a week. While Tech Deck fingerboards are sold for $3, Cunningham said $30 to $40 is the price range for most handmade fingerboards.
The 35-year-old said his wife, Victoria Love, and mother, Jewel White, have supported his unusual business. White even accompanied Cunningham on his four-city tour in 2021.
"This is a way to get out and experience the world and experience new cultures and people," he said. "It's a lot of fun."

The Dripbar
As IV nutrient therapy has become more popular, Torres echoes a common observation that infusions of vitamins, nutrients and minerals aren't just for hangovers and jet lag anymore.
Torres, co-owner of 10 locations of The Dripbar planned for central Indiana, said he believes people are ready to embrace IV therapy as part of a health regimen.
He's also aware The Dripbar won't be the first business of its kind in the area. The list of existing options includes two Indianapolis locations of Vitality IV Bar and Carmel spots Renova Aesthetics and Restore Hyper Wellness.
Torres is confident his history of owning Orangetheory Fitness centers in Texas will help The Dripbar connect with customers.
"One thing I learned with Orangetheory is the importance of social-media marketing and guerrilla marketing," Torres said. "We're going to use a lot of those learnings to bring The Dripbar to the front of people's minds when they think about wellness."
Designed to be suggestive of a sleek spa, The Dripbar locations sell IV infusions named Jet Setter, Time Machine, Restoration, Flu Fighter and High C to cater to customers interested in keeping the aging process at bay, enhancing wellness, boosting their immunity or complementing conventional treatment for illnesses such as cancer.
Intravenous sessions, which last 25 to 40 minutes, range in price from about $100 to $200. According to the company, IV drips are administered by registered nurses under the guidance of a licensed medical director.
The Dripbar's website includes a disclaimer that the company doesn't represent the "practice of medicine" and that its statements regarding alternative treatments for cancer have not been evaluated by the U.S. Food and Drug Administration.
Torres said he and Wing, his partner, hope to open their first Indianapolis location this summer. When scouting potential addresses, Torres said factors include population density and proximity to fitness centers.
He said potential customers can be anyone seeking nutrition and vitamins for overall wellness.
"I think we can bring a little more awareness and attention to the need to have our immune system better prepared for contemporary issues like COVID," Torres said.
Founded in 2016 and franchising since 2019, The Dripbar is expected to open as many as 90 locations this year. In addition to Indianapolis, expansion is planned in Hawaii, New York, Georgia, Arizona, Pennsylvania and Florida.
"We are tremendously grateful for the growth The Dripbar has seen this past year and are so excited to be able to open more locations across the country," CEO Ben Crosbie said in a prepared statement. "This solidifies the fact that there is a market for our services and that there are people who can benefit from our IV infusions."•
Please enable JavaScript to view this content.