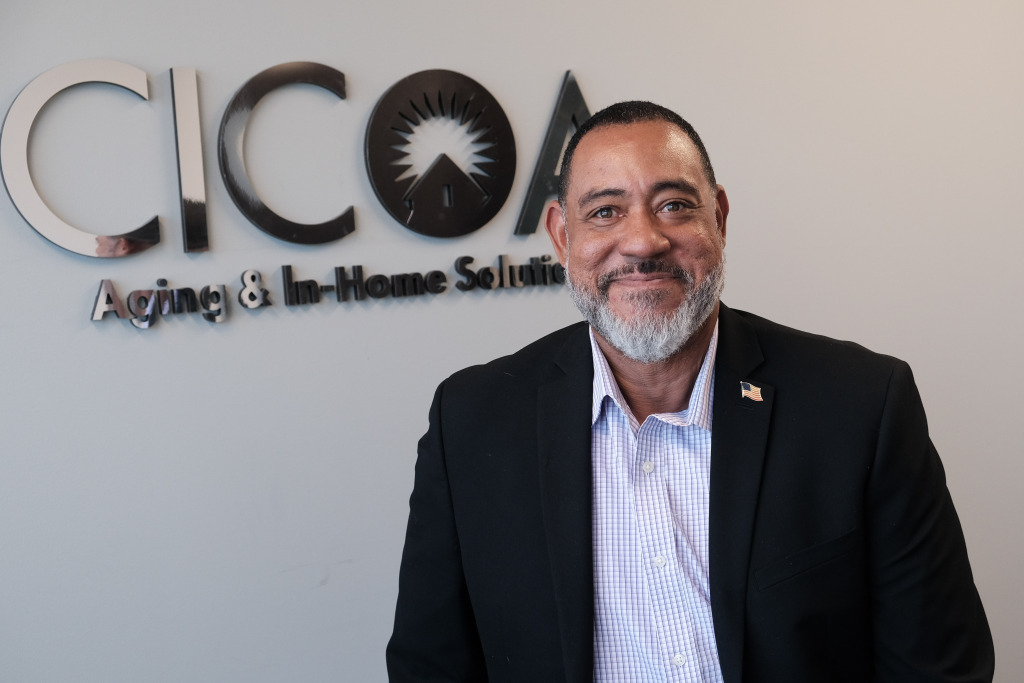 Tauhric Brown, 50, became Lawrence-based CICOA Aging & In-Home Solutions' first Black CEO in January 2020. His journey from Atlanta, Georgia, to Kalamazoo, Michigan, included stints with the U.S. Army and several wireless retail companies before he landed at the helm of Indiana's largest not-for-profit assisting low-income seniors and people with disabilities. Now, he's brokering research partnerships with Stanford University, Eskenazi Health and other organizations to create new efficiencies.
What was it like starting in this role just before the pandemic?
It's really important to have eyes on the vulnerable populations we serve because, by observing and scanning the environment, you can really determine what you should be seeing or if something is off. So, pivoting to voice communication only was extremely challenging for us and our customers because they were used to seeing a care manager or a home-meal-delivery person a few times a week or maybe once every other week, and that suddenly stopped.
We had to create what we call a telephone reassurance or friendly-caller program to manage the front line. We knew many of our clients were going to feel isolated, but our volunteers—for making those friendly calls—really did help them through that trying time.
What first interested you in caring for aging and disabled people?
My oldest aunt was born disabled, and she lived with Grandma her entire life. I remember sitting there and my cousins and I would record our grandmother talking about when she was a child in Monticello, Georgia, and how things were back then. I was fascinated with hearing all of these stories about how people were and how you were received back in 1908. We still have those tapes today. It's no surprise that I had this passion since I was a little boy for older adults and people with disabilities.
Did that live connection to the past add any significance to your being CICOA's first Black CEO?
It afforded me the opportunity to really think about diversity, equity and inclusion in a different fashion. We touch 17,000 to 20,000 lives each year, but when you compare our consumer demographics to our workforce demographics, you can see we need to be more intentional. One strategy is to build bridges with different kinds of organizations: historically black colleges and universities, literacy councils, immigration centers. We've put together a relocation opportunity for recent grads in social work, health and human services, psychology—degrees we're able to hire to work as one of our care managers or professional positions.
Why are you steering CICOA more toward these research partnerships?
CICOA had been dipping its toes into research long before Tauhric Brown was ever on the radar, but what I've been able to do since my arrival is empower the leaders and entry-level staff here in our organization to make changes for the better. And research is a critical component of that. If you want to answer that million-dollar question, you've got to collect some data along the way.
One of the projects we spun up was a joint-venture technology platform called Duet. It was born out of research we had done about the length of time it was taking for a care manager to find a provider to deliver services to a client. On average, it was three-plus weeks. Now, that window is down to a week. We're still not where we want to be, but you can see how identifying that problem through research, identifying and launching a creative response, helps make it better.•
Please enable JavaScript to view this content.