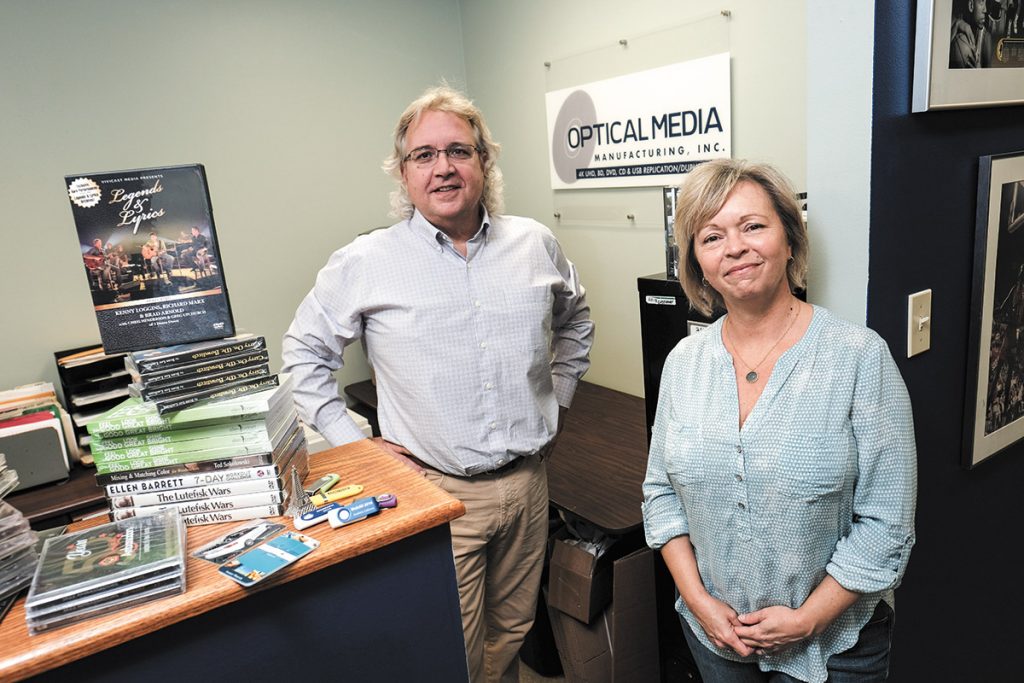 Chip Viering, president of Optical Media Manufacturing, has intentionally hitched his wagon to a falling star. Or rather, several of them.
Over the last decade, streaming sites and compressed file-sharing technologies such as MP3 have chased most "physical" media from the forefront of the audio and video recording industries. To put it simply, pretty much anything you can hold in your hand, from VHS tapes to CDs, has become an endangered species.
In this, Viering sees not disaster but opportunity.
Though his company does plenty of digital file-sharing work, it also acts as a sort of clearinghouse for customers whose products demand (or work best when presented in) an old-school audio or visual format. Optical Media Manufacturing offers (among a great many other services) in-house design for things like vinyl album cover art, liner notes and DVD formatting and duplication, plus access to a list of still-surviving domestic suppliers of such exotica as cassette tapes, boutique vinyl record pressers—even a guy who can still do VHS.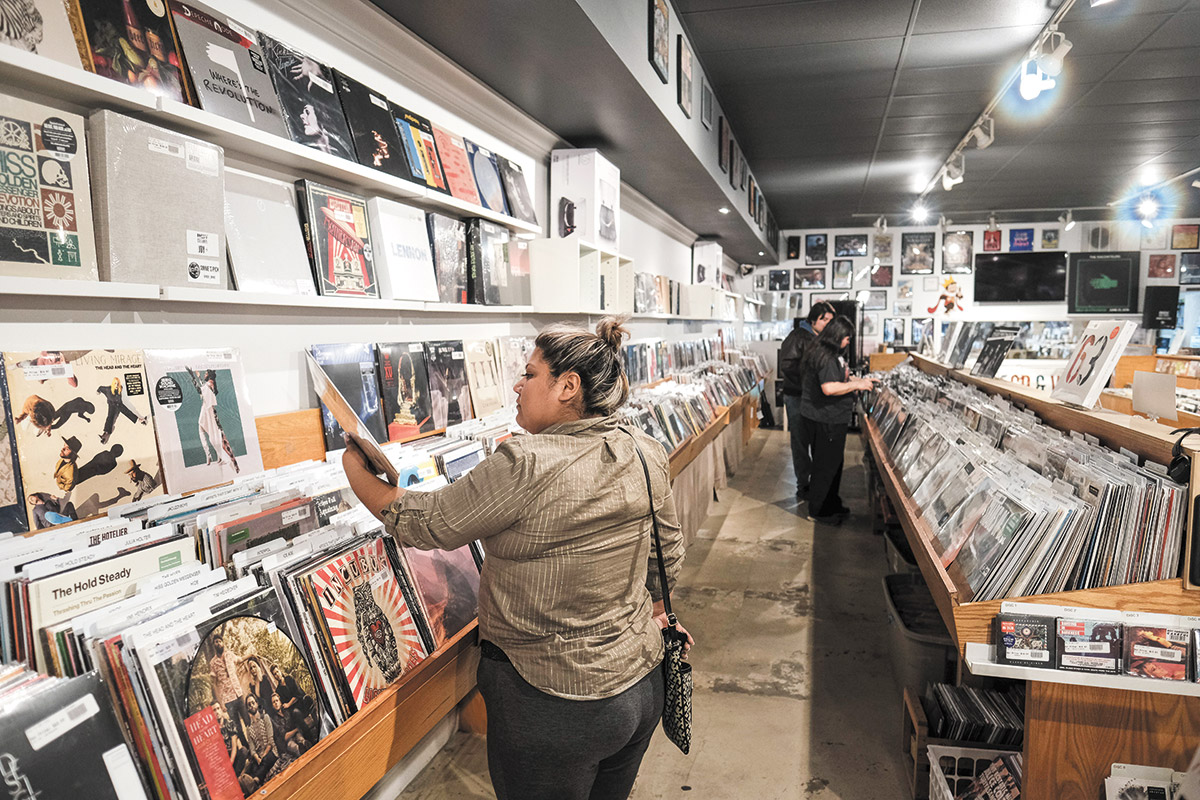 "We straddle the digital and analog worlds," Viering said. "We have to. We have to be experts at both."
Viering, 55, founded the company in 2005 with his wife, Holly. Both of them spent years in the business of replicating and distributing music and other media through now-antiquated formats such as audiocassettes, CDs and DVDs. When those media succumbed to pressure from digital streaming—leaving a still-substantial number of customers in the lurch—it created a business niche.
"I started in this business in 1986, in the VHS and laser disc era," he said. "And I've just followed the formats."
Business is quite brisk of late, in part because so many of the company's one-time rivals have left the industry.
"My competition has been going by the wayside," Viering said. "We're maintaining what I call a 'last man standing' business plan. We started this place when the behemoths went away, and as the big plants go out of business, we're getting more calls.
"As the industry slowly erodes, it's boom times for us."
The company guards its roughly 500-strong client base zealously, lest someone get snatched away by one of Optical Media's surviving competitors. Suffice it to say that buyers include second-tier film studios that need a bunch of DVDs to supply to Redbox; libraries and other institutions seeking audiobooks; and musical groups who want CDs to sell at shows or, perhaps, actual vinyl records.
Mastering such arcane technologies occasionally produces some oddball requests. For instance, the company recently finished a collectors' LP for Mannheim Steamroller featuring a milk-white vinyl disk "splattered" with red and green. And for the '80s-themed Warner Bros. movie "Ready Player One," the company was hired to create a copy of the movie on VHS tape.
Which was a very big deal.
"I only know one place that has a working VHS machine," Viering said.
Nevertheless, the company produced 500 VHS copies, which were given out as a promotional piece—and promptly started showing up on eBay for $250 each. No one else has asked for VHS work, which is fine with Viering.
"I don't want VHS to come back," he said. "It's a nightmare format."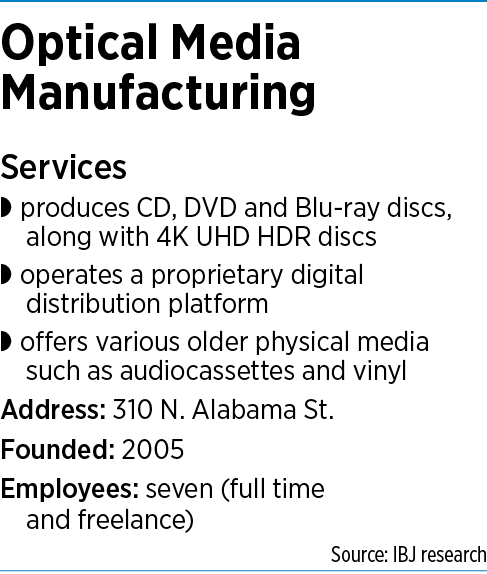 Tactile experience
The company's biggest non-streaming market is creating DVD and Blu-Ray discs for big-box retailers, followed by vinyl records—a format so popular that it now has its own special division, Indy Vinyl Pressing, to handle demand. Album cover design and liner notes are done in-house, while the actual record pressing is farmed out to one of the roughly 10 remaining U.S.-based record-pressing companies.
"Indy Vinyl Pressing was born three years ago," Viering said. "We know all the pressing plants in America. When a customer comes to us, we know we're going to the right plant for his project."
Vinyl records are indeed relatively hot, with industry trade groups predicting they'll outsell CDs in 2019—the first time that's happened in 33 years. Viering and other experts in the field say that stems from a general dissatisfaction with streaming services by some music connoisseurs. Those compressed files, delivered over the internet, are indeed convenient, but they provide a less-than-ideal listening experience.
Also, there's still a strong desire among many fans to possess a musical medium they can hold in their hands.
"My favorite quote is, 'You can't roll a joint on the back of an MP3,'" said Andy Skinner, co-owner with his wife, Annie, of Broad Ripple-based Indy CD & Vinyl.
Whenever someone tells the Skinners vinyl is "coming back," they happily point out that, for a certain section of music fandom, it never left. Vinyl LPs vanished from most big retailers in the 1990s, when their producers stopped taking back unsold units, forcing stores to eat that cost. After that, their only steady suppliers were specialty outlets.
Vinyl gained popularity, Skinner said, not just because the format (and CDs, for that matter) sounds better than a streaming file. Albums also have a certain retro cachet, what with their colorful jackets, copious liner notes, and even distinctive smell. And though the price of recent releases has grown to $13 or more, vinyl has attracted a fan base far larger than baby boomers looking for a nostalgia fix.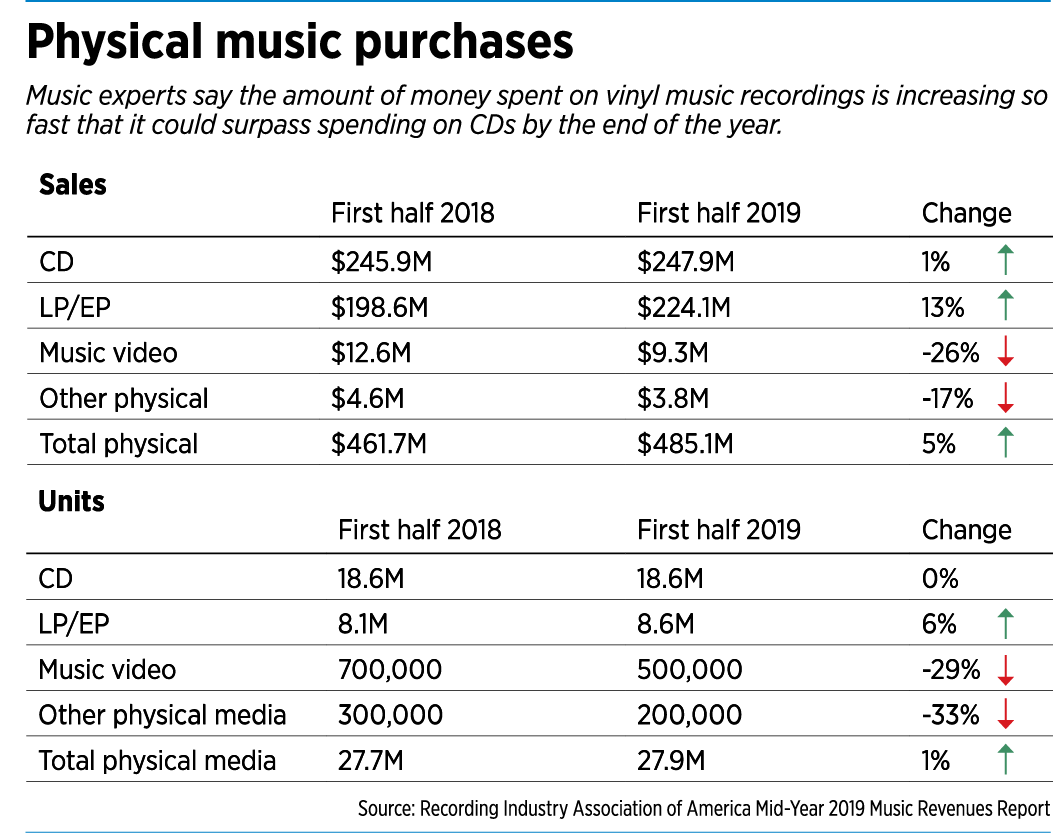 "Currently, our single biggest demographic is younger women," Skinner said. "Teenage and early-20-something women make up a huge part of our customer base."
'Convenience always wins'
How long the current nostalgia lasts is anyone's guess. Michael Graham, owner and president of The Lodge Studios Inc. (an Indy-based recording studio that regularly purchases CD services from Optical Media Manufacturing for its musical clients) believes the deciding factor won't be music quality, but convenience.
"Convenience always wins," Graham said. "The quality of MP3s is hideously bad, but it won out over CDs. It's great that the vinyl trend has come in, but I don't think it's going to be a major player in the future. I think the digital world will completely take over, and vinyl will be fairly 'boutique' in 10 years."
It's equally difficult for Viering to predict where his company will be in a decade. Its extensive streaming work probably isn't going anyplace. But its various physical media could face varying fates. For instance, VHS is pretty much done. The equipment to produce it is becoming so antiquated that almost no one remembers how to clean and maintain it, let alone use it.
Audiocassettes, for the moment, still seem to retain a certain following. But there's little of the nostalgia around the format that helps buoy interest in vinyl. Viering said the company still produces lots of fitness, yoga and self-help DVDs, but the size of the individual product runs has slowly dwindled from, say, 5,000 to maybe 1,500.
As for vinyl, it's hard to say. It's the product that's attracted the most collector interest, and it could remain the medium of choice for music fans seeking a product they can collect and show off. Unless, of course, it doesn't. Because while an MP3 file might not sound as good, and a CD might lack the "warmth" of vinyl, it's a sure bet that neither of those formats has ever melted in a hot car.
"I think we're going to stay steady, or see a slight upwards curve as the collector market continues to grow," Viering said. "I've got 10 more years to work, but I think that, even after that, there's still going to be an interest from collectors in physical media."•
Please enable JavaScript to view this content.