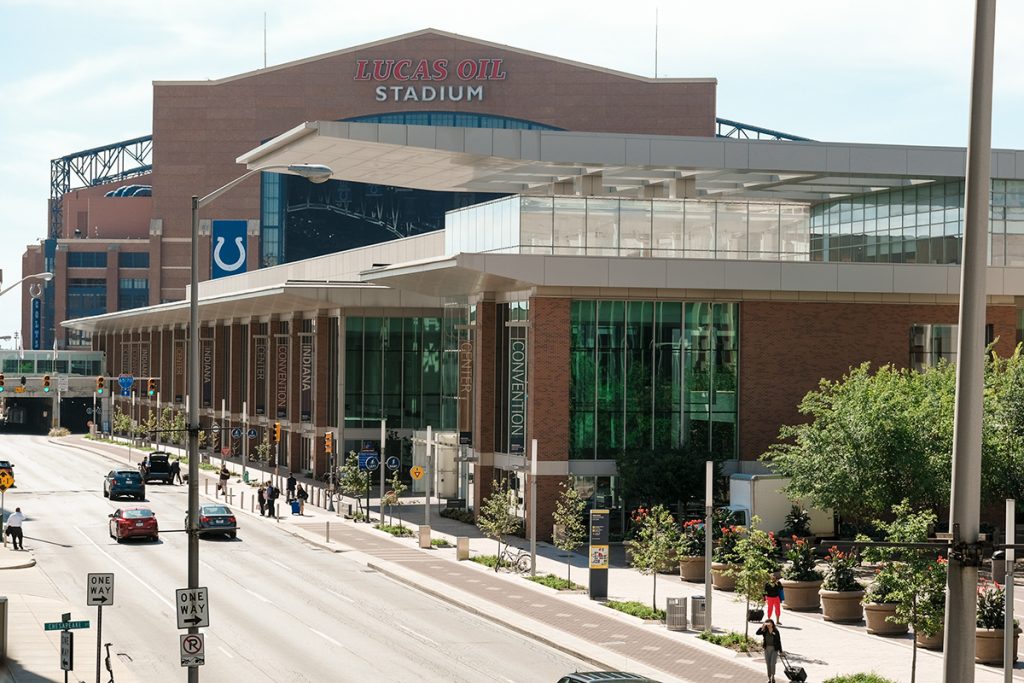 Visit Indy plans to cut employee hours starting this week, as part of an across-the-board effort to slash expenses due to the coronavirus epidemic that has ravaged the city's hospitality industry and overall economy.
The tourism bureau's 62 employees will see their work weeks cut to four days throughout at least April, with the expectation they use available paid time off or sick leave to supplement their pay. Those without available time off will lose 20% of their weekly pay.
"We're all still working—all 62 of us—and we have reviewed our budget in its entirety and have frozen expenses … so that we can save as much money now as possible for when we'll need it as we recover from this," said Chris Gahl, vice president of Visit Indy.
Discretionary and travel spending as well as about 90% of the organization's advertising budget have been frozen. Visit Indy plans to use most of its ad budget for events later in the year, Gahl said.
Gahl said he could not say precisely how much the moves will save, but he said layoffs aren't expected.
"Based on our swift budget saving measures and our four-day work week, starting [Monday], we will remain healthy and be able to keep everyone intact," he said.
Visit Indy staffers have worked remotely since March 16 in an effort to observe local, state and federal health officials' recommendations for social distancing.
The group will continue working with the conventions that postponed or canceled earlier this year at the start of the pandemic. Those shifts effectively decimated the city's event calendar through at least early June.
Visit Indy is also continuing to promote the city—quietly—to groups looking to schedule events farther into the future, and moving forward with bookings those dates.
"We continue to receive leads every day on corporations and associations and meetings looking to meet in 2021 and 2022 and beyond," Gahl said. "So we are booking business into future years as we would normally do."
Added Gahl: "There's a hunger by our team to work even harder on behalf of the men and women in the hospitality industry to salvage business, look for business and make sure we stay as positive as we can during this crisis."
But it's possible the organization and the Capital Improvement Board—which owns and operates the Indiana Convention Center and Lucas Oil Stadium—will face major financial obstacles in the coming months due to the state of the city's hospitality, travel and restaurant industries.
Visit Indy receives 84% of its $16 million budget from the CIB, which itself gets about two-thirds of its operating revenue ($143 million in 2020) from tourism-related taxes. The rest of the CIB's budget comes from facility rentals and other operations. Visit Indy gets the remainder of its funding from dues paid by its 625 member businesses.
Both the convention center and the stadium are now empty except for on-site security, said CIB executive director Andy Mallon.
Employees who can are working from home, while electricians, plumbers, custodians and other usual on-site employees are receiving paid time off through at least April 6.
Gahl said Visit Indy is working closely with the CIB to ensure both entities remain financially viable in the months ahead.
He and Mallon acknowledged it is likely they won't know the extent of the virus's impact on the groups' finances until at least late April or early May, when the CIB receives tax revenue collected this month.
"We're looking at that and it's tough to say without seeing what's actually happening out there," said Mallon. "We've heard the same reports that [everyone has] about restaurants and hotels and being low on occupancy. But we don't receive those taxes in real time."
With no events on the calendar for the next few months, the convention center has been effectively mothballed, but officials said it could be made available in the event the city or other entities need to use it to while dealing with the coronavirus situation.
Mallon said no decisions have been made about whether that might be necessary—or how it may be used—but he said city officials are aware the venue is available.
"I have talked to city authorities," said Mallon, "and said we're willing to help in any way, should the need arise."
Some cities, including New Orleans and New York, are using or preparing to use their convention centers as makeshift hospitals and storage facilities for supplies and food.
The U.S. Army Corps of Engineers also identified convention centers in other cities, including Chicago, Detroit and Dallas, as a few of at least 114 venues across the U.S. that could be converted to makeshift hospitals.
It's not clear whether the Indiana Convention Center or other Indianapolis facilities could be used in the same way. Neither the Corps of Engineers or the governor's office responded to inquiries from IBJ on the matter.
Please enable JavaScript to view this content.