For college basketball fan and Indianapolis native Tony Hart Jr., volunteering to help the NCAA Men's Basketball Tournament was a no-brainer.
He wanted to make sure visitors had a pleasant experience, and he wanted to be part of all the historic hype around the city as it hosts the entire tournament.
Hannah Thomas felt the same way.
"We just know how to welcome people to our city," Thomas said. "It's magical to watch."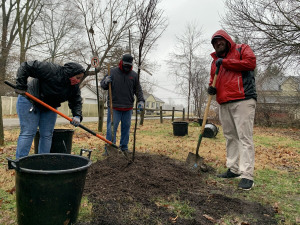 Hart and Thomas are two of hundreds of volunteers that the Indiana Sports Corp. recruited to help with nearly every aspect of March Madness.
Volunteers are coordinating bus transportation for teams, running to the store for toothpaste for players, sanitizing practice courts, doing laundry for the teams, beautifying the city with new trees, picking up trash, setting up seating pods in the venues and assisting out-of-town media and other guests with just about anything they may need.
"The volunteers are the bloodline of everything that we do," Indiana Sports Corp. Director of Public Relations Brett Kramer said. "We cannot physically make these events come to life and make these events successful without our volunteers."
Kramer said 5,000 volunteer shifts have been filled and more shifts will need to be filled before the Final Four.
"We knew that Hoosiers would step up and help us make this happen," Kramer said.
Thomas has worked four shifts as an Indy Advocate, which is a group of about 100 volunteers assigned to help in the media hub in the Indianapolis Artsgarden and walk around downtown assisting visitors with directions or snapping a photo of them on Monument Circle.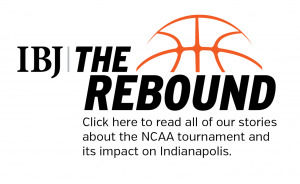 She said she thinks people are loving the city, especially the massive bracket on the JW Marriott and the music and artwork that is part of Swish. And most people are eager to get a March Madness face mask.
"The masks have been a huge hit," Thomas said.
Hart has worked one shift as an Indy Advocate and also spent time on the practice court crew.
In his five-hour shift the Thursday before March Madness tipped off, Hart was part of a team that wiped down basketballs and seats, swept floors and refilled coolers on the practice courts inside the Indiana Convention Center.
"We would have about 20 minutes to be able to do that," Hart said.
The courts had to be sanitized in between one team leaving and another coming in, so Hart and a handful of others repeatedly rotated through all of the courts.
"Pretty much after we got done with one court, we'd go to the next one," Hart said.
He did catch a glimpse of the men's basketball teams for Texas and Florida in between all of the sanitizing, but volunteers had to watch behind a screen to stay separated from the players, who have been in a controlled environment since arriving in Indianapolis for the tournament.
"It was really pretty cool the environment they were able to set up," Hart said.
Please enable JavaScript to view this content.