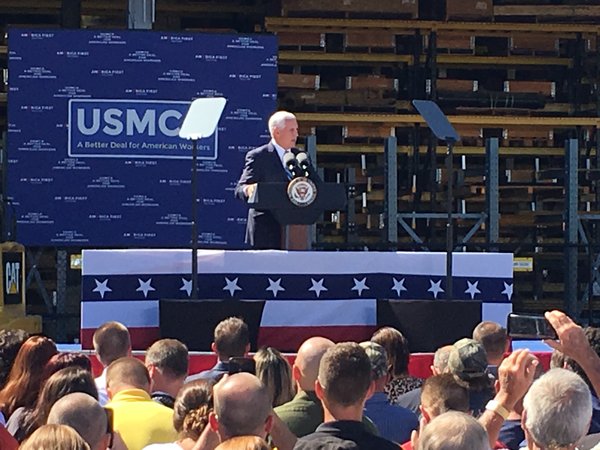 Indiana's economy will be stronger if Congress approves a new trade deal with Mexico and Canada, Vice President Mike Pence told a crowd Thursday at a rally in Indianapolis.
Pence was among several local and national speakers at an event promoting the benefits of the United States-Mexico-Canada Agreement, also known as USMCA.
"Indiana's got a lot to gain from the USMCA," Pence told the group.
Together, Pence said, Canada and Mexico purchase a fifth of all U.S. products. "They are a critical destination for what we grow and what we make," Pence said.
And, Pence said, that is especially critical in a manufacturing- and agriculture-heavy state like Indiana. "We do two things well here," he said. "We make things and we grow things."
According to the Office of the U.S. Trade Representative, in 2017 Indiana sold $13.2 billion in exports to Canada and another $5 billion to Mexico.
Thursday's event took place at McAllister Machinery on the city's southeast side. It was organized by America First Policies, an organization that promotes President Donald Trump's policy agenda.
In November, Trump, Canadian Prime Minister Justin Trudeau and former Mexican President Enrique Pena Nieto reached an agreement on the trade deal, which would replace the North American Free Trade Agreement. But USMCA won't go into effect until lawmakers in all three countries also approve the deal. Congress hasn't yet done so.
"It's time for Congress to pass the USMCA trade agreement—and pass it this year," Pence said.
Other speakers at the event offered specifics about how they feel the USMCA would benefit their industries.
Leigh Ann Pusey, vice president of corporate affairs and communications at Indianapolis-based Eli Lilly and Co., said the USMCA would strengthen intellectual property protections, which is of vital importance to pharmaceutical companies.
When NAFTA took effect in 1994, Pusey said, 70% of pharmaceutical innovation took place in Europe. But now, 75% of that work happens in the U.S., and a new trade agreement is needed to reflect that reality, Pusey said.
The USMCA would provide 10 years of data protection for biologic medicines, Pusey said, bringing Mexico and Canada closer to existing protections in U.S. law.
Pharmaceutical research is so costly, Pusey said, that having strong protection for intellectual property is crucial. "It's the lifeblood of the biopharma industry," she said.
On average, Pusey said, it takes pharmaceutical companies 10 years and $2.5 billion to develop a new medicine.
Attorney Amy Cornell, president of the Agribusiness Council of Indiana, said intellectual property protection also "incentivizes further innovation in agriculture" for things like gene editing.
The USMCA will also open up new markets for U.S. farmers, Cornell said, giving them more ability to sell dairy products to Canada.
Another provision of the USMCA is that it is subject to review every six years and expires after 16 years, unless the U.S., Mexico and Canada decide to extend it.
Chris Graham, a senior vice president at Fort Wayne-based Steel Dynamics Inc., said he likes that provision because it allows the USMCA to adapt to changing conditions over time.
Addressing foreign trade violations is an ongoing challenge, Graham said, because as soon as the U.S. addresses one problem, violators will find a new way to skirt trade laws. "The whole business of trade is almost a 'whack-a-mole.'"
Revisiting trade agreements periodically will make it easier to address this problem, Graham said.
Richard Manning, president of the conservative group Americans for Limited Government, said USMCA should have positive effects that reach beyond trade issues.
Manning said he originally supported NAFTA because he believed it would uplift Mexico's economy. That didn't happen, Manning said, but the USMCA offers another chance to do so.
The USMCA would require that a percentage of automotive workers receive at least $16 per hour in wages.
Increasing pay for Mexican automotive workers, Manning said, will help lift that country's economy, which in turn should reduce the flow of immigrants to the U.S.
If Mexico's standard of living improves, Manning said, "the economic incentive to flee to the U.S. will be ended," Manning said. "It's an endemic problem, and we have to deal with it structurally. And USMCA is a step in the right direction."
Please enable JavaScript to view this content.