Wabash College has promoted from within to fill its upcoming vacancy for president.
The school's board of trustees has elected Scott Feller, the current dean of the college, to become president after Gregory Hess leaves the post at the end of the 2019-2020 school year. Feller already had been appointed acting president effective July 1.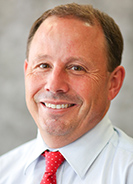 Feller has served as dean since 2014 and as a professor of chemistry since 1998. He will become Wabash's 17th president since the Crawfordsville-based men's college was founded in 1832.
President of the college since 2013, Hess announced in March that he would leave at the end of the school year to become CEO of IES Abroad, a program for study and internship opportunities around the world.
With new retention initiatives, Feller helped establish a record-high four-year graduation rate in 2019, the school said Tuesday in a media release. He and Hess helped secure funding to launch the Wabash Liberal Arts Immersion Program, which has dramatically improved the retention and graduation of students from disadvantaged backgrounds.
"The beauty of the strategic objectives we laid out seven years ago is that they are timeless and they exemplify our mission: we focus on the intellectual and personal development and success of each and every Wabash student," Feller said in a media release. "I have been excited to be a part of this work and look forward to continuing it in my new role."
As an administrator at Wabash, Feller also has served as a department chair and division chair. Over the course of his tenure, he has hired or conducted tenure or promotion reviews of over 80 percent of the current Wabash faculty.
He also led efforts to add new majors in Computer Science and Philosophy, Politics, and Economics. He also was instrumental in creating number of interdisciplinary minors.
"Scott brings together keen analytical expertise and strategic insights with a broad and deep understanding of the key drivers of long-term success for outstanding liberal arts colleges like Wabash," said Jay Allen, chair of the board of trustees.
Please enable JavaScript to view this content.