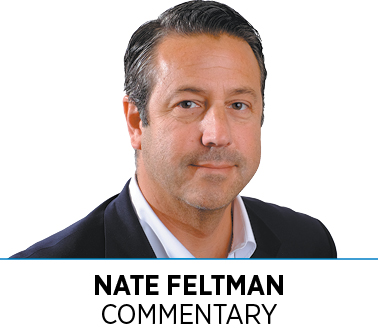 Last year's year-long election, COVID politics and the Jan. 6 insurrection at the U.S. Capitol left me in a political hangover this year. I over-consumed on politics.
In reaction, if I turned on the TV and heard political ranting, I immediately turned the station. "Brady Bunch," "Gilligan's Island," "Three's Company"—it didn't matter—anything other than politicians blasting those terrible people on the other side of the aisle.
Politicians of all stripes grated on me. I found common ground with the 19th century Portuguese writer Jose Maria de Eca de Queiros, who said, "Politicians and diapers have one thing in common. They should both be changed regularly, and for the same reason."
My reprieve from politics allowed me time to watch a number of TV series that friends had raved about, such as "The Americans," "Billions" and "Schitt's Creek." If you are old enough to remember the '80s and you like Cold War intrigue, you will love "The Americans." I think I watched all six seasons (13 episodes each) in a couple of weeks—must-watch TV.
I knew my political slumber would eventually end and I would once again pay attention to politics. I find politics a lot like the Eagles song "Hotel California": "You can check out any time you like, but you can never leave." But I wasn't sure what might make me check back into politics. Surely it wouldn't be anything on the federal level—too toxic. Perhaps something on the state or local level.
Then something caught my attention: Breaking news—Gov. Holcomb is headed to Israel to meet with Prime Minister Benjamin Netanyahu just days after the cease-fire with Hamas, becoming the first U.S. governor to visit Israel this year.
It's not every day that a governor from a Midwestern state jets off on short notice to the Middle East to show his support for Israel. What additional moves might we see Holcomb make in the coming months and years as he begins to think about his post-gubernatorial life? Holcomb, who will be 56 years old in 2024, is young, and politics is in his DNA. Could a national ticket be in his future?
Speaking of 2024, there has been lots of chatter around the water cooler in recent weeks about who might run for governor. On the Republican side, those seriously considering a run (and who should be taken seriously) include Lt. Gov. Suzanne Crouch, Republican State Chairman Kyle Hupfer and Attorney General Todd Rokita. Of those, nobody has made more headlines this year than Rokita as he has stepped into the feud between the governor and Legislature, attacked big tech and critical race theory, and declared Indiana University's vaccine policy against state law.
On the Democratic side, former U.S. Sen. Joe Donnelly, Indianapolis Mayor Joe Hogsett, former Indiana Superintendent of Public Instruction Jennifer McCormick and State Sen. Eddie Melton are considered possibilities.
The big wildcard is former South Bend Mayor and current U.S. Secretary of Transportation Pete Buttigieg. The recent election of Mike Schmuhl (Mayor Pete's national campaign manager in 2020) as state Democratic chairman creates speculation about this possibility. And Democrats have history on their side—no party has held the governor's mansion for more than 20 years in Indiana.
Finally, Indiana's own former U.S. Vice President Mike Pence is back home again. The Pences recently purchased a home in Zionsville. What role will Pence play in both state and national politics in the years to come?
Thank you, Gov. Holcomb, for the wake-up call.•
__________
Feltman is CEO of IBJ Media. To comment, email nfeltman@ibj.com.
Please enable JavaScript to view this content.