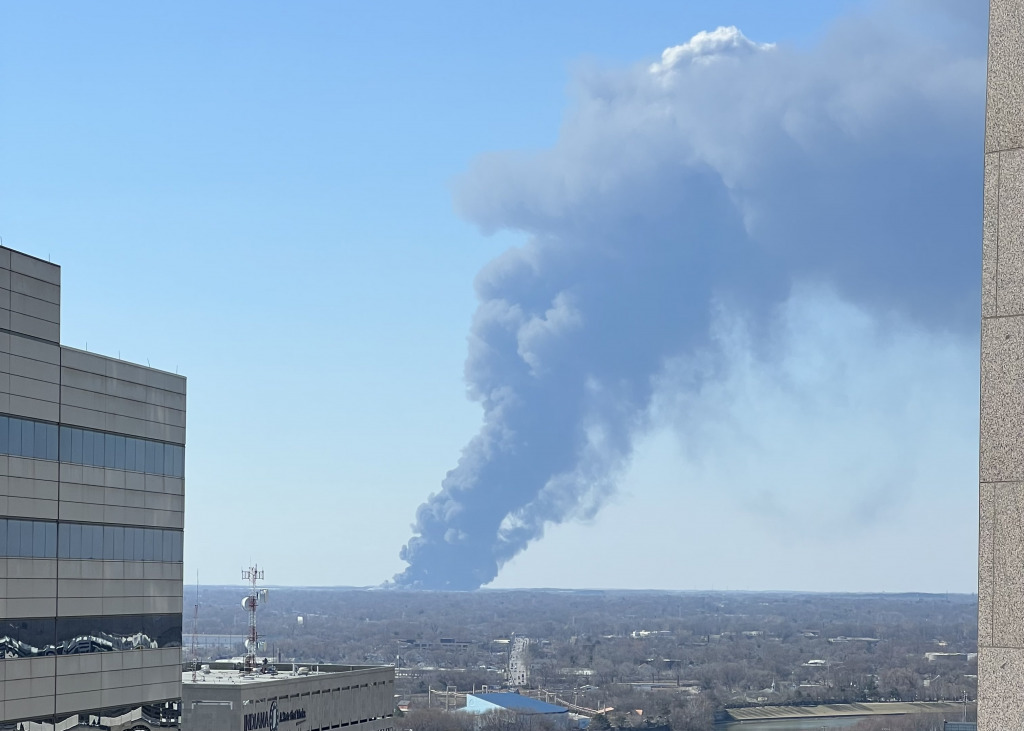 Walmart officials and first responders are still determining the extent of damage done by a massive fire that engulfed one of the company's fulfillment centers in Plainfield on Wednesday.
The fire, which broke out around noon at the 1.2 million-square-foot distribution building at 9590 Allpoints Parkway, caused part of the structure to collapse. It also billowed black smoke that could be seen from as far away as downtown Indianapolis.
Charles Crowson, a spokesperson for Walmart, told IBJ the company is "still in the evaluation process" to determine whether or not the building can be salvaged, as well as determine the amount of damage sustained by a neighboring Walmart facility. Both fulfillment centers are used exclusively for online orders, rather than to supply physical stores.
He said until the company determines whether or not the building can be salvaged, Walmart will rely on its other 45 or so e-commerce fulfillment centers across the United States to complete orders.
"We're going to rely on our supply chain, which is best-in-class … and we've already made calls to begin that process," Crowson said.
About 1,000 people were working in the building when it caught fire, but all employees were accounted for and did not sustain any injuries. One firefighter suffered minor injuries and was treated at the scene, according to Plainfield Fire Chief Brent Anderson.
Crowson noted each of the Walmart centers—designated as IND 1 and IND 2—employ "several thousand people" and that the company is focused on helping all employees navigate the situation, including those who may have lost house keys, car keys and other personal belongings in the fire.
"We're working to accommodate them because all their personal affects remained in the building," he said. "We're making sure they're able to get home… and remain as comfortable as possible. They need a break from all this."
He said all employees will be paid for a 40-hour work week this week and the company plans to help find temporary placement at other facilities in or around central Indiana, including brick-and-mortar stores.
He also reiterated that Walmart is appreciative of first responders, and directed additional questions to local law enforcement and fire personnel.
"We're thankful to local emergency crews for their quick response and for helping us account for the safety of our associates and those at the facility," he said.
The damaged fulfillment center was built in 2015 on about 64 acres through a partnership between local-based firms Browning Investments and Duke Realty Inc. It's part of the larger Allpoints Midwest Business Park near Indianapolis International Airport.
At the time it opened, Walmart said the facility would be able to distribute products to more than 160 million people within 48 hours. The second fulfillment center adjacent to the structure was completed in 2020 by Walmart and is about 1.1 million square feet.
According to supply chain consultancy MWPVL International LLC., the company also has several other facilities across Indiana including:
— Auburn, 400,000-square-foot perishables distribution center, opened in 2001;
— Crawfordsville, 31,400 square-foot optical lab distribution center, opened in 1993;
— Gas City, 990,000-square-foot perishables distribution center, opened in 2007;
— Greencastle, 1.5 million-square-foot fashion distribution center, opened in 1991;
— Greenfield, 85,000-square-foot Sam's Club cross dock facility, opened in 1994;
— Greenfield, 456,000-square-foot return center, opened in 2016;
— Hammond, 151,000-square-foot cross dock facility, opened in 2011;
— Seymour, 1.1 million-square-foot general merchandise distribution center, opened in 1990.
Walmart is also developing a 2.2 million-square-foot hub in the Mount Comfort Corridor east of Indianapolis, and that project is now under construction.
According to The Associated Press, the Bureau of Alcohol, Tobacco, Firearms and Explosives will lead an investigation, but Anderson speculated it could take weeks to determine a cause.
"Right now we have no idea what may have started this," Anderson said at a news conference.
The Indiana Department of Environmental Management was on the scene to conduct environmental. testing, he said.
Please enable JavaScript to view this content.