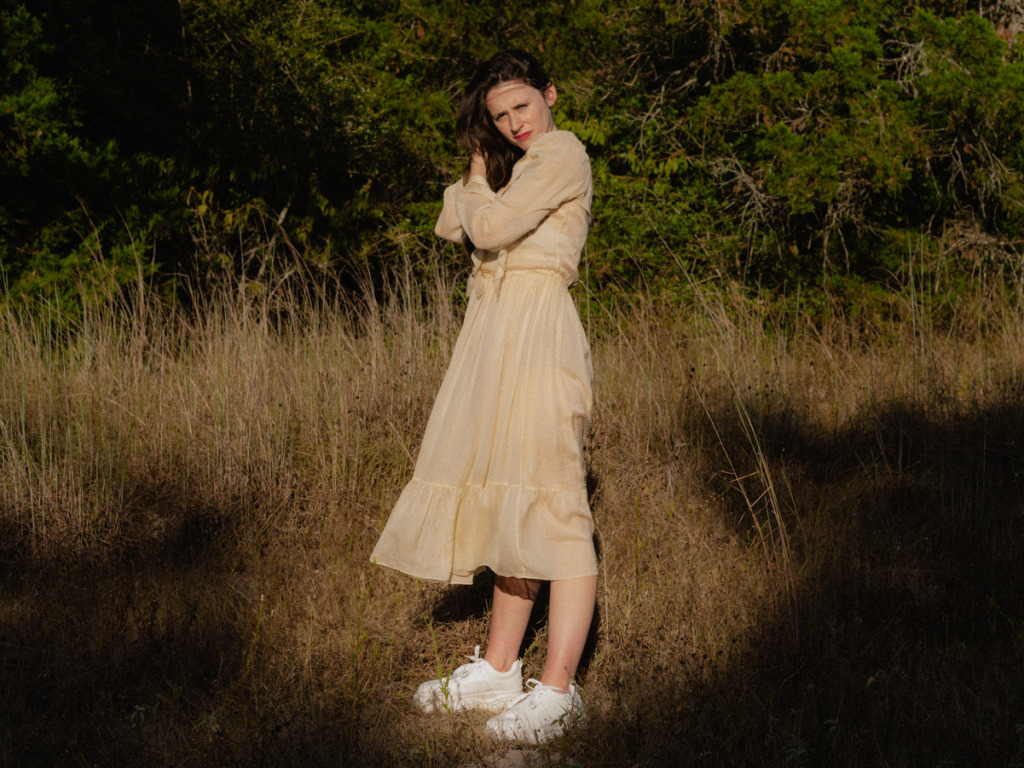 Waxahatchee, otherwise known as singer-songwriter Katie Crutchfield, sent a great piece of art into the world at a not-so-great time.
Her "Saint Cloud" album was released on March 27, 2020—or two weeks after the pandemic seized control of day-to-day life.
Fans and critics responded positively to "Saint Cloud" and its themes of addiction and codependency. The album landed on dozens of best-of-2020 lists, including rankings published by Rolling Stone, Pitchfork, Paste and NPR.
But the pandemic made it impossible for Crutchfield to share the songs of "Saint Cloud" with live audiences in a conventional timeline for album promotion.
Waxahatchee finally hit the road in September 2021, and Crutchfield will perform Aug. 5 at the Nickel Plate District Amphitheater in Fishers.
Crutchfield, who lives in Kansas City, Missouri, with indie rock musician Kevin Morby, told IBJ about the delayed gratification of bringing "Saint Cloud" to the stage.
What was it like to roll out an album during a pandemic? Were there any positives?
There were, but that was all in hindsight. As it was happening, it was pretty devastating to feel like not only are we having this sort of collective experience of being in a pandemic and having our lives kind of taken away but also this thing that I was so excited about. I intuitively was feeling it was going to be this big breakthrough for my career, and then I had to sideline it a bit. It was really hard. But in hindsight, I actually think the kind of record that it is lent itself to what we were all going through. I know people read into the subject matter that way. And I do think it's a pretty dense record as far as the lyrics and things like that. I think people got to spend so much time with the album that by the time we did tour, they were really excited in a way they maybe wouldn't have been had everything gone according to plan.
What you're saying reminds me of something I've heard Jeff Tweedy talk about. He basically said, "I've been making music for a long time. When I put out a new record, the audience has only a sliver of attention to devote to the new record compared to everything that's come before." Across 18 months, your listeners had a chance to live with "Saint Cloud."
They got to live with it and they were able to get really close with it. By the time I was playing those songs they felt really lived in, which was kind of a cool experience.
Your tour takes you to Chicago the day after you play here, and I know you're fired up to share a bill there with Lucinda Williams. What has Lucinda's music meant to you?
She's probably the artist I've talked about the most as far as influences go. So to share a bill with her is a very big bucket list item for me. I've been able to meet her a few times and spend a little time with her. Obviously, I just completely idolize her. I feel like she's the songwriter that I look up to the most. I feel like I studied her writing as I was writing "Saint Cloud." I really wanted to evoke the type of things that she evokes in me. Record to record, there's always somebody or a few bands that create a template for what I want to be doing. I think it's so obvious from the moment you get into "Saint Cloud" that I was spending a lot of time with her records.
I listened to a podcast episode you appeared on where you talked about not wanting to rush the creative process and how that's paid dividends for you. So I feel somewhat bad asking, what are you working on?
I'm actually really in the thick of writing my next record. I tend to write kind of fast, but everything brews for a long time. With "Saint Cloud," I was really tortured. I intentionally took a lot of time off to make that record, and I was tortured by the fact that I wasn't writing. But then when I started writing, it happened fast. And that's sort of what's happened here. The only good thing about it is that I was distracted with my extended record cycle of "Saint Cloud" and I wasn't as cognizant of the fact that something was brewing. But I've started writing and now it's all just happened extremely fast. I'm about 75% to 80% done writing, and I have the first session to start making the record in a couple of weeks. I think I'll take my time making the record. I don't think fans should expect another record anytime super soon. But it's happening.
How do you like living in the Midwest?
I love the Midwest. I'm all in on the Midwest. I love it here. I've now been in Kansas City for four years. It really feels like home. Kevin and I for a while talked about, 'Well, maybe we'll move to the South." I'm from South and he loves the South. But we just keep on keepin' on here. We bought a house pretty recently and we just have a lot of roots planted. I think we're here for a bit.
Waxahatchee
When: 8 p.m. Aug. 5.
Where: Nickel Plate District Amphitheater, 6 Municipal Drive, Fishers.
Tickets: $25, or $20 if purchased in advance.
Info: Visit npdamp.com.
Please enable JavaScript to view this content.