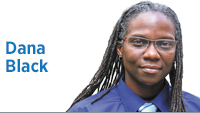 This year, the Indiana House passed a resolution authored by state Rep. John Bartlett, D-Indianapolis, to recognize January as Human Trafficking Awareness Month. Joining Bartlett on this resolution were Democratic Reps. Robin Shackleford of Indianapolis, Earl L. Harris Jr. of East Chicago, Ragen Hatcher of Gary, Carolyn B. Jackson of Hammond, Gregory Porter of Indianapolis, Cherrish Pryor of Indianapolis, Vernon Smith of Gary, and Vanessa Summers of Indianapolis.
The resolution focuses on preventing human trafficking by identifying the systematic root causes. As Bartlett states, "Our babies don't stand a chance. We need to educate our state on human trafficking and do everything we can to protect our youth."
Awareness is the first step, but justice is the ultimate step. It appears we live in a nation that is willing to overlook sexual exploitation and human trafficking, more specifically of our young girls and women, if the predators are wealthy and powerful enough.
Many in the African American community heard the rumors about R. Kelly but ignored the victims' cries because his music made us believe we could fly. It wasn't until the docuseries "Surviving R. Kelly" aired that calls to mute his music and stop supporting his career were made loud and clear. But even after the testimony of many women, all of whom were black, some people still suggest the whole thing is made up. We would rather ignore the victims than to silence the accused predator.
In 2008, Jeffery Epstein was given a non-prosecution plea agreement by Alexander Acosta—the father of two girls—without disclosing the details of the agreement with the victims. A decade later, we learn the horror of the details and question why this known human sex exploiter was given a minor slap on the wrist for destroying the lives of 14-year-old girls.
We are not naive enough to believe there are no bad people in the world looking for people to victimize. However, the most disturbing aspect of this desperately needed discussion is the way those who have the power to bring justice are complicit in the criminal behavior by looking the other way.
Federal prosecutors like Acosta are appointed by elected officials. They are supposed to be looking out for us against those who would harm us. Yet it appears that, if the potential of wealth and power are dangled in their faces, they will pretend the lives of these adolescent girls do not matter.
At what point does the outrage of child molestation and human trafficking take precedence over anything else? How is it that we have become numb to atrocities happening in our cities and towns all over the country?
In 2018, former Kentucky state district court judge Tim Nolan was sentenced to 20 years for human trafficking. This public official could see vulnerability in women because of addictions and use it against them to have his way. This duplicitous behavior and the blatant disregard of that behavior leads to a justice system that can further harm survivors rather than hold accountable the miscreant.
To change directions, we need to elect more women so we can appoint prosecutors who value the lives of our little girls over the prospects of becoming wealthy. We as women can stop waiting for men to rescue us from the boogeyman and control the outcomes with our own power. It is unfortunate there aren't more men like Bartlett who are willing to step up and speak out against human trafficking, but lucky for us Hoosiers, we have him.•
__________
Black is deputy chairwoman for engagement for the Indiana Democratic Party and a former candidate for the Indiana House. Send comments to ibjedit@ibj.com.

Click here for more Forefront columns.
Please enable JavaScript to view this content.