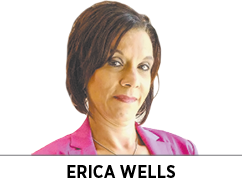 As I reflect on recent events in our city, my thoughts drift to the past, then the future, then back to the present. Our personal lives, business lives and community are woven together. It's an intricate cohesion that strengthens over time.
Those who are mothers want to raise their daughters to be strong, independent women who blaze their own path in a city of opportunity. As a biracial mother raising daughters of color, I am no stranger to the fears and frustrations being expressed in our streets today.
I now question whether this is a city where they can envision expanding their minds, developing in a career and raising a family. When will city leadership send a message that will resonate with my daughters amid civil unrest? Will that message align with the values of peace and understanding?
Many years ago, our city had the nickname "India-no-place." Then a group of community organizers had a vision to turn Indianapolis into a model city in the Midwest and put together a carefully executed plan. Over the past 30 years, we have seen a transformation of our city that has fueled growth in commerce, the arts, hospitality and sports—making us the envy of the Midwest. What happened to that vision? When did the pattern change from proactive creativity and ingenuity to disconnected, paralyzed decision-making?
As the general manager of Chef JJ's, a small business downtown, I feel a complete disconnect from the vision that turned around our city. I see what cities around the country did to support small-business owners during the COVID-19 shutdown and wonder why our local government languished without a plan.
At the core of a successful business is detailed planning; decisions are difficult enough to make when revenue is down significantly and employees are suffering from loss of income. Decisions are impossible to make when leadership fails to listen to the community; fails to communicate a comprehensive plan; and falls into a reactive, not proactive, stance on protecting our community.
I am proud to be president of Stadium Village Business Association, an organization of over 200 large and small businesses on the south side of downtown—a community that is growing and that I have great appreciation for. SVBA gives a voice to business owners who might not have one on their own. What I hear from members now is frustration, fear and exhaustion. They have invested in this city, in this community and in its people, and they long for leadership to reflect their commitment to supporting businesses and neighbors in Indianapolis.
We know the past, we are living the present, but what does the future hold? It is time to be bold again, to get our plan back on track. To be the city that inspires other cities in the Midwest to copy our model of welcoming advancement, creativity and inclusiveness. To be a place where people want to live and work and raise families. To be a vibrant city that will attract industry and commerce from all over the world. To continue the pattern that has made this city great.•
__________
Wells is president of the Stadium Village Business Association.
Please enable JavaScript to view this content.