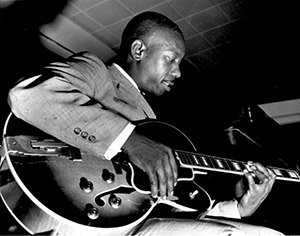 One of the greatest jazz guitarists of all time came from Indianapolis.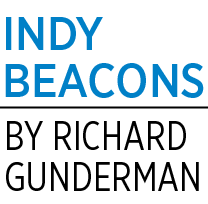 Born in 1923, his name was John Leslie "Wes" Montgomery, and he grew up in a family that included three musician brothers. His love affair with the guitar began at age 12, when his brother Monk paid $13 he had earned as a delivery man to a pawn shop for a four-string guitar he gave to Wes.
Newly married to his wife, Serene, who would bear him seven children, Montgomery heard at a dance the music of electric guitar pioneer Charlie Christian, recorded with Benny Goodman. Working as a welder, he purchased his own electric guitar and spent much of the next eight months imitating Christian's play note by note. As a musician, he was completely self-taught.
Unlike his idol, Montgomery eschewed a pick, instead plucking the strings with his thumb. Asked why, he explained that, when he played with a pick, he kept his family up late at night; playing with his thumb helped dampen the sound. He began performing his renditions of Christian's solos in local clubs. To his chagrin, when audiences demanded an encore, he had nothing else to offer.
In 1948, Lionel Hampton played in Indianapolis, heard Montgomery, and hired him. Montgomery left town the next day. Hampton's decision was made more remarkable by the fact that Montgomery never learned to read music. Deathly afraid to fly, Montgomery would drive to all of Hampton's gigs, which proved exhausting. After two years, he returned to his hometown.
In Indianapolis, Montgomery returned to his work as a welder to support his growing family, performing nights at local jazz clubs. His schedule was so exhausting that he sometimes suffered blackouts. In 1957, he joined his brothers to record an album that was released as "The Montgomery Brothers and Five Others," and included Wes on a single called "Fingerpickin'."
In 1959, saxophonist Cannonball Adderley heard Montgomery perform at Indianapolis' Missile Room and was so impressed that he phoned Riverside Records and urged the label to sign him. Montgomery's first album, "The Wes Montgomery Trio," featured Montgomery's regular club musicians. His second album, "The Incredible Jazz Guitar of Wes Montgomery," received international acclaim.
During the next five years, Montgomery recorded nearly 20 albums with Riverside before the company went bankrupt. He then recorded four albums with Verve, the final of which, "Goin' Out of My Head," earned him his first Grammy Award, in 1966. Finally, he moved to Herb Alpert's A&M record label and recorded three albums. He won his second and final Grammy posthumously in 1970 for "Willow Weep for Me," which was released the year before.
Though an acknowledged master, Montgomery was never prideful. Describing the recording experience, he said, "I always panic at every record I do. I don't have confidence in the material, myself or anything. The first two sets, I'm not geared up. Then the last two or three, everything begins to come right." So right that his "A Day in the Life" was the best-selling jazz record of 1967.
Montgomery died of a heart attack in Indianapolis in 1968 at the age of 45. He was at the peak of his career. Over the last three years of his nine-year career, he recorded no additional jazz albums, but those who heard him perform in concert confirmed that he continued to produce memorable jazz improvisations right up until the time of his death.
Montgomery is remembered as a kind, modest and responsible man. It is said that a crowd of 2,400, including Adderley, attended his memorial service in Indianapolis. He is buried in the New Crown Cemetery on the city's southeast side, where his headstone fittingly bears the prominent image of a Gibson L-5, the instrument with which he helped define the jazz guitar.•
__________
Indy Beacons celebrates the history of Indianapolis in the year leading up to its 2021 bicentennial by telling the stories of famous city residents. It appears the second and fourth issues of every month. Gunderman is chancellor's professor at Indiana University.
Please enable JavaScript to view this content.