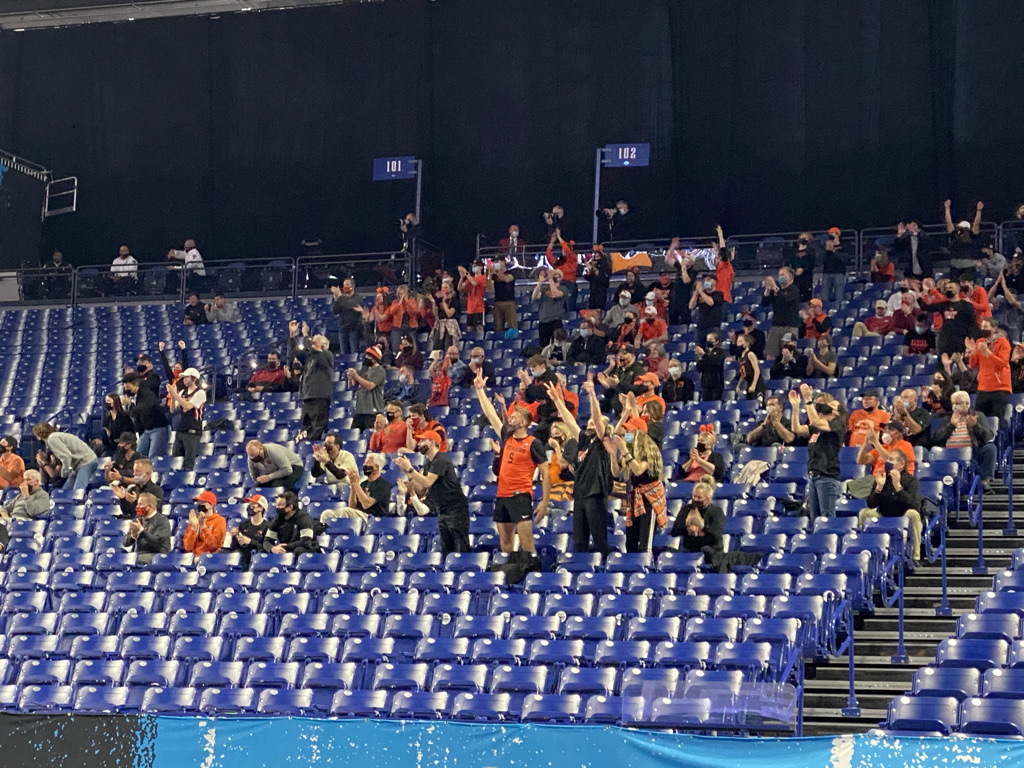 The NCAA called for a physically distanced men's basketball tournament this year in Indianapolis because of the pandemic. But with three West Coast teams competing tonight for a spot in the Final Four—and two Texas teams already there—this likely wasn't quite what Indianapolis organizers had in mind.
In fact, the 2021 Final Four field likely will include one of the most far-flung quartets of teams in Indianapolis' eight turns hosting the event—with seven of the Elite Eight teams' schools no less than 800 miles from Indianapolis, as the crow flies.
Two Texas teams, Houston and Baylor, earned their place in the Final Four with victories Monday night. The schools are 868 miles and 837 miles from Indianapolis, respectively.
On Tuesday, Gonzaga (in Spokane, Washington, 1,642 miles from Indianapolis) and the University of Southern California (1,810) will face off, as will UCLA (1,816) and Michigan (216).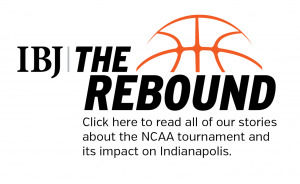 Local tourism officials have indicated that, if Michigan advances to the Final Four, it could provide a helpful economic boost to the city because of Ann Arbor's proximity.
Chris Gahl, vice president of Visit Indy, said it's too soon to know what impact the geographic origins of the teams will have on the expected financial impact the tournament has on the city. But he added that Michigan's still being in the running—after eight other Big Ten schools were knocked out—could help the city more than having an all West and South Final Four.
Regardless of which teams advance to the semifinals, Visit Indy plans to spend a total of $20,000 to advertise in prominent markets for the schools and their alumni. Gahl said the tourism bureau will spend about $5,000 per team on digital ads over a four- or five-day period.
The most spread out of Indianapolis' Final Fours came in 2006, when Florida, UCLA, George Mason and LSU came to town, accounting for a cumulative distance of 3,732 miles one way. 
The only way this year's crop of Final Four teams can top that is if UCLA is among them—for a minimum total of 5,163 miles. If USC beats Gonzaga, but UCLA loses to Michigan, the total would be just shy of the local record, at 3,731 miles.
The West Coast bent to this year's tournament seemed to take a small toll on attendance at a few of the Elite Eight games. Tickets for Monday night's Houston-Oregon State game were still available ahead of tip-off, for as low as $20.
Local UCLA alumnus Jonathan Huer told IBJ he's not sure how many California-based fans will make the trip to Indianapolis for the Elite Eight or later rounds, if the team advances.  But he said the tournament always provides great fodder as he catches up with old friends and other alums by phone and text.
"Every game, I feel like I hear from more of my old friends," he said, before adding that the pandemic has made alumni gatherings—a staple in years past—impractical. That's likely to dissuade some fans from making the trip, which often allows alumni to reconnect in-person.
"Due to COVID, everything has been sedate this year," he said. "I wish the tournament was a month or two later when more people were vaccinated. Until then, it's just a bit too risky for older alumni."
But the distance hasn't kept all far-flung fans from making the trek to Indianapolis to support their respective teams. And with the West Coast guaranteed at least one spot in the semi-finals—the winner of the Gonzaga-USC game—tourism officials are hopeful more will start buying tickets.
Dennis Shirley, an Orange County, California resident has come to Indianapolis twice in the past two weeks to follow his team, the USC Trojans. He said if USC manages to upset No. 1 seed Gonzaga on Tuesday night, he's staying in Indianapolis through next weekend.
"The problem is there's a limited number of flights because of COVID," he said. "If we win, I'm staying in town this time, because the way it works is that by the time I get back home, the next day I'd just have to turn around and come back."
He said he hopes more fans show up for tonight's games than they did Monday.
"You've got to be here—it's a blast; I mean, it beats watching (it on) television," he said. "I'm disappointed in the turnout for all the Pac-12 teams. There's hardly anybody here."
Shirley said because currently there's no direct flight connecting Los Angeles and Indianapolis—he has had to make stops in Chicago and Atlanta, and drive in from Dayton and Cincinnati. Each of his outbound flights are expected to depart from Indianapolis.
He and his wife have been to The Fashion Mall at Keystone, Hinkle Fieldhouse and on a self-guided tour of historic homes in the city. They've also visited a few government buildings and gone out to various restaurants, while catching about eight total tournament games during their visits.
"There's a lot to do here, so we've had no problem whatsoever burning the day in between games," he said. "Our basketball team doesn't make it this far very often, so you have to take that opportunity when you get it."
Similarly, Houston fan Gary Reinsch said he has also flown back and forth between his home in Sugar Land, Texas and Indianapolis.
"It's hard, because sometimes we have to fly into the cities around Indianapolis, since some of the prices for flying in directly are just nonsensical sometimes," he said.
Darren Newton, a Portland, Oregon resident, said he's staying with friends in Chicago during the tournament, after flying in ahead of Oregon State's Sweet 16 game Saturday.
"This is my first time to Indianapolis—I think it's a fantastic city," he said. "I've enjoyed the short time that we've spent here. And I'm excited to see a basketball game in this larger arena. It's not something you see every day."
Please enable JavaScript to view this content.