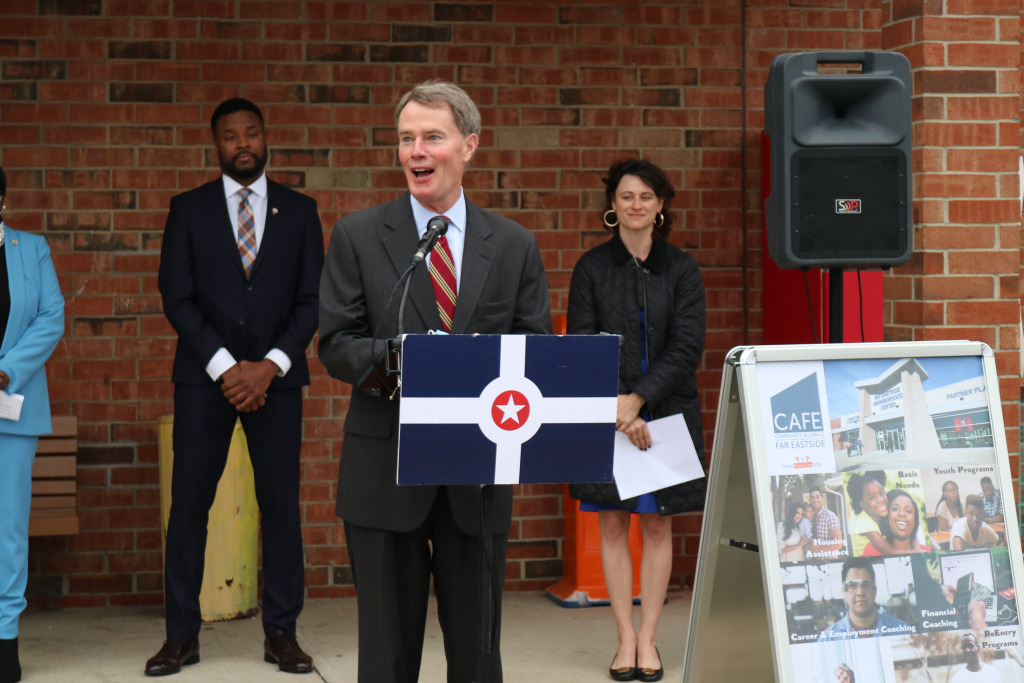 Indianapolis Mayor Joe Hogsett has a choice to make.
The two-term Democrat, now 65, can coast to retirement, seek a third term as city leader, run for higher office or do something else altogether.
Anyone outside Hogsett's inner circle can only speculate as to his intentions, but recent developments may prompt the mayor to announce his decision sooner rather than later.
Hogsett was recently seen in Boonville, 160 miles southwest of Indianapolis, where he served as the grand marshal for the Labor Day parade, leading some to speculate that the trip served as a precursor to a potential campaign for governor or U.S. Senate.
After all, the governor's office will be an open seat in 2024. Republican Gov. Eric Holcomb is term-limited and can't seek re-election. Also, there's some conjecture that Republican U.S. Sen. Mike Braun might give up his federal legislative seat to run for governor.
But if those offices aren't immediately on Hogsett's radar, he may want to quash the speculation to focus on a 2023 mayoral campaign where one potential primary opponent, Democratic state Rep. Robin Shackleford, already is lining up.
When asked about Hogsett's political plans, a spokesperson with the Mayor's Office declined to offer a direct answer, saying only that "the mayor is focused on working with Republicans and Democrats to pass a critically important budget package."
Shackleford, chair of the Indiana Black Legislative Caucus, won't be making any official announcements until next month but has been meeting with community leaders to discuss the possibility of a mayoral bid. She said she won't be dissuaded if Hogsett decides to run for re-election.
"My candidacy will not depend on anyone else's candidacy," Shackleford said.
Fred Glass, who worked with Hogsett in former Gov. Evan Bayh's administration, said primary opponents likely won't impact Hogsett's decision either.
"I will say, I guess, that I don't think he'll be deterred by a primary opponent, regardless of who that is," said Glass, CEO of Gleaners Food Bank and former athletic director at Indiana University.
Shackleford said messaging from Hogsett has indicated that he will announce his political intentions after the city budget is finalized. The spending plan should be up for approval at the full City-County Council meeting on Oct. 17.
Democrats who know Hogsett or have worked with him over the years say he makes an ideal candidate.
"I don't know of a better campaign speaker," said Fred Nation, former press secretary for then-Gov. Evan Bayh who worked with Hogsett on Bayh's campaign and again when Bayh became governor. "You bring somebody to fire up a crowd, that's Joe Hogsett."
Nation cautioned, however, that a Democrat's chances at winning statewide office in Indiana are tenuous. Democrats haven't won a statewide election since 2012.
"If you're a Democrat in Indiana looking at statewide office, the near-term horizon is not very promising," Nation said.
State Rep. Ed DeLaney, D-Indianapolis, said Hogsett appears to be carefully weighing his options before making a final decision.
"He's playing the game of, 'Who am I, and where am I going?'" DeLaney said. "He's playing peek-a-boo, and he's doing a very good job at it." 
DeLaney said that while Hogsett would make a great candidate for statewide office, he thinks the mayor should run for a third term.
A look back at Hoosier history shows that Indianapolis mayors who have tried to make the jump to statewide office often fall short.
Steve Goldsmith, the Republican mayor of Indianapolis from 1992 to 2000, ran unsuccessfully for governor in 1996, and William Hudnut, who served as mayor from 1976 through 1992, ran for secretary of state in 1990 but lost to none other than Joe Hogsett in a surprising upset.
After that glorious political start, though, Hogsett suffered a series of huge election losses that might make him shy about entering any statewide race with less than favorable odds.
In 1992, he ran for U.S. Senate and lost to Dan Coats. Then he lost a race for 2nd District congressman to David McIntosh in 1994. Ten years later, he had an unsuccessful campaign for Indiana attorney general.
After serving as U.S. Attorney in Indiana's southern district for four years, Hogsett re-emerged as a political candidate in 2015, winning his first term as mayor and winning again in 2019.
Some Democrats privately say Hogsett is giving every indication he's going to run for reelection as mayor, including naming the politically savvy Dan Parker as his new chief of staff. Parker has a long political career that began in 1992 and included a stint as chair of the Indiana Democratic Party from 2004 to 2013.
Still, running for mayor in 2023 wouldn't preclude Hogsett from running for governor or U.S. Senate in 2024. 
Historically, gubernatorial races where the incumbent is term-limited, such as Holcomb, provide an opening for candidates from a different party. So that could be appealing. But Hogsett also has long been known to have aspirations to serve in the U.S. Senate.
If he decides to run for any office, he's already built up a nice war chest to fund his race. His campaign committee had more than $2.4 million cash on hand in January, according to public campaign finance reports.
Please enable JavaScript to view this content.