As regional vice president for Urban One, Deon Levingston holds the keys to the biggest house in Indianapolis broadcasting.
Urban One acquired four Emmis Corp. radio stations and statewide news service Network Indiana in a $25 million sale that closed Sept. 1. That means 10 local media brands are now owned by the Maryland-based company.
"Cluster" is a shorthand term for multiple radio stations owned by one company in a city. Urban One now has a megacluster here.
As the owner of R&B station WTLC-FM 106.7, hip-hop station WHHH-FM 100.9 and gospel station The Light, Urban One adhered to the company's mission of serving Black and urban listeners during two decades of doing business in Indianapolis.
But the company branched out with the Emmis acquisitions, adding conservative news and talk station WIBC-FM 93.1 and country music station WLHK-FM 97.1.
In August, Urban One CEO Alfred Liggins told IBJ his company is seeking "non-urban radio formats" for the sake of growth.
Levingston, who's worked for both Urban One (known as Radio One until 2017) and Emmis during his career, said the collection of eight radio stations, Network Indiana and TV station Telemundo Indy 19 gives Urban One an unrivaled connection to central Indiana listeners and viewers.
The audience, he said, includes men, women, conservatives, liberals, all generations and multiple ethnicities.
"We have a portfolio that covers the market in a very unique way," Levingston said. "We've already started talking about some of the collaborations we could do from a community service standpoint. If there's going to be a political debate, now we can represent those brands in a way that represents the entire market."
Levingston spends part of each workday at Urban One's local headquarters at 21 E. St. Joseph St., near Meridian and North 10th streets, and part at Emmis headquarters on Monument Circle. The biggest house in Indianapolis broadcasting actually will occupy two buildings until sometime next year.
Levingston, a Howard University alum, provided IBJ with an update about the early days of Urban One's megacluster, including his thoughts on adding sports radio station The Fan and its broadcasts of Indianapolis Colts and Indiana Pacers games.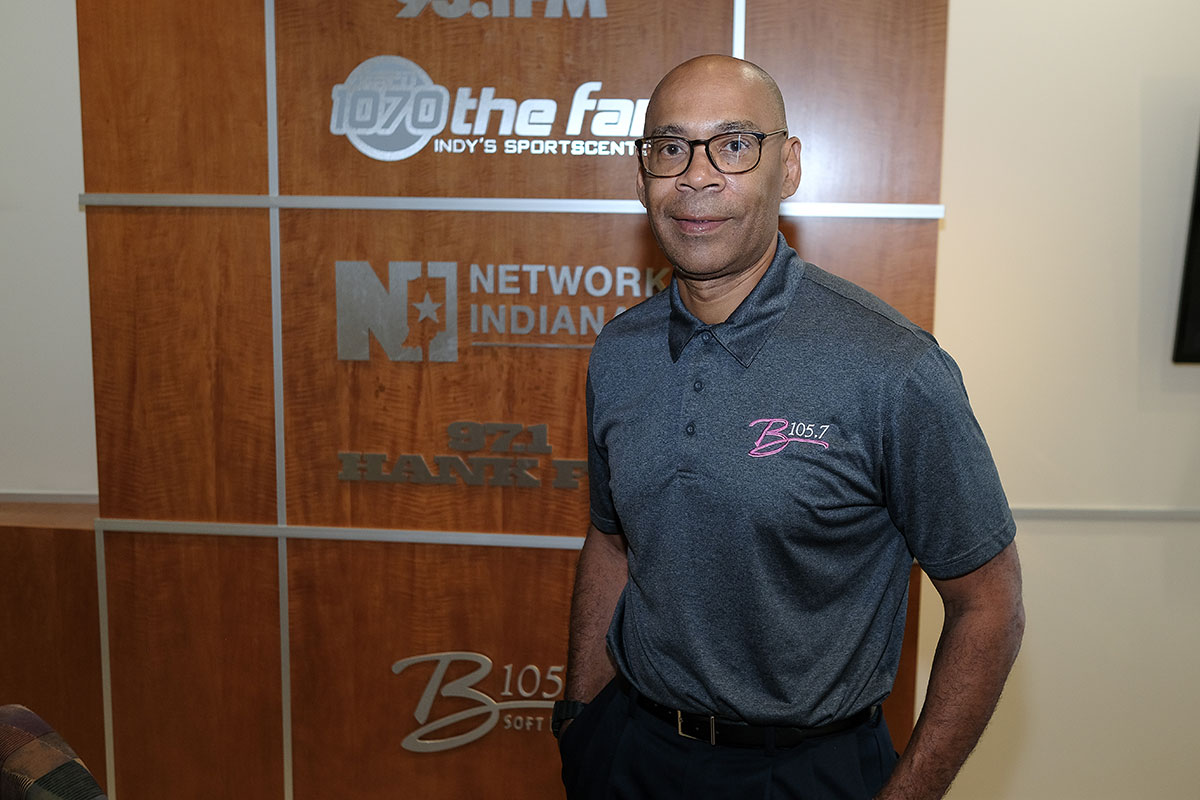 I understand the former Emmis stations remain in the building on Monument Circle. Logistically, how is it working?
It's going to take us a minute to build out 21 E. St. Joseph for the number of stations and studios and the amount of production. I would say that we're going to be in [40 Monument Circle] probably for at least six to nine months, if not longer.
Is the plan for 21 E. St. Joseph St. to be the home for all of the stations?
That is the plan right now. Hopefully, not foreseeing any major changes, that will be the plan going forward.
I'm sure another part of this acquisition has been human resources tasks and timekeeping. It seems like a lot to integrate.
Going into Labor Day weekend, our human resources department onboarded more than 100 people. It has been a lot since we officially closed the sale, but I'm really excited about what these brands can do.
How can you make the most of having Colts and Pacers games in the fold?
It expands our ability with those brands. I know the Colts and the Pacers have done a lot of things with our [Urban One] brands over the last couple of years as they've tried to expand their season-ticketholder base and their individual ticket base. With us now being the partner with them, we can just take that a step further.
As far as partnerships and collaborations, there are a lot of things we can do with both of those brands that Emmis may have been limited by in the past. Or the Colts and Pacers may have been limited to how much they could interact with [Urban One] because Emmis was the partner.
Do you know the length of time left on those contracts?
They both were renewed recently, so there's a good timetable for us to build and strengthen those partnerships.
This next question addresses something people have talked about since the sale was announced. If the past predicts the future, things may be happening on stations now owned by Urban One that oppose the values or opinions of other stations in the cluster.
I think each brand needs to super-serve the audience it's serving. At times, there may be opposite opinions on how it's done. We have had opposite opinions [within Urban One]. Having 10 brands in a market lends itself to opposite opinions. I think everybody can continue to serve [whom] they're serving.
WIBC has a long history in which it's been station of the year and format of the year. And WTLC has a long history. We won a National Association of Broadcasters Crystal Radio Award and a Service to America Award this year. These are legendary, lengthy brands in the Indianapolis community.
Do you plan to assess on-air personalities and their futures with the stations?
We did something that's highly abnormal in our business: We acquired a brand in the market, and we retained 94% of the brand's employees. That's unusual for any merger. I think we've already signaled our commitment to the staff here and our commitment to the Indianapolis market with how many people we've retained.
As we go forward, we always look at different personalities. We look at sales managers. We look at account executives. We're a business, so we evaluate all of that. But it's our goal, hope and desire that we have the team that goes forward for the foreseeable future.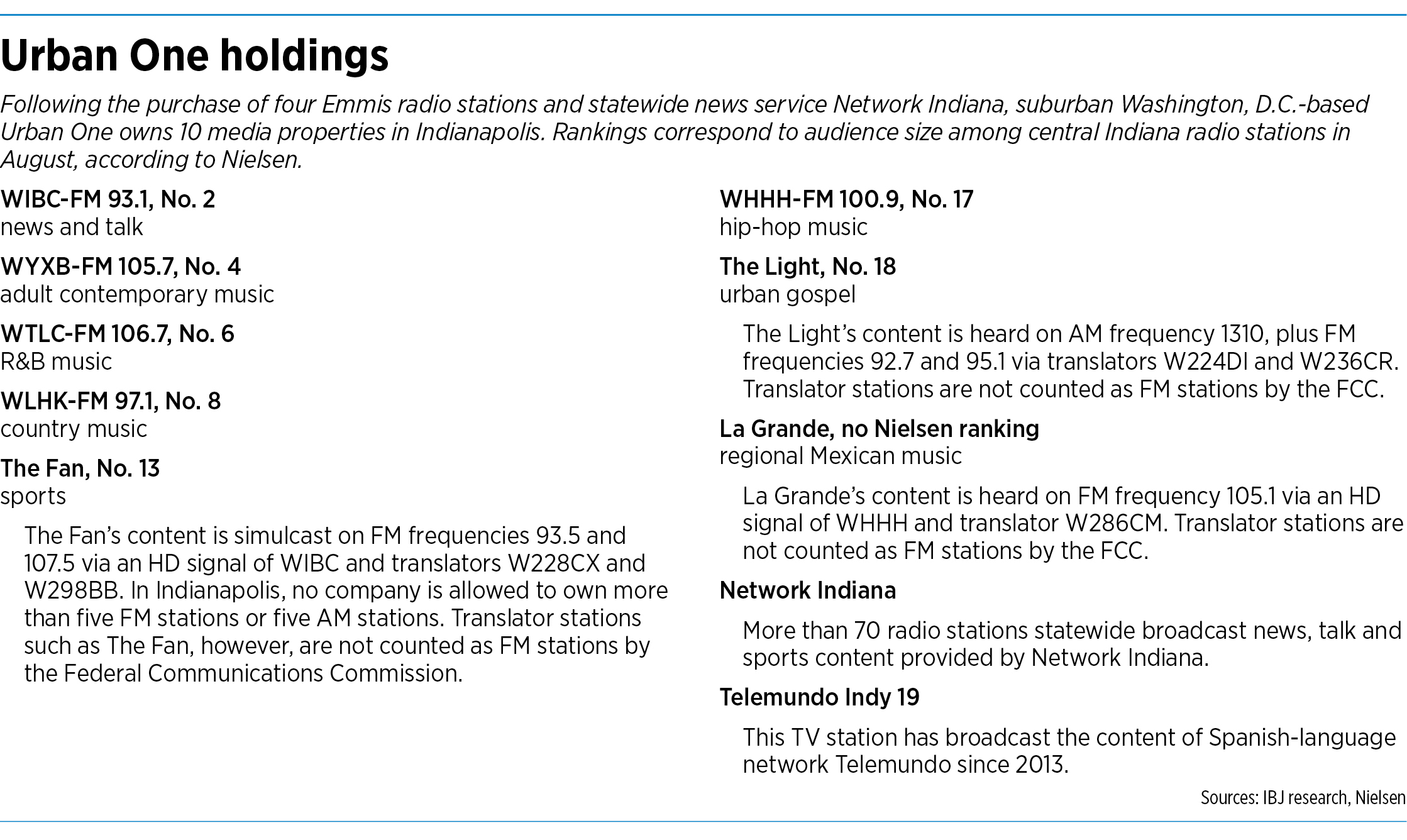 The only country music station in Urban One's national portfolio is Hank at WLHK-FM 97.1. How do you approach that?
I love it. We had the only regional Mexican station [in the portfolio] a couple of years ago. Urban One has three now. We had the only Telemundo affiliate. We have two now.
We don't get the distinction of being the only news/talk because we have a news/talk. We don't get the distinction of being the only adult contemporary [with WYXB-FM 105.7] because we have an adult contemporary. We followed Charlotte, North Carolina, on those two. But we've led the way.
We've seen that, if we do what we do in the radio business the right way, we can grow that. … I have the full belief that, if I talk to you a year or two or three from now, we'll be talking about how many country stations we have.
I know the friendship between Emmis founder Jeff Smulyan and Urban One CEO Alfred Liggins is part of the story of this transaction. Are the examples you just mentioned of Indianapolis leading the way for Urban One also part of the story?
Yes, and I do think the relationship between Jeff and Alfred definitely is part of the story. There were things that happened during this process where you would say, "Well, we don't do it that way." And Alfred would say, "Oh, no. We're going to do it that way this time." And that's because of that relationship.
I'm sure there were people in [the Emmis building] saying, "Well, we don't do it that way." And Jeff probably said, "No, we're going to do it that way this time."
Is there one surprising thing or two about what you've experienced since the sale was announced?
It was surprising that people made so many assumptions about what was going to happen. The one thing we said was going to happen has happened. The 96.3 FM frequency was sold to the [Charlotte, North Carolina-based] Bible Broadcasting Network. … And Hot [Urban One's hip-hop format formerly at 96.3] moved to 100.9. That is the only programming change we've made.
We said all along that would be the only programming change made.
I read all of these articles, and I saw everything across the TV stations saying, "Oh, this is going to happen, and that is going to happen." I thought, "We told you what was going to happen." Now we're three months down the road, and that's what has happened.•
Please enable JavaScript to view this content.