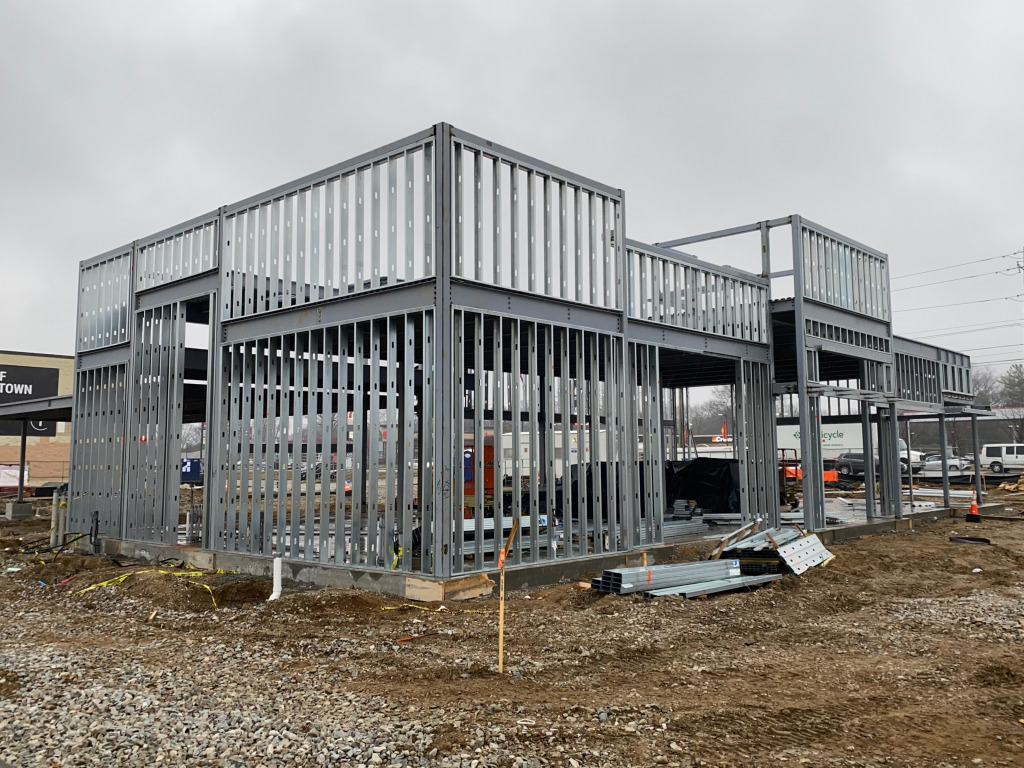 A J.P. Morgan Chase & Co. bank branch is expected to open May 1 at the intersection of 62nd Street and North Keystone Avenue, in the parking lot of a Marsh Supermarkets store that closed in 2017.
The building, presently under construction, is described by Chase as the consolidation of two nearby branches that will close in 2023.
The bank's Broad Ripple branch, 706 Broad Ripple Ave., is scheduled to close on Feb. 9. A branch at the intersection of 62nd Street and Allisonville Road is expected to close in the spring, according to Chase spokeswoman Stephanie Gostomski.
The new branch will include "self-service transaction areas including a digital access bar, smart ATMs and free WiFi," Gostomski wrote in an email to the IBJ.
The former Marsh and parking lots north and south of the 57,000-square-foot store building were sold to Traders Point Christian Church for $7.6 million in December 2019.
Whitestown-based Traders Point Christian Church announced plans to transform the grocery store into an 800-seat auditorium plus spaces dedicated to children and teens. Those renovations are pending, and attempts to contact church representatives were unsuccessful.
The Chase branch will occupy the southeast corner of the parking lot at the northwest corner of the 62nd Street-Keystone Avenue intersection.
New York-based Chase is the largest bank doing business in the Indianapolis area, according to Federal Deposit Insurance Corp. data.
As detailed in the FDIC's 2022 Deposit Market Share Report, Chase had $17.6 billion in deposits in the Indianapolis/Carmel/Anderson metro area as of June 30, which represented a market share of 21.2%. PNC Bank ranked No. 2, with $14.3 billion in deposits and a 17.3% market share.
Chase has about 1,450 employees and 65 locations in the Indianapolis area, according to IBJ research.
Please enable JavaScript to view this content.