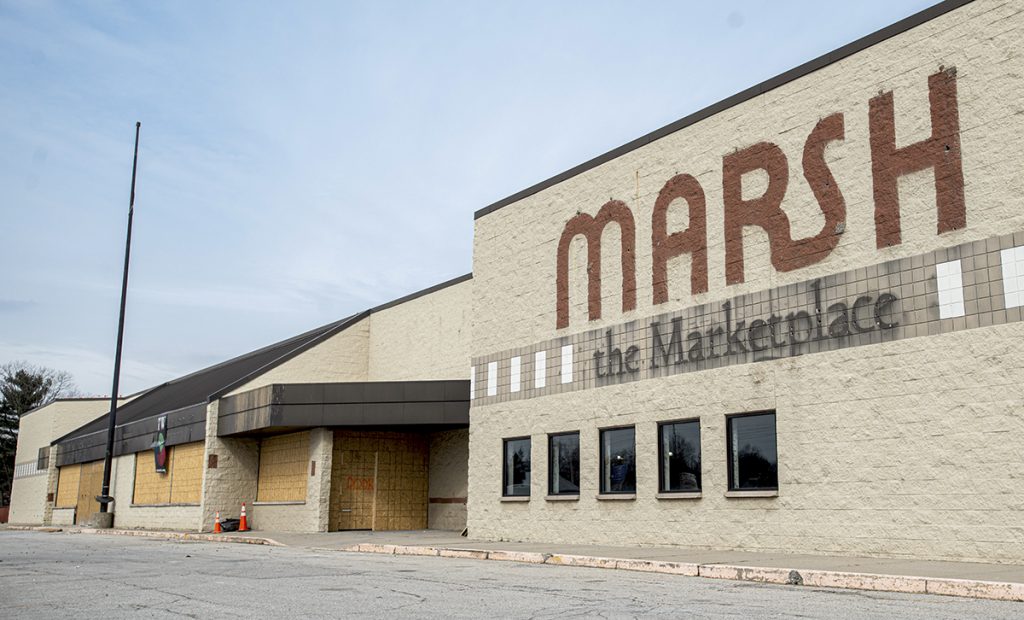 Plans to convert the former Marsh supermarket just east of Broad Ripple to a church are back on track after a pandemic-induced delay.
Whitestown-based Traders Point Christian Church acquired the 57,000-square-foot building at 2350 Broad Ripple Ave. in December 2019 for $7.6 million. After sidelining the renovation project over the past year to weigh its options, the church now says it will debut its Midtown campus in early 2022.
In a video posted to its website the week of June 27, the multisite church said it is moving ahead with its plans and has hired a new pastor to lead the campus.
It is still determining whether to proceed with a separate expansion to the Fishers area.
"Over the last year, we've been praying about when to launch those campuses, and through that process, our team has rallied around relaunching Midtown the first of 2022," lead pastor Aaron Brockett said in the video. "We're really excited about that."
The Midtown location will be led by Alex Diaz, a pastor currently working for Mosaic Church in Little Rock, Arkansas. He replaces Kyle Riley, who was hired to lead Midtown in early 2020 before taking over the reins at Traders Point's downtown campus.
Prior to the pandemic, Traders Point maintained a temporary Midtown home at the Glendale Seventh Day Adventist Church at 2900 E. 62nd St., a few blocks east of the Marsh. But that congregation merged with the downtown campus for most of 2020.
Traders Point announced plans for its Midtown campus in January 2020, a few weeks after it closed on its purchase of the Marsh store. The entire property is about 6.6 acres and includes parking lots to the north and the south, according to Marion County Assessor's Office records.
The project was initially expected to include an 800-seat auditorium and spaces specifically for children and teens.
Earlier this year, Traders Point also acquired a Marsh in Plainfield to covert to a permanent southwest-side campus. It bought the property at 2002 Stafford Road for $1.65 million on Jan. 5.
A representative for Traders Point did not immediately return an IBJ request for comment about its plans for Midtown. The church's offices are closed until July 10.
Traders Point Christian Church traces it roots to 1834, when it began as a 10-member congregation in Indianapolis known as Ebenezer Christian Church. It moved to the Village of Traders Point in 1886 and officially changed its name.
It currently maintains churches in Whitestown, Avon, Carmel and downtown Indianapolis.
Please enable JavaScript to view this content.