Amid a nationwide worker shortage, central Indiana employers are increasingly taking a chance on new hires who have been arrested or convicted of a crime.
William Eland had just such an opportunity. He pleaded guilty to three counts of attempted armed robbery in 2021, and while on electronic monitoring, he landed a job at RecycleForce. Eland said the work has helped transform him from the "rock bottom" of his alcohol-fueled crimes to being two years sober.
Eland, a driver at the company, was just offered, and accepted, a permanent job with the west-side electronics recycling facility. He said his sobriety is in part due to the supportive community the company has offered.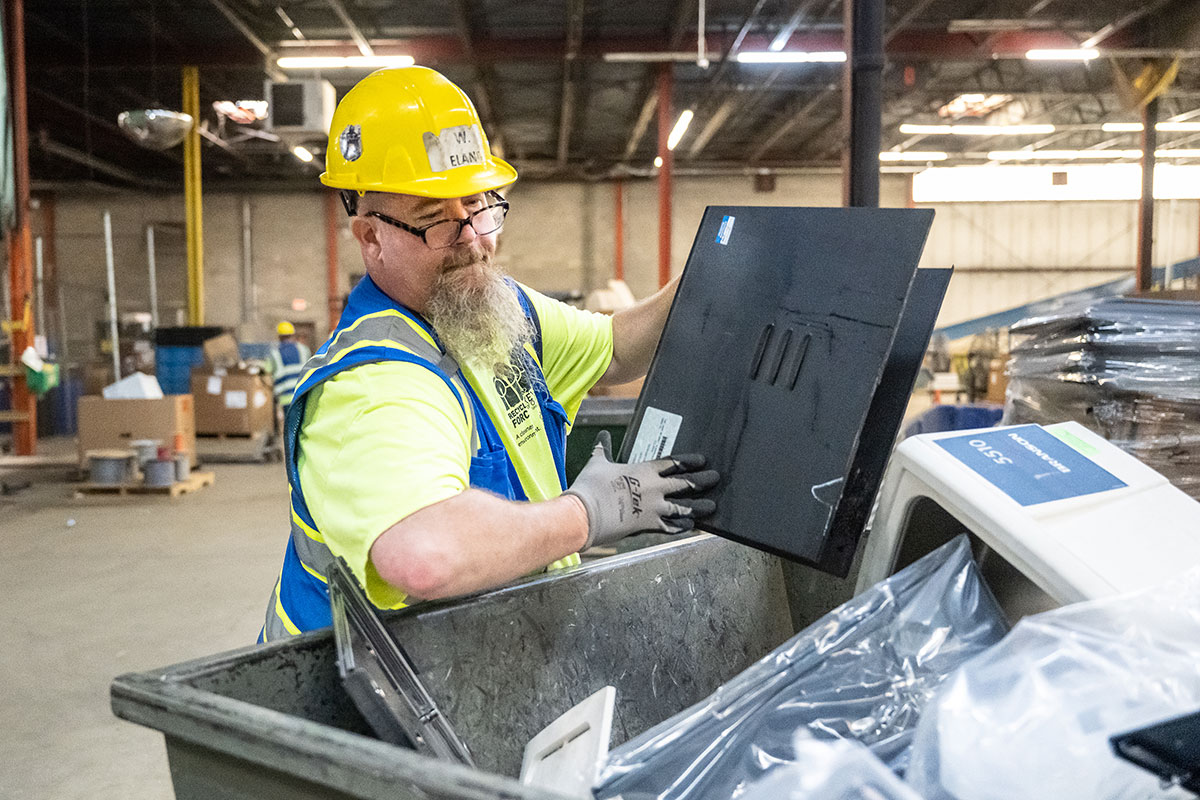 RecycleForce's success with ex-offenders has increasingly inspired employers to follow suit. More than ever, Indianapolis-area companies are becoming so-called "second-chance employers" willing to hire people with arrest records and providing additional services to ex-offenders needing first jobs.
One resource, the job board of not-for-profit Unite Indy—which works with Marion County officials to support released ex-offenders—has listings from 45 employers, with most jobs starting at $15 an hour, founder and President Jim Cotterill told IBJ.
When Unite Indy started three years ago, its job board listed 10 employers.
Gregg Keesling, CEO of RecycleForce, said the worker shortage has significantly improved employment opportunities for "justice-involved" residents. "It's never been this good in my 26 years of this work."
More people are released from state prisons into Marion County than from other counties, creating a heightened need for ex-offender employment. Under a state law passed this year, individuals released from Indiana Department of Correction facilities into counties besides the one they were arrested in need approval from the community corrections advisory board or a court exercising criminal jurisdiction. The move was partially intended to decrease the perceived impact releases have on Indianapolis homeless shelters.
In 2022, Indiana correctional facilities released 1,797 Marion County residents who had been incarcerated, according to IDOC records. But some state lawmakers believe the number of people arrested outside the county but released in Indianapolis is much higher.
Scott Hohl, executive director of Marion County Community Corrections, estimated that another 20,000 to 25,000 people convicted of lower-lever crimes are released from the county's adult detention center annually.
Keesling and others interviewed by IBJ estimated that 12,000 people with felony records are released from the justice system into the county annually.
Eric Grommon, an IUPUI criminologist specializing in reentry, said it appears that several Indiana employers are seeking out ex-offenders as employees. He told IBJ in an email that Gov. Eric Holcomb's State of the State addresses from 2018, 2019 and 2020 "elevated employment training and certification programs inside our prisons to help those returning home find and maintain jobs."
Rhiannon Edwards, executive director of not-for-profit Public Advocates in Community Re-Entry, said there has been a dramatic increase in employers that work with the organization to employ people with felony convictions, especially post-pandemic.
The reentry process
At the release lobby of the Adult Detention Center on the Indianapolis Marion County Community Justice Campus, the Indianapolis Office of Public Health and Safety and Unite Indy provide several resources for individuals upon their release.
Besides its job board, Unite Indy assists individuals with transportation and connects them with mentors. Winta Gebremichael, director of reentry services for OPHS, said this provides an opportunity for people to apply for jobs before even leaving the facility.
As of June 30, more than 3,250 people had been assessed this year by OPHS staff there. Twenty percent of those reported finding a job as a barrier to successful reentry and were immediately connected with employment opportunities, Gebremichael said.
Demand for workers has grown to the point that it's easy to get these clients into jobs, she said.
Park 100 Foods is among the employers on Unite Indy's job board. It manufactures soups, sauces and sides for restaurant chains across the country, including Chick-fil-A mac and cheese and Panera soups, out of a Tipton plant. Leaders at the 47-year-old private company began reconsidering employment practices in 2020 by examining where the unemployment rate was particularly high, Ian Cox, the company's corporate director of continuous improvement, told IBJ.
For those clients with clearance to travel out of the county, Unite Indy coordinates vans to take them to the Tipton plant, about 40 miles away. Cox said the results of the program are overwhelmingly positive, with many employees moving to more senior roles at Park 100 Foods.
Getting businesses on board
The city's reentry program pairs employers interested in hiring individuals leaving incarceration with companies that have existing programs, Gebremichael told IBJ. Cotterill, who runs Unite Indy, said employing people on parole or probation comes with challenges that employers need to be informed about.
"We say [to employers], 'We don't want you to go into this with rose-colored glasses. There are all kinds of things that can happen to this population that are different than what you're used to,'" he told IBJ.
Obstacles that second-chance employers face might include workers who are electronically monitored or are required to attend counseling sessions or to be randomly drug tested as a condition of parole or probation, Keesling said.
Keesling, CEO of RecycleForce, is passionate about the barriers ankle monitors create. In 2020, NPR affiliate WFYI-FM 90.1 found that Indianapolis had the largest municipal electronic monitoring program in the country—with 4,300 people monitored daily, compared with just 2,700 in Chicago's Cook County.
He would like to see electronic monitoring reformed to operate regionally, rather than by county, so released offenders can work in other counties. Some accept jobs in other counties, then are arrested trying to go to work, Keesling said.
A warehouse boom happening in Hendricks and Boone counties is bringing more jobs, but Unite Indy's Cotterill noted that people need to be able to access these jobs.
Ankle monitors can also lose signal during the workday, requiring employees to temporarily go outside, he said.
The monitors also need to be regularly charged, which can disrupt the workday. If employers don't warn Marion County Community Corrections about potential problems, an ankle monitor without service for more than 15 minutes will result in police searching for the individual.
"If I was a business owner and I didn't understand it, I wouldn't want to deal with that," said Edwards, the PACE executive director.
RecycleForce, along with not-for-profit staffing arm Keys2Work, want to provide an example for employers new to reentry, Keesling said.
Their partnership allows RecycleForce to provide input to Key2Work. Based on skill level, the not-for-profit can recommend individuals for jobs with Downtown Indy Inc., the Indianapolis Office of Public Health and Safety, the Indianapolis Department of Public Works or Keep Indianapolis Beautiful.
A Keys2Work staffer spends every Monday organizing where workers will be in order to communicate their whereabouts to their case managers.
Gebremichael has been leading reentry services for Marion County for a year and a half. In that time, she said, she has seen employers transition from being hesitant to call themselves "felony friendly" to launching fully developed reentry programs.
"And it's not one-sided … when someone is working, it's not a charitable experience," Gebremichael said. "Both parties are benefiting from the partnership."•
Please enable JavaScript to view this content.