For Americans with high-deductible health plans, "relief day" comes a little later each year.
In 2006, it fell on Feb. 28—the day when average spending for people with employer-sponsored health insurance is sufficient to satisfy the average deductible.
In 2012, it was more than a month later, April 9.
And this year, it didn't arrive until May 19.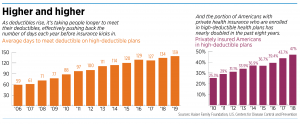 Deductibles are rising every year, and it's taking longer for many people to get coverage for most medical procedures, including X-rays, surgeries and care for chronic conditions, according to the Peterson-Kaiser Health System Tracker.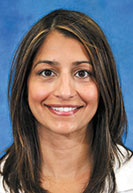 And in many cases, that's causing financial shock, forcing people to dig deeper into their pockets or do without.
As workers and employers face the annual open-enrollment season this fall, many are seeing double-digit percentage increases in premiums, prompting even more to consider moving to high-deductible plans as a way to keep their costs under control.
A plan's deductible is the amount of health care costs a person pays before the insurance plan begins to cover most of the bills.
The Internal Revenue Service defines a high-deductible plan as one with a minimum deductible of $1,400 per year for individual insurance coverage and $2,800 for a family. But they can be much higher—with yearly out-of-pocket expenses (including deductibles, copayments and coinsurance) of up to $6,900 for an individual or $13,800 for a family.
Today, nearly half of Americans with private insurance—47%—are now covered by high-deductible plans, up from 25% in 2010.
That's been driving up out-of-pocket health spending among people with employer coverage—from $493 in 2007 to $792 in 2017, with much of the increase taking the form of higher spending on deductibles, according to Kaiser Family Foundation.
"Health care has become unaffordable," said Gloria Sachdev, CEO of the Employers Forum of Indiana, a coalition of employers, physicians, hospitals, health plans and benefit consultants.
As a result, she said, "A lot of employers have put high-deductible plans in place and hope it would result in informed shopping of consumers."
In Indiana, some benefits administrators say workers and employers are choosing high-deductible plans in growing numbers as a way to control costs. High-deductible plans typically offer lower monthly premiums than traditional insurance, which feature lower or no deductibles.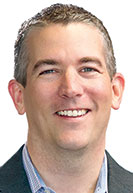 At First Person Advisors in Indianapolis, about 98% of the clients now offer their employees a choice of a high-deductible plan coupled with a health savings account—which allow employees to set back pretax to pay for medical expenses. And some have stopped offering traditional, low-deductible plans altogether.
"Approximately half of our clients have gone the total replace route by offering only a [high-deductible] plan or plans, said Paul Ashley, managing director at First Person.
At Apex Benefits, the firm's six largest clients, representing about 20,000 workers, now offer only high-deductible plans or make it "very financially lucrative" for workers to choose those plans, by offering low premiums and a significant contribution into the employees' health savings accounts, said Stan Jackson, vice president at Apex, based in Indianapolis.
A decade ago, none of Apex' big clients was pushing their employees onto the high-deductible plans, he added.
At Gregory & Appel Insurance, an Indianapolis-based benefits firms, the number of clients offering a high-deductible plan only has swelled over the past decade, as have the number of people on the plans.
"At this point in time, I do not see that changing," said Lacey Robinson, a senior vice president.
Pushback starting?
Still, there are signs that employers are not pushing high-deductible plans as hard. According to the National Business Group on Health, the percentage of large companies offering only a high-deductible health plan with an attached savings account is projected to decrease to about 25% of employers next year—down from 30% in 2019 and 39% in 2018.
"It's no longer becoming the mainstay to have them be the sole plan design offering," Ellen Kelsay, NBGH's chief strategy officer, said last month.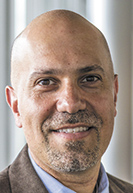 She said that some employers are shifting away from high deductibles as the sole option in response to workers' desire for more choice. In addition, some employers are coming to see that high-deductible health plans have not resulted in workers being more informed and engaged with their health care.
Even so, the percentage of Americans covered under high-deductible plans continues to climb—a trend that's straining many households. More than four in 10 workers enrolled in a high-deductible plan report they don't have enough savings to cover the deductible, according to a nationwide poll conducted this year by the Kaiser Family Foundation and the Los Angeles Times.
One in six Americans who get insurance through their jobs say they've had to make difficult sacrifices to pay for health care, including cutting back on food, moving in with friends or family or taking extra jobs, according to the poll. And one in five say health care costs have eaten up all or most of their savings.
Unintended consequences
"I bet most of us know family, friends or neighbors who skip filling prescriptions or postpone doctor visits because of the large deductible that they have to meet," said Fran Quigley, a clinical professor at the Indiana UniversityMcKinney School of Law and director of its Health and Human Rights Clinic.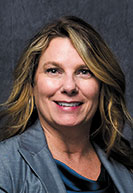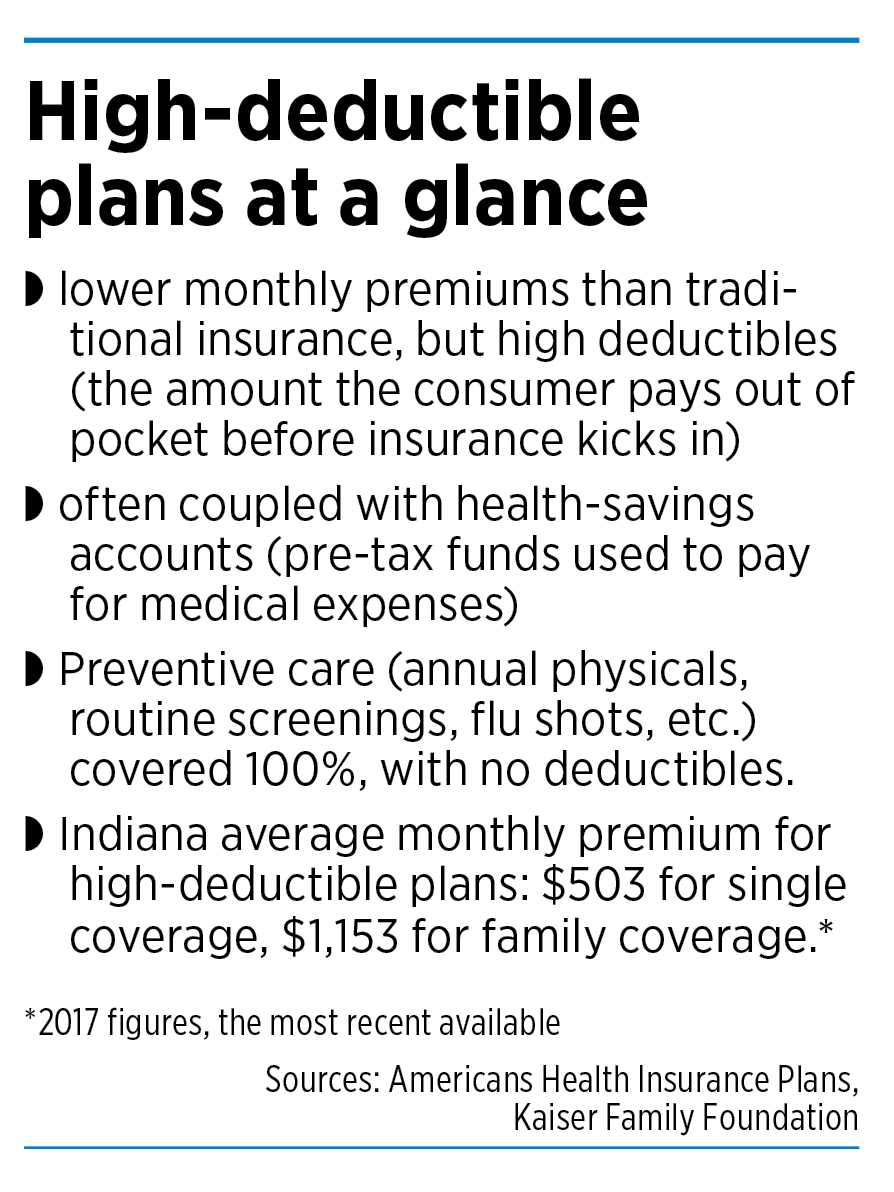 High-deductible plans have grown in popularity for many reasons. First, their lower monthly premiums make them attractive to people who don't expect to need a lot of health care. Second, many employers and health-policy experts say they encourage people to shop around for lower prices, a process known as consumerism.
Many employers scour the market for benefit packages that combine affordability with rewards for shopping for low prices. "That's the sweet spot they're looking for," said Brian Tabor, president and CEO of the Indiana Hospital Association.
But that requires hospitals and doctors to make it easy to find and compare information about the costs of procedures, from basic lab work to a hip replacement. At many health systems, it's hard to find that information, even though the federal government last year began requiring the hospitals to post it on their websites.
And for some patients, shopping around for health care is a daunting task, filled with medical jargon and confusing insurance coverage. It's often made more stressful by the fact that some conditions, such as broken bones or chest pains, require instant decisions on where to go for treatment.
"I don't know that most people understand health care enough to be smart shoppers," said Sachdev at the Employers Forum.
"If you had me do something outside of my expertise, say go pick up engine parts, you could give me all of the information, but I don't know if I would be comfortable doing it. It just seems like a heavy lift."
Some national experts agree. They say that although a growing number of employers and health plans have launched efforts to improve financial literacy, few enrollees have used those tools.
"We haven't seen the expected result of people with high deductibles caring about health care prices, so far," Christopher Whaley, associate policy researcher at the Rand Corp., told the Healthcare Financial Management Association last year.
To add to the confusion, many people on high-deductible health plans cut back on preventive care. The skimping on preventive care could be a huge problem, as health officials routinely encourage people to get regular exams and screenings to catch problems early before they become serious and expensive. The 100% coverage of such things as flu shots, annual physicals, colonoscopies and prenatal care is required by the Affordable Care Act.
Researchers at IUPUI reviewed 28 in-depth studies on high-deductible plans in 2017 to see if the plans were reducing the cost and use of care, one of the goals of high-deductible plans. They found that high-deductible health plans were associated with a "significant reduction" in preventive care in seven of 12 studies and a significant reduction in office visits in six of 11 studies.
Their conclusion: The high deductibles often discouraged people from seeking the care they need, including free preventive care.
"I still think we haven't figured out how to make this work for everyone," said Nir Menachemi, professor of health policy and management at the Richard M. Fairbanks School of Public Health at IUPUI.
"On the one hand, high-deductible health plans make insurance coverage cheaper and have the potential to increase consumerism among patients," he said. "But on the flip side, none of those things are worth it if people are getting worse care."•
Please enable JavaScript to view this content.