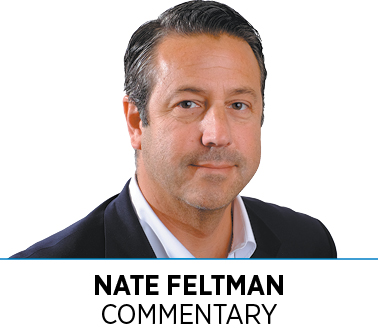 Since I became an owner of IBJ Media in 2017, I have been thinking about how IBJ Media can contribute to a more connected, engaged and prosperous state. Connected and engaged meaning that all Hoosiers in each of our 92 counties share in the stories of success, community-building and risk-taking that are happening throughout the state, as well as sharing a common source of reliable and accurate information. Prosperous from the perspective that more Hoosiers are able to climb the ladder of opportunity and find passion and self-worth in their work.
Growing up in Michiana (South Bend, Mishawaka, Elkhart and surrounding communities), I didn't feel very connected to what was happening in the rest of the state, including Indianapolis. Chicago always felt closer than Indy—that was before the wonderful upgrades to U.S. 31 made possible by former Gov. Mitch Daniels. Of course, so much has changed since my youth, and the world has become more connected—but the need for community development and engagement is greater than ever.
In central Indiana, I know from the feedback we receive every day from readers of IBJ and The Indiana Lawyer (IBJ Media's two principal publications) that we are contributing to the prosperity and engagement of our communities. While many daily local newspapers throughout Indiana have suffered precipitous drops in the number of subscribers, IBJ has grown its subscriber base 40% over the last three years. And IBJ's events connect thousands of engaged central Indiana residents with opportunities to learn about and debate issues that are important to our community.
IBJ Media's acquisition this week of Grow INdiana Media Ventures and the Inside INdiana Business platform is a significant step toward building a more connected, engaged and prosperous Indiana. Gerry Dick's "Inside INdiana Business" television and radio broadcasts have highlighted for more than two decades the positive impact businesses and entrepreneurs are making throughout our state. The expertise in broadcast media that Gerry and his team will bring to IBJ Media will be a wonderful complement to IBJ's and The Indiana Lawyer's award-winning print and digital journalism.
Soon, our readers, viewers and event attendees will begin to notice the benefits of our combination. It will not be long before IBJ subscribers begin to read more important business news from all corners of our state (and, no, this will not come at the expense of the quantity and quality of the news you have come to rely on from IBJ). Hoosiers living outside central Indiana will soon be able to attend an event that highlights issues and people important to their community. Our goal will be to better connect all Hoosiers to the issues, people, places, companies and entrepreneurs shaping our cities and state.
Speaking of entrepreneurs, I would be remiss to not highlight three that I have the pleasure of collaborating with now on a daily basis. First, Gerry Dick, who (with the help of another entrepreneur, Scott Jones) created a five-time Emmy-award-winning television show from scratch—no easy feat. And Mickey Maurer and Bob Schloss, who bought IBJ in 1990 from an out-of-state ownership group and created 16 important community events.
While I have the pleasure of growing and innovating within the companies that they created or nourished, Gerry, Mickey and Bob took great risk and brought innovation to a complex and challenging industry. I am excited to do my part to ensure that IBJ Media plays an even more significant role in the years ahead in creating a more prosperous, connected and engaged Indiana.•
__________
Feltman is CEO of IBJ Media. To comment, email nfeltman@ibj.com.
Please enable JavaScript to view this content.