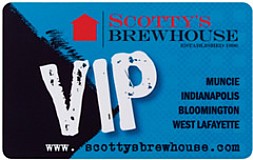 Scotty's Brewhouse
, the Indiana college town institution, is working on plans for new restaurants in downtown Indianapolis, Chicago and Charlotte, N.C. The restaurant would like to locate at Pan Am Plaza, said Scotty Wise, the founder and president. They also may consider Penn Centre. Scotty's now has four locations, in Muncie, Lafayette, Bloomington and along 96th Street in Indianapolis. Wise is negotiating for new restaurant space in Charlotte's EpiCentre, a huge downtown mall, and in Old Town Chicago. Talks for a downtown Indy restaurant aren't as far along because of a shortage of quality space, Wise said.
PLUS
:
Heidi's Brooklyn Deli
plans to open at the northwest corner of 116th Street and Guilford Avenue in Carmel. The restaurant features sandwiches, wraps, salads and soups, along with desserts, ice cream, shakes and malts. It's the first Indiana location for the chain, which has more than 35 stores, mostly in Colorado.