The owner of Steak n Shake's parent company has affixed its name to the downtown building that houses the steakburger chain's headquarters.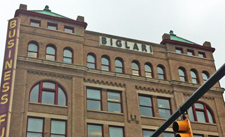 Workers earlier this week hoisted the letters to spell Biglari, as in San Antonio-based Biglari Holdings Inc., and attached them to the side of the Ober Building facing Pennsylvania Street.

An affiliate of Steak n Shake purchased the six-story office building at 107 S. Pennsylvania St. in February 2013 for $3.1 million from the Capital Improvement Board of Marion County.

Steak n Shake also agreed to spend another $2 million on improvements before moving its headquarters to the third through sixth floors.

Steak n Shake moved in December from the Century Building on the opposite corner of Pennsylvania and Maryland streets to the Ober Building, leaving 42,000 square feet of vacant space on two floors.

But the new owner of the Century Building, Zeller Realty, now has the building fully occupied. Zeller bought the building out of foreclosure in November.

ExactTarget, which already had a presence in the Century Building, expanded into Steak n Shake's former space.

Longtime Ober Building tenant Ratio Architects Inc., which occupies the first and second floors, remains in the building.

Biglari Holdings is lead by CEO Sardar Biglari. As of April, it operated 530 Steak n Shake restaurants, 415 of which are company-owned, and 83 Western Sizzlin eateries.