There's a lot to cover in our latest retail roundup:
• MoFoCo, formerly Monon Food Co., is set to officially open March 27 downtown at 72 W. New York St. on the ground level of a parking garage between Uncle's Pizza and a Navy Career Center.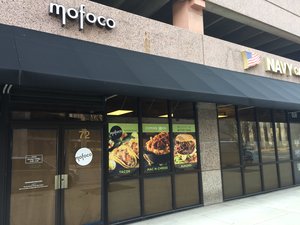 It's the second location for owner Tim Williams, who opened Monon Food Co. in 2010 at 6420 Cornell Ave. in Broad Ripple. The full-service original restaurant differs from the downtown outpost, which will offer fast-casual service and ordering at the counter.
The name change at both locations comes as Williams turns his attention to the fast-casual concept, hoping to open more of them.
"Why can't you use good, fresh ingredients to make fast-casual food? That was always my vision," Williams said. "We tried the concept in Broad Ripple, but the space didn't allow for it."
MoFoCo's downtown menu will be scaled back from the original in Broad Ripple and will feature a variety of tacos, burgers, salads and sandwiches.
• Ikea may be getting all the attention when it comes to new entries in the local furniture market. But another, Bob's Discount Furniture, plans to open two stores, one in Castleton and the other on the south side.
Both are expected to open May 25, according to the Manchester, Connecticut-based company's website. The locations, at 8603 Allisonville Road and 7565 U.S. 31, previously were occupied by Kittle's Rooms Express stores.
• Fresh Thyme Farmers Market is scheduled to open March 30 as part of the Coil mixed-use project at 6301 N. College Ave. in Broad Ripple.
The store, the seventh in the Indianapolis area for the suburban Chicago-based company, will feature a community room and open-air patio, in addition to a juice bar and coffee bar, and the company's first in-store chip maker.
• Chipotle Mexican Grill is set to open its first Speedway location April 1 in the Speedway Marketplace at 6321 Crawfordsville Road, Suite F. The Denver-based fast-casual eatery has 14 locations in the metropolitan area.
As Property Lines reported in January, another bowling-anchored entertainment and dining venue is opening in the building near the north-side Rivers Edge Shopping Center last occupied by Latitude 360.
Dallas, Texas-based Main Event Entertainment hopes to open this spring at 4016 E. 82nd St. and plans to hire roughly 170 people. The company is hosting walk-in interviews Thursday (March 23) from 1 p.m. to 6 p.m. and Friday (March 24) from 8 a.m. to 11:30 a.m. and from 1 p.m. to 6 p.m. at Main Event's temporary office at 3826 E. 82nd St.
In the metro area:
• Bru Burger Bar is open at The Shops at Perry Crossing in Plainfield. Owner Mike Cunningham signed a lease to occupy 8,500 square feet at the mall. The space originally housed Centro Italian Kitchen, followed by a Teddy's Burger Joint. Most recently, mall ownership rented the space on weekends to an under-21 club.
Other Bru Burgers are downtown on Massachusetts Avenue, and in Carmel, Evansville, Cincinnati and Lexington, Kentucky.
• Pet Valu, a Canadian-based retailer of premium pet foods and accessories, opened March 11 at 5889 State Road 135 in Greenwood. The company has eight stores in the metropolitan area.
• Rocket Fizz opened its fourth Indiana location, March 16, in Hamilton Town Center.
The quirky California chain that boasts "one of the largest and craziest selections of glass bottled soda pops and retro candies for sale in America" opened its first Indiana store in 2012 next to Potbelly Sandwich Shop on Monument Circle.
Other Hoosier stores are in Plainfield and Winona Lake near Warsaw.
A couple of Thai restaurants:
• Plans have been filed for Pad Thai Noodle Cafe, to open at 7035 E. 96th St. in a strip center between Allisonville Road and Interstate 69, and for Eat Thai Restaurant at 5650 W. 86th St., Suite 128, in the Traders Point shopping center between Zionsville Road and Interstate 465.
Wing joints:
• Plans also have been filed for Winglicious at 7133 N. Michigan Road on the northwest side, for takeout only, and for Wings Mania at 5812 Crawfordsville Road in Speedway. A Winglicious restaurant opened in October at 2132 E. 62nd St. in Broad Ripple.
Closings:
• Dina McIntyre has decided to permanently close the northwest side Tulip Noir and the adjacent juice bar, le nectar, after shutting them down in mid-December for renovations, she announced March 21.
"With the demands of this business, it became clear to me that time is passing quickly and I would like to enjoy new facets of my life," McIntyre said in the written announcement.
She opened Tulip Noir in 2008 with a small menu and a focus to bring healthy foods to the local restaurant scene. Indianapolis Monthly recognized it in 2013 as one of the city's top 25 restaurants.
Specialty dishes named for her three children were Sam's Vegetarian Eggs Benny, Otto's Seasonal Omelet and Avery's Breakfast Salad.
Tulip Noir was at 1224 W. 86th St., in a strip center east of Ditch Road.