Welcome to What's New Wednesday, where we profile local startups—and the entrepreneurs behind them. This week, meet Bev Schroeder, who opened Happy Dog Hotel and Spa in Carmel last month.

Type of business: pet boarding, grooming and day care

Address: 233 2nd Ave. SW, Carmel

Phone: 580-5050

E-mail: Beverly@happydoghotelandspa.com

Website: www.happydoghotelandspa.com

Founded: August 2011

Owners: Bev Schroeder and Jim Bremner

Owners' background: Bremner, president of Indianapolis-based Duke Realty Healthcare, has more than 25 years of experience in commercial real estate. He founded Bremner Healthcare in 1996 and sold it to Duke in 2007. The company, which develops and owns health care facilities, has more than $600 million of medical office assets on its books. He and Schroeder are family friends.

Schroeder, 47, studied marketing and broadcasting at Indiana University and worked in sales after graduation, spending 15 years at a division of consumer health giant Johnson & Johnson.

She quit the medical sales job in 2000 following the death of her grandfather, founding a pet-sitting company in Broad Ripple.

"I really wanted to pursue something I was passionate about," said Schroeder, whose vehicle is adorned with a personalized license plate proclaiming its owner "DOG CRZY."

After a few years of pet sitting—"The hardest work I've ever done," she said—Schroeder and a partner opened a pet hotel and spa in Broad Ripple. She sold her share of the enterprise two years ago and did some business and sales consulting until the entrepreneurial bug bit again.

Why started business: Schroeder traveled often during her sales career, and she was never completely satisfied with the options for boarding her beloved canine companions (she and her husband have two now, down from as many as six).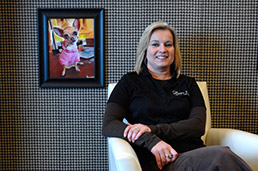 Bev Schroeder wants to give other pet owners the kind of service she expects. (IBJ Photo / Perry Reichanadter)
With Happy Dog, she aims to provide the kind of service she would want: Overnight guests bunk in custom wood-and-glass paneled "suites," for example, with scrambled egg breakfasts and Muttinis available through room service. The spa offers standard grooming as well as extras like blueberry facials and paw soaks.
"Customers and dogs come first," Schroeder said.

Competitive advantage: Happy Dog feels like an upscale retreat, from the dark wood floor and comfy chairs in the lobby to the decidedly un-kennel-like accommodations. That's the idea.

"People really love their pets," Schroeder said, "It's a real privilege to be able to care for them."

So she refuses to succumb to the "pack 'em in, and move 'em out" mentality she says is all too common, preferring to maker her facility "as home-like as possible."

Startup cost: Schroeder declined to provide specifics on startup expenses, which included purchasing and renovating the building overlooking the Monon Trail and installing 62 of the custom-designed cages (in three sizes).

Potential problem and contingency plan: Given her pets-first philosophy, Schroeder expects her biggest challenge to be keeping her costs down and profits up.

So she's keeping a close eye on labor expenses. Happy Dog has 15 full-and part-time employees who staff the facility from 7 a.m. to 9 p.m. Requiring reservations for services helps Schroeder manage their schedule.

First-year goal: Schroeder wants to make sure Happy Dog meet—and exceeds—clients' expectations, something she said will help the business meets its financial obligations.

Ultimately, she and Bremner want to expand the enterprise, opening additional locations and possibly selling franchises.