Welcome to What's New Wednesday, where we profile local startups—and the entrepreneurs behind them. This week, we meet Melissa Kelly and Zach Pierson, who opened Grateful Pet LLC in July.

Type of business: Pet food delivery service

Location: Indianapolis

Phone: 544-9778

E-mail: orders@gratefulpetindy.com

Website: www.gratefulpetindy.com

Founded: July 2011

Owners: Zach Pierson and Melissa Kelly

Owners' background: Melissa Kelly and Zach Pierson grew up together on the south side of Indianapolis. They attended Perry Meridian High School's prom together as friends, then went their separate ways: Kelly to Marian University to study chemistry and Pierson on a wrestling scholarship to North Dakota's Jamestown College.

Their friendship grew into a romantic relationship over time. And after they moved to Herron-Morton Place a few years ago, the couple began planning a business partnership, too.

Kelly, 28, also has an MBA from Jones International University and works full-time at Eli Lilly and Co.

Pierson, 27, left Jamestown after two years and was working nights at 3M before launching Grateful Pets.

Why started business: The indulgent "parents" of three dogs—boxers Meg and Wilson and weimaraner Jax—Kelly and Pierson quickly discovered their pet-food-shopping options were more limited in the city than in the 'burbs. It didn't help that all their dogs have nutritional needs that require special food.

After about six months of schlepping to Broad Ripple or the south side for the supplies to feed their hungry brood—sometimes after arriving home from a full day only to discover the cupboards were bare—they started tossing around the idea of a delivery service that would serve busy pet owners like them.

Competitive advantage: Grateful Pet is not the only pet food delivery service in town, but its owners say the citywide reach and wide selection of products—
clients can order from more than 60 manufacturers of what Kelly and Pierson call "premium quality" products—set it apart. The service also carries treats, toys and accessories, many of which Kelly and Pierson test at home.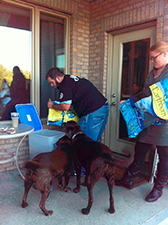 Zach Pierson and Melissa Kelly offer a pet food delivery service. (Provided photo)
There's no minimum order requirement for customers who sign up for recurring deliveries—some once a week and some less frequently—and the Grateful Pet team tracks consumption to help clients remember when they need to stock up.
Startup cost: The partners declined to reveal the initial investment, citing competitive concerns.

Funding source: Personal savings.

Kelly said they are committed to the "bootstrapper" approach to funding the business, using money from her day job to keep Grateful Pets going. Pierson handles the deliveries and other day-to-day operations.

Overhead is low, but "we had to tighten things down," Kelly said.

The couple canceled some cable TV services and now handles their own poop scooping instead of hiring help, for example.

Potential problem and contingency plan: Not all pet owners are brand-loyal, Pierson said, raising the possibility that Grateful Pet will be stuck with a particular product that has fallen out of favor.

The partners have tried to mitigate that risk by keeping a close eye on ordering trends.

"We're close to our customers," Kelly said.

First-year goal: Initially, the partners' only goal was to sign on enough customers to get their books into the black. That happened after four months, so now they're focused on adding two customers a week.

Kelly said eventually she would like Grateful Pet to be successful enough to support the family without her other job. But for now, she's content to do both despite the challenges.

"It can be hard for me to shut my brain off long enough to have fun," she admitted. "I'm always coming up with crazy ideas."

But Pierson brings her back to earth, she said. He poo-pooed the notion of a mobile food truck for dogs, for example.

"I still think that's a cool idea," she said.

His response made it clear that's not a new topic: "Maybe, but not in the middle of downtown."