Welcome to What's New Wednesday, where we profile local startups—and the entrepreneurs behind them. This week, meet Cassandra Medley, who launched Medley Portraits in August.

Type of business: portrait studio specializing in photos of special-needs children

Address: 107 S. 8th St., Noblesville

Phone: 509-3296

E-mail: info@medleyportraits.com

Website: medleyportraits.com

Founded: August 2012

Owner: Cassandra Medley

Owner's background: Medley, 42, earned a bachelor's degree in business management from Indiana Wesleyan University in 1995 but never felt as home at a desk as she did behind a camera.

"My parents told me I'd never make money taking photos, which is true," she said, smiling.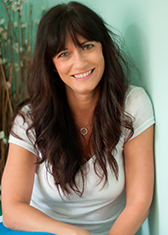 Medley (Photo courtesy of Medley Portraits)
An amateur photographer since getting her first camera to keep her occupied during childhood road trips, she is constantly looking at the world through her "frames" and wants to share that vision with others.
She married local entrepreneur Jeff Medley in 2003 and returned to school the following year, studying fine-art photography at Academy of Art University while starting a family.

The Medleys live in Noblesville with their two daughters and share custody of Jeff's two sons from a previous marriage.

Why started business: When Cassandra Medley became a mother, she quickly determined that if she was going to work outside the home, she wanted to do something she loved.

"If I was going to be away from my babies, I wanted to make sure it was worth it," she said.

She began dabbling in professional photography years ago, but found her focus when she identified a gap in the services available to families with special needs—especially children with autism, like her stepson Noah.

Cameras, lights and flashes can be particularly disruptive to such children, Medley said, making photo sessions difficult at best.

"I'm a photographer and I was having the worst time getting a family picture taken," she recalled.

After some research, she sought out training from Special Kids Photography of America, becoming one of only three Hoosier photographers to win accreditation from the Utah organization.

Competitive advantage: Her personal experience with an autistic child helped Medley develop her approach for dealing with her subjects' individual learning styles.

She schedules a free consultation with the child, the family and sometimes their therapists so everyone knows what to expect. Medley also creates storyboards the children can use to prepare for the photo session.

Medley is pitching her services to autism therapy centers, aiming to connect with other moms who want school pictures and other mementoes that can be difficult to come by for special-needs kids.

To that end, she is putting together a yearbook for Verbal Behavior Center for Autism in Fishers, visiting the school once or twice a month to take portraits and candid photos of students.

Startup cost: Less than $1,000

Funding source: husband Jeff, founder of Fishers-based IT firm Netfor Inc.

Potential problem and contingency plan: Medley has plenty of competition, making it crucial for her to clearly communicate how her services differ from other photographers'.

The proof is in the product, she said, so Medley is doing everything she can to spread the word. She has offered her yearbook program to other autism centers, for example, hoping the idea catches on.

And although special-needs subjects are her focus, she is giving herself some time to build that business by accepting contracts to photograph everything from newborns at Methodist Hospital to a Babe Ruth girls' softball tournament.

First-year goal: For now, Medley just wants to keep her appointment book full—including one or two of the longer special-needs sessions each week. By this time next year, she'd love to have enough of that business to shift the balance.

"My ultimate goal is to see every child with autism have a school portrait up on the mantel next to their siblings," she said, and for families to have holiday pictures taken "without drama, tears, stress or feeling defeated."