Welcome to What's New Wednesday, where we profile local startups—and the entrepreneurs behind them. This week, meet Justin Bates and Peyman Rashid, who founded MaxTradein last fall.

Type of business: Online platform that helps vehicle owners maximize trade-in value.

Address: 9102 North Meridian St., Suite 450

Phone: 218-3612

E-mail: Contact@MaxTradein.com

Website: maxtradein.com

Founded: 2011

Owners: Peyman Rashid and Justin Bates

Owners' background: Best friends since high school—and best men in each other's weddings—Bates and Rashid have talked about starting a business together for years.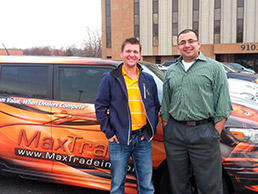 MaxTradein founders Justin Bates and Peyman Rashid want to expand into 30 markets in the next six months. (Photo courtesy of MaxTradein)

Bates, 29, is a graduate of Ball State University's entrepreneurship program who worked in corporate America before striking out on his own. A certified public accountant, his resume includes stints at KPMG, CNO Financial, First Merchants Bank and Haverstick Consulting.
Rashid, 28, majored in computer science at IUPUI and spent nearly a decade in sales and finance positions at area car dealerships, most recently serving as finance director for Butler Automotive Group. He also worked as a freelance IT consultant and ran a restaurant in Fishers.

"We've been looking for the right idea at the right time," Bates said.

Bates serves as MaxTradein's CEO, overseeing strategy, marketing and operations. Rashid is the company president, leading sales efforts.

Why started business: The partners believe they identified an unmet need in the auto industry, eliminating the hassle of the trade-in process for vehicle owners—and giving dealerships a chance to win their business.

Consumers who use MaxTradein's free online marketplace can enter basic information about their vehicles—make/model, mileage, condition, for example—and choose several local dealerships to make an offer.

The dealerships have 48 hours to respond to the anonymous listings. At any point during that period, the owner can accept a bid and MaxTradein will provide contact information so the parties can seal the deal.

"Dealerships competing against each other will help the consumer," Bates said.

And dealerships benefit by getting access to a wider range of used cars—in short supply since the government's Cash for Clunkers program—and customers ready to buy something new.

"Customers are not willing to drive across town just to see how much they can get for their trade-in," Rashid said. "This reverses the buying experience, so they can find out what they'll get before they shop."

Competitive advantage: Most consumers don't like to negotiate, Bates and Rashid said, citing the growing popularity of no-haggle Internet pricing for cars. They believe their technology is the natural next step for the industry.

"By the time customers show up at the dealership, they've finished half the battle," Bates said.

That said, vehicle owners are under no obligation to follow through. Some may simply be testing the market, Bates said, and others may opt to sell a car without buying a replacement.

Funding source: Personal savings and investments from family and friends. The partners now are evaluating options to fund a national rollout.

Potential problem and contingency plan: Raising that $500,000 is their next big hurdle, but Bates and Rashid say they already are talking to angel investors.

They are optimistic since the company has been able to avoid incurring debt, and their business model relies on user fees rather than website advertising, a notoriously risky endeavor.

MaxTradein charges dealerships $199 for each car purchased through the website, in addition to a subsription fee to be listed on the site.

First-year goal: MaxTradein has about 30 Indianapolis-area dealerships signed on—including Rashid's former employer—and aims to introduce the service to 30 markets in the next six months.

"The big thing is scale. We need to move very quickly," Bates said. "Our intention is to make this a national company, something we're extremely proud of."