Carmel-based Round Room, a holding company that owns TCC and Wireless Zone cell phone stores, bought the Gateway One building in Fishers last week to use as its new headquarters.
Located at at 10300 Kincaid Drive, Gateway One is a 193,500-square-foot office building that served as Roche Diagnostics Corp.'s headquarters until January 2017.
Round Room acquired Gateway One for $13.7 million and is planning to move its roughly 200 full-time employees there by the first quarter of 2021.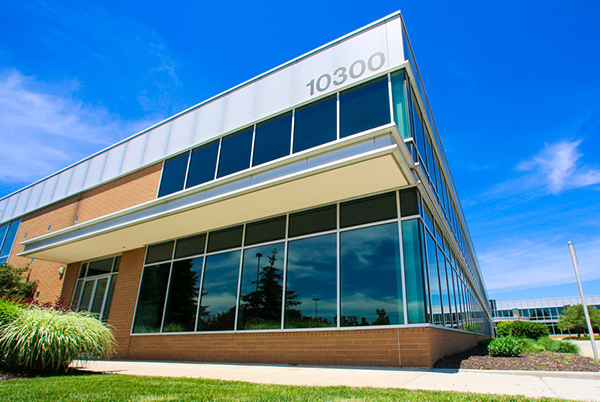 "Fishers has this kind of vibrant and entrepreneurial business environment," Round Room Chief Strategy Officer, Chief Legal Officer and Corporate Secretary Katie Wiley said. "(Gateway One's) campus feel, access to Fishers' trails and amenities were big reasons for why we looked there."
Late last year, the city of Fishers tied a 10-year, 100% property tax abatement to the property to encourage its redevelopment. Round Room can claim the abatement, which is estimated to be worth about $4 million.
Round Room will house its TCC, TCC Gives, Round Room Gives, Redux and Culture of Good employees in 120,000 square feet of the building. Wiley said the company plans to spend millions renovating that space, including a training center for up to 450 employees in a 40,000 square-foot common area, as well as a full cafe, fitness center, social amenities and more.
The remaining 70,000 square feet on the south side of the building will be made available for lease to other companies, Wiley said. The sale of the property and its 13.3 acres was managed by Indianapolis-based Weybright Management Inc.
"It was a long process trying to find a smart investment, but we really wanted to make sure we enhanced our company instead of just buying a building and shuttling our people there," Wiley said. "This building gives us an opportunity to design an office space, decide how our employees work together and enhance their experiences."
Round Room still owns its current 53,000-square-foot headquarters at 525 Congressional Blvd. in Carmel, but the company has yet to make a decision about its future use.
"Currently, we're keeping it as an investment within the portfolio. Our goal has been to diversify a bit outside of the wireless holdings," Wiley said. "It's a great space for multiple uses."
The company doesn't anticipate creating any jobs in the move to the new headquarters, but Wiley said increasing the company's space will allow its businesses to continue to grow.
In addition to the property tax abatement, the city of Fishers could grant Round Room $70,000 for site improvements. In the coming weeks, that proposed grant will be reviewed by the city's redevelopment commission and Town Hall Building Corp.
Round Room's flagship company, TCC, is the nation's largest Verizon-authorized retailer. The company operates nearly 900 Verizon locations in 39 states, including 79 in Indiana.
Round Room's other companies include: Redux, a machine that removes moisture from electronic devices; Culture of Good, a benefit corporation providing consultation for companies that want to help employees find their passion; TCC Gives, a grant-making organization providing domestic abuse survivors with phones; and Round Room Gives, a grant-making organization that gives 2% of profits back to the communities in which the companies do their business.
Wiley said Round Room recently granted $160,000 to 80 nonprofits most vulnerable to the pandemic, and the company is looking to do the same in the coming months for those that support social justice.
"That's not just lip service, we're really trying to invest where we operate," Wiley said. "We've been fortunate in our conversations with the city of Fishers that they love that about our business, and we're exploring the idea of opening a nonprofit hub within our space."
Please enable JavaScript to view this content.